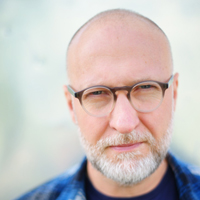 It's been a while since a Bob Mould record caused as much of a stir as this month's Silver Age, an up-and-at-'em power trio album in the splenetic tradition of his former groups Hüsker Dü and Sugar. In fact, it was Mould's work on this summer's 20th Anniversary reissue of the latter's debut album, Copper Blue, that helped him come to an accommodation with his past as a purveyor of six-string volleys of flaming punky angst. Something of a turnaround for the man who sang I Hate Alternative Rock like he meant it on his first post-Sugar solo album, then tried his hand at dance-influenced pop on 2002's Modulate and mixed it with more familiar acoustic-rock textures on 2008's District Line. But then, as the Minneapolis-born post-hardcore legend reveals to MOJO in this exclusive Q&A, the last three years - in which he's written and published his life story and opened himself up to the love of his Hüsker Dü-loving peers - have given him a lot to think about.
---------------------
Silver Age is your "rock"-est album in decades. What was it that brought you back to guitars?
I guess it started with the writing of the book [Mould's memoir, See A Little Light, published last year]. I started in the fall of '08, and at that point I put songwriting aside. So the writing of the book became a very consuming process. Then when I get to 2010 I'm seeing the 20th anniversary of Copper Blue coming at me two years down the line and I'm wondering what's going to happen. So at that point I was thinking to myself, If I ever get this book done and I get back to the songwriting table, it might be really nice to think about the short, wild guitar pop that I know people like, and I like too, when I like it.
And then, it was hooking up with Dave Grohl and Foo Fighters [Mould duetted on Dear Rosemary, on their 2011 album, Wasting Light], which led to me doing shows with them, which led to going on the road with them where I was DJing their arena shows and I'd get up and play a couple of songs. So that whole experience was great, and that helped to cement the idea, just going up on stage with some great musicians, very effortless, and going, Yeah, actually, I'm pretty good at this!
It took Dave Grohl to remind you that you were pretty good at guitar rock?
I think the universe reminded me more than anything. That was the beauty of writing the autobiography. When I looked back at the first 48-plus years of my life, I was able to see all these patterns that made me do this work, or make these decisions about my life. And I guess they started to make some sense.
As a solo artist you've been very rigorous about not looking back, and going out of your way, in some instances, not to do so. Did the book make it possible to see the value in some things you'd left behind?
Yeah. The book was the first time I ever looked back on my work. I'm the kind of guy - whether it was Zen Arcade or Workbook or Beaster or whatever it was - when I sign off on the master, and I listen to the test pressings and all is good, I don't listen to them again. I've taken the inspiration in and made the work. So yeah, the looking back thing, that was all new to me.
So for Silver Age, was "short, wild guitar pop" a mode you had to feel your way back into? I have to say, it sounds very instant and visceral.
Well, there was a little bit of getting my feet wet as there always is. It had been almost three years since I'd written a song. One of the first songs I came up with was Angels Rearrange, the most Sugar-sounding song on the record. With that, I thought, OK, let's make this one sound like Copper Blue and see what happens. But once I started to just let the songs come out, they had a different voice. They weren't coming out like Sugar replicas. So the process started to get more natural and then the book came out and I was really busy, and all the stuff with the Foo Fighters kept me really busy, so by December of '11 when I got home after the book, after the Foos tour, after the Disney Hall show [a tribute to Mould and his music performed with Ryan Adams, Dave Grohl, Craig Finn and others in November last year], I had a lot of good energy going, a lot of love and a lot of good thoughts. And truth be told, by December the rest of the record just caught up, day after day. It sort of fell out. And if there's any comparison to Hüsker Dü to be made in this, it's that rush of ideas in a very concentrated period of time.
That line in [Silver Age song] The Descent - 'I didn't want to play the song that gave people so much hope' - seems to sum up your dilemma of recent years.
I don't know where that line came from, but it sure felt natural when I fell upon it. For so long I felt my history was just an albatross, a burden, this thing that I was running away from. Now it's like, No, that's who I am, that's what I've done. I'm the same person but I don't think the same way - time changes everything - but I can't fight against my history. I've decided it's a really good problem to have.
Nevertheless, one of the words I wrote down when I first heard Silver Age was 'youthful'. I suppose it's partly in the attack...
Thanks, because I turned 52 this month!
...and partly because songs like Fugue State still seem to deal with feelings of discomfort in your own skin. Is that something that no amount of living, or venting, or analysis can diffuse?
I think those of us that who do this with our lives, we're looking for an answer. We're looking for the magic lotion that's going to make your skin feel right, and song after song, story after story, book after book, one wants to find that thing that will heal you, but it never really happens. But I never give up; I may find it on someone else's record, I may write it myself, I may read it in a book. That's what life is; we hand these stories to each other, and that's how we find the people we spend our lives with. That's how we find the artists we follow all our lives.
Your group on Silver Age - Jason Narducy (bass) and Jon Wurster (drums) - sound like perfect allies.
Jason I've known for at least 20 years. He was playing in punk bands in Chicago when he was 9, 10 years old, at the same time that Hüsker Dü started going there in the early '80s. We're very like-minded about music and influences and what constitutes a good story and a good song. Jon Wurster, he's Superchunk's drummer, and Mountain Goats is another ongoing project. He's been playing since the early '80s as well, a hardcore kid from Philly. He remembers all those City Gardens shows in Trenton, New Jersey, the all-ages shows. It's that shared language that we have, that makes it as effortless as it seems.
He doesn't play like that in The Mountain Goats...
No, it's crazy. But you know, the album recordings are one thing because we were just learning the songs, but boy if you could've heard us two weeks ago in Seattle, Minneapolis or San Francisco, your head would be off. So much faster and more explosive. I love playing music with these guys. We've been playing together for about four years now: it's my second longest-lasting rhythm section.
Could bring Silver Age back to Europe next year?
Yeah, I think we're being consciously optimistic. We're just taking the temperature now, so to speak. Of course, the UK was ground zero for Sugar, a huge success in the UK straight away, so I think about the UK a lot. But because of the Olympics and the Jubilee, so many tours got forwarded to the first quarter of 2013. There's just way too much traffic for us to try and come over right now.
Keep Believing is a song about about your passion for music, peppered with references to groups you love. If you were going to write Keep Believing II, who would you throw in that didn't make the cut first time around?
Well I left off at Loveless and Nevermind, so I guess I'd pick up at the early '90s and move forward from there. There's Pavement. They took over my apartment in Hoboken when I moved to Manhattan in the '90s. But Richard Thompson didn't get a mention, so I'd probably start with him, and there might be a lot of dance stuff in there, so be careful what you ask for!
What was your epiphany with dance music? Was there a particular tune that made you go, 'wa-hey!'?
Yeah, Xpander by Sasha, which I think came out in '99. That New York City club scene was on fire. Sasha, Deep Dish, Paul Van Dyk, big, big, progressive house and trance - that was my thing. When I heard Xpander I was like, this is like Beaster but without words: that droning repetition, distorted thing. So that was my entry point, and I was getting more into the gay life in New York City. I started liking a lot of the pop stuff, Madonna's Beautiful Stranger, Believe by Cher, just pop candy stuff you would hear out and about. Then I started digging Avalanches and Daft Punk.
Well I think you should get those references into Keep Believing II.
Well it sounds good to me but you've got to be careful with that! People are liking the rock right now. And yeah you know, I'm really getting to the point of my life where I'm comfortable with my history and there are people who stayed with me through all of it. If you're in this for this long you have to consider your audiences are in their forties and fifties. They have kids and they're strapped for money, and for them to come to a show is a real effort. I want to make sure those people have a good time.
We've heard rumours about the possibility of the Hüsker Dü catalogue being reissued.
There's nothing set but what's happening is that the three band members [Mould, drummer/singer/songwriter Grant Hart, bassist Greg Norton] have come together under one legal umbrella and it's a very slow, cautious, getting back to business. We have to be respectful of the work and of each other and try to figure out a way of keeping that music heard. It'll be a long process because there's a lot of different labels and a lot of different people and a lot of different situations involved. But yeah, I mean it's a very, very slow, cautious beginning. Let's just say there won't be any reissues for this Christmas.
You were quoted in an interview online saying that 2012 was your year to have fun. There's something quite poignant about that. Couldn't you be persuaded to have fun in 2013, too?
Well, you know, it's new to me! I just tried it out for a year, and so far, so good. So maybe we could extend the fun policy for another year at least.
Interview: Danny Eccleston
Photo: Getty Images

Posted by Ross_Bennett at 11:10 AM GMT 29/10/2012