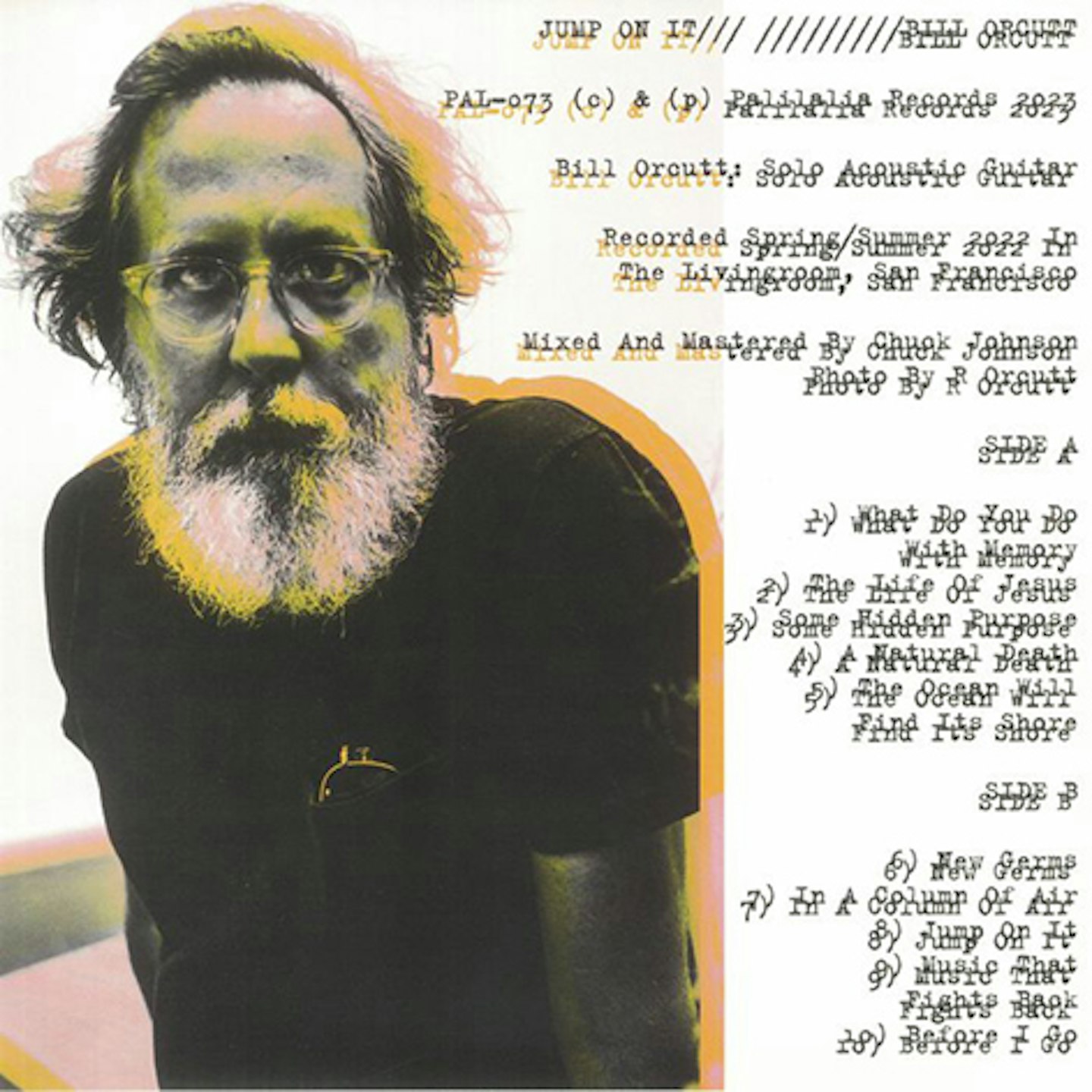 Bill Orcutt
Jump On It
PALILALIA
From John Fahey on, there's been a long tradition of ornery American guitar soli; wilful outsiders who use the tools of folk to create a more radical kind of music. Few have embodied that impulse more vigorously in recent years than Bill Orcutt, a veteran of '90s noise-rockers Harry Pussy, whose thorny improvisations have often veered towards the string-snapping violence of Derek Bailey. After the Glenn Branca-ish modal crunch of last year's Music For Four Guitars, this ninth solo album comes as a gentle surprise: ten brief études for acoustic guitar that feel composed on the spot, foregrounding the grace and lyricism sometimes overwhelmed by Orcutt's forbidding virtuosity. At times, on a track like New Germs, it plays like a seductive rethink of Segovia, but the beauty of Jump On It also lies in how it evolves Orcutt's music rather than compromises it. Start here, and work backwards.
Natural Information Society
Since Time Is Gravity
EREMITE
Connoisseurs of transcendental music often have to choose between spiritual jazz and minimalist drone for their perfect hit, but the records of Joshua Abrams and his Natural Information Society essentially unite the best of both worlds, and throw in some Gnawan trance for good measure. As with the previous six NIS albums, Since Time Is Gravity is rooted in the North African three-string bass pulse of Abrams' guimbri, and the seesawing hum of Lisa Alvarado's harmonium. This time, though, the group is expanded to include a six-piece horn section and harpist, adding a modal big band dimension; think Coltrane's Africa/Brass. MVP is Chicago vet Ari Brown on tenor, swinging out of the rhythmic grid on Is. But it's Stigmergy, named after a concept of collective action, that best encapsulates the ecstatic NIS groupthink: one hypnotic soloist after another – including Ben Lamar Gay, brilliant on cornet – drifting elegantly in and out of systems repetition.
Suarasama
Timeline
DRAG CITY
In 2008, Drag City released a curious and beautiful record called Fajar Di Atas Awan, a record whose Eastern provenance was uncertain to most non-scholars, but whose uncanny atmosphere chimed perfectly with the US acid-folk around at the time. The album, it transpired, was the work of two Ethnomusicology lecturers from North Sumatra, and had first been released in 1998; a work which drew on indigenous music traditions while not being beholden to them. It took the couple, Irwansyah Harahap and Rithaony Hutajulu, another five years to release a follow-up in 2013; only now is that album, Timeline, available in the west after the obligatory decade lag. Those few who love the debut will know what to expect this time: elaborate pulsating rhythms, overlaid by Harahap's delicate arsenal of guitars and mandolins, organ drones and Hutajulu's mellow ululations. A sophisticated academic hybrid that convinces as traditional ritual, and one now suffused with additional poignancy: Harahap passed in 2022.
Samuel Rohrer
Codes Of Nature
ARJUNA
If you fell for the elaborately interlocking grooves of Oren Ambarchi's Shebang last year, this latest album by Swiss-born, Berlin-based drummer Samuel Rohrer operates in a similar space. Rohrer's actually worked in the past with Ambarchi, Norwegian trumpeter Nils Petter Molvær and techno don Ricardo Villalobos – useful contextualising reference points that are complicated somewhat by another previous collaborator, the photographer Nan Goldin. The six tracks on Codes Of Nature have the propulsive forward motion of electronic dance music, and its crispness, but they also feel in some way more organic; as if a bunch of improvising jazz musicians have ruthlessly pared down their practices into a streamlined groupthink (note: Rohrer played everything himself). Try the algorhythmically funky beat science of Scapegoat Principle for starters, which sounds very roughly like Jaki Liebezeit constructing a track for the Basic Channel techno imprint.
Magic Tuber Stringband
Tarantism
FEEDING TUBE
Tarantism is the urge to dance, codified as a psychological illness – not something often provoked by this column. Nevertheless, this Durham, North Carolina stringband intersperse shruti box drones with fervid Appalachian banjo and fiddle freakouts. Like fellow travellers Pelt, a band alive to the experimental possibilities of American roots music, both in its traditional forms and in where it can be stretched.
OZMOTIC | Fennesz
S e n z a t e m p o
TOUCH
An obsessive collaborator (you might know him from his work with Sakamoto and David Sylvian), it sometimes feels like the Austrian guitarist Christian Fennesz might be better focusing on his superb solo work. That said, his third set with Italian duo OZMOTIC is a beauty; great slow-motion waves of processed symphonic noise that land somewhere between Henryk Górecki and My Bloody Valentine.
Jeremiah Chiu & Marta Sofia Honer
Leaving Grass Mountain
LONGFORM EDITIONS
The Australian label Longform Editions favours phrases like "absorptive listening experiences" over ambient. But this highlight of their latest tranche of releases (also recommended: Matt Valentine; amby downs & Steve Gunn) certainly edges into the latter zone: a bucolic synth/viola jam with aspects of Harmonia, and a beatific sequel to the LA duo's outstanding 2022 album, Recordings From The Åland Islands.
Elijah McLaughlin Ensemble
III
ASTRAL SPIRITS
Another frenzy of strings, from the Chicago trio of McLaughlin on 12-string acoustic, Jason Toth on double bass and, especially, Joel Styzens on hammered dulcimer. Field recordings and synths add more depth and shade than was evident on their first two albums, but the prevailing mood is rapturous, a baroque accumulation of strums and harplike resonances that conjure the spirits of both Robbie Basho and Laraaji.