Joey Burns and John Convertino mark 20 years of blurring the boundaries
Picture: Timm Kölnn
Calexico
★★★★
Feast Of Wire
CITY SLANG. CD/DL/LP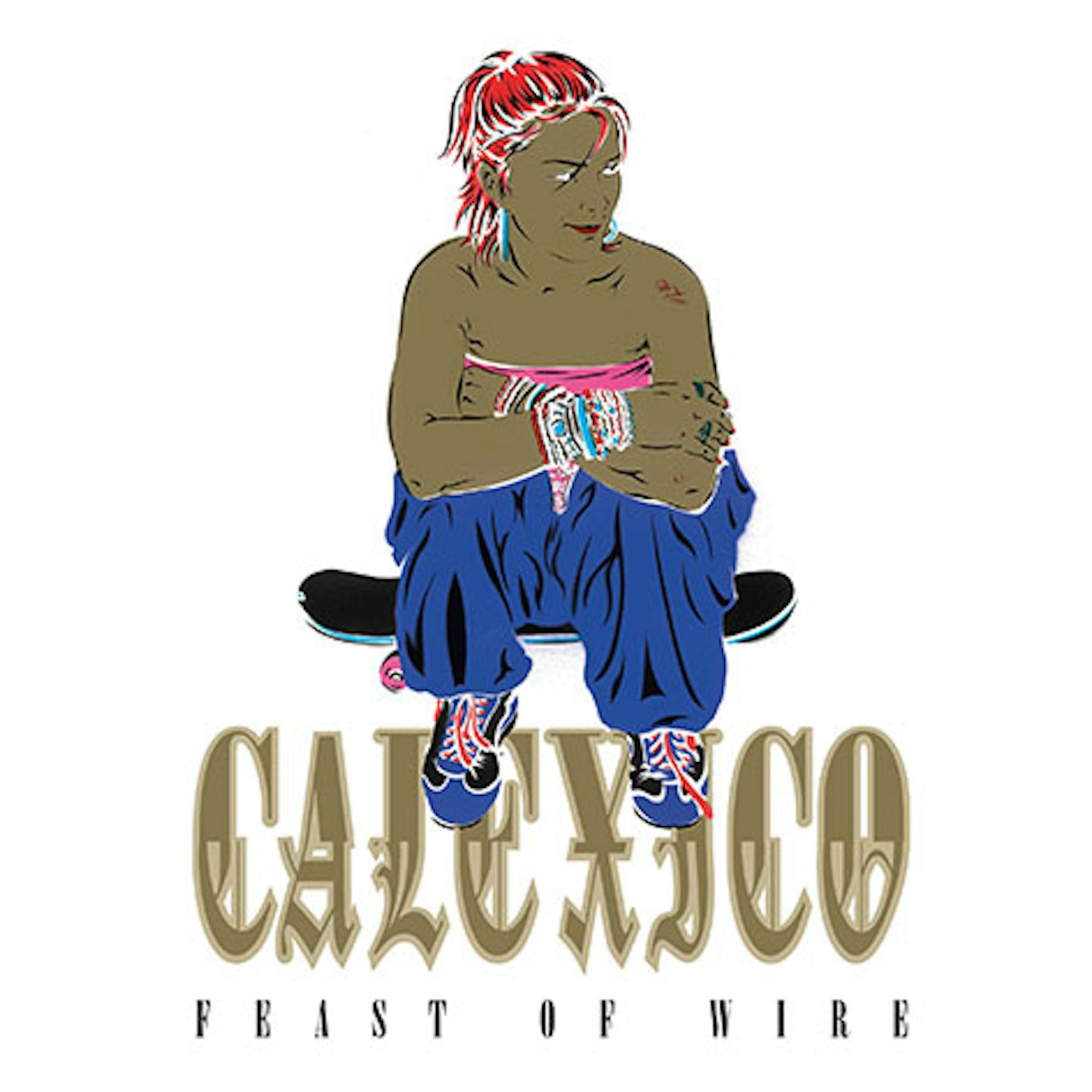 The Tarahumara, a group of indigenous people in the Mexican state of Chihuahua, are renowned for their prodigious ability to run long distances. It's a skill that gives them a remarkable power to hunt down birds and deer, exhausting their prey long before their own legs tired of the chase. Yet there are some things that they haven't been able to outpace – not least the opium trade that has crept across their land, the cartels using them to transport their goods, turning them into grimly literal drug runners.
Singer and multi-instrumentalist Joey Burns, one half of Calexico's core duo along with drummer John Convertino, was thinking of the Tarahumara when he was writing Quattro (World Drifts In), a track from 2003's Feast Of Wire. "World drifts in and world's a stranger," sings Burns over the relentless percussive push and heel-snapping brass, "From the day you're born/You'll always hit the ground running." The band's fourth album is powered by this urgent rush and scramble, whether it's driven by the need to escape something or to keep up with it. It's a record in constant human motion, full of people flung forward by forces they can't control, the places they inhabit hollowed out or flooded, their horizons shifting all the time.
Burns and Convertino first came together in the early '90s as the rhythm section for Howe Gelb's quixotic desert beatniks Giant Sand, early adopters of the decade's alt-country ideas. They moved with Gelb from California to Tucson, Arizona, dabbling in filmic atmospherica by working with Bill Elm's lounge-jazz act Friends Of Dean Martinez. Calexico, formed in 1996, was something different, however, even the name – a Californian border town – suggesting a band dedicated to pushing at frontiers, blurring all kinds of state lines. They used Latin music not for cactus-shirted novelty, an exotic tequila trill, but a way of pushing at Americana's hard borders. If 1998's The Black Light and 2000's Hot Rail saw them break through, Feast Of Wire sharpened their vision, that lacerating, mouthful-of-ashes title signposting the territory they wanted to explore – those places where, as on Woven Birds, you can be "crushed by the promise of hope".
Feast Of Wire is a record in constant human motion.
On the parched polka of Sunken Waltz, there's both a homeless man praying for a real rain to come and wash "whole Western states" away and "Carpenter Mike" who "dropped his tools and his keys and left", shucking off the comforts of the "gated neighbourhoods" to vanish into the wild, a sane response to an insane world. There's the subject of Not Even Stevie Nicks… who Thelma-and-Louises his car off a cliff and "into the blue", caught by the band in eternal freefall; on Across The Wire's "Alberto y Hermano", brothers struggling on a potentially life-changing journey north from Mexico, "dodging the shadows of the border patrol". Behind the crisp, sun-struck brass and button accordion there's nightmarish imagery: an eagle eating snakes, "a lake of sleeping children". Woven Birds, meanwhile, is a Tex-Mex Ghost Town, Burns showing what's left behind over tumbleweed rolls of percussion and zig-zag flashes of distortion: "The plaza in the village/Where mission bells used to ring/Is now a pile of stench and ruin."
This restless surge is matched by the instrumentation: the brass and strings of Mariachi Luz De Luna (Jacob Valenzuela and Fernando Valencia); Paul Niehaus of Lambchop's pedal steel; accordion, synthesizers and Convertino's vigilant, reactive drums, sidewinding close to the scrubby edges of a song in some places, breaking cover in others.
It's no surprise that Feast Of Wire, with its themes of migration and dispossession, should feel like such a timely reissue in 2023. In 1998, Burns spoke of the migration build-up on the Tucson borders, about the "double-speak" of the "land of the free". "I think, the music finds its way of going through the barbed wire or past the helicopter's electric eye," he said. "The future looks bleak with no sign of change," sings Burns on Across The Wire, and while Trump-era wall-building and child-caging might have darkly exceeded the direst prognostications, it's a line that isn't so much prophetic as dismally pragmatic. There's a real currency to the ecological and economic storm clouds gathering around Sunken Waltz, or the tarry strings of Black Heart, a song in step with Barry Adamson's cinematic night visions, or Bristol trip-hop transposed to a different kind of South-west, a rattlesnake-wrestling Portishead, Tricky's Ponderosa in a pick-up truck.
Besides its imagery of a hostile environment – snake fangs, rusted metal, repressive barriers – Black Heart also shows a deep empathy: "One man's close pursuit/Is another man's last chance," sings Burns. It fits that Feast Of Wire should be a record rich in instrumentals, creating space to think, ensuring their storytelling isn't filling all the space from the top down. While Pepita's hand-stitched post-rock, Close Behind's unholstered Morricone menace or Stucco's glassy piano are dramatic, they're not manipulative, not so much concerned with ramping up the tension but reflecting it. There's also an awareness of the need for moments of joy and resistance: Güero Canelo for example, R.E.M.'s Underneath The Bunker with a diamond glint of street-level danger, or the spaghetti-electro of Attack El Robot! Attack!. A live show recorded in Stockholm in 2003 that is included here shakes off the dust, brings out a pop of pop, encourages a communal buzz, the songs tipping from dusty melancholy into defiant exuberance.
Around this time, Calexico would customarily end their performances with an encore of Love's Alone Again Or, included here in both live and studio versions. It's not hard to understand why they would be drawn to its mariachi brocades and gilts, but there's also that suggestion of universal communion beneath its lovelorn loneliness, the idea that, "I could be in love with almost everyone". Feast Of Wire understands how strange the world is, how cruel it can be, how exhausting it is to have to hit the ground running, over and over. Yet its openness, its refusal to limit and be limited, quietly guides this music towards a better place.
Feast Of Wire is out now on City Slang.
READ MOJO'S VERDICT ON ALL THE MONTH'S BEST MUSIC. Plus, receive every new issue of MOJO on your smart phone or tablet to listen to or read. Enjoy access to an archive of previous issues, exclusive MOJO Filter emails with the key tracks you need to hear each week, plus a host of member-only rewards and discounts by BECOMING A MOJO MEMBER