Reverse engineering Hunky Dory via demos, BBC sessions, live and studio recordings from Bowie's most productive year.
Photo by Brian Ward.
David Bowie
★★★★★
A Divine Symmetry
PARLOPHONE. CD/LP/BR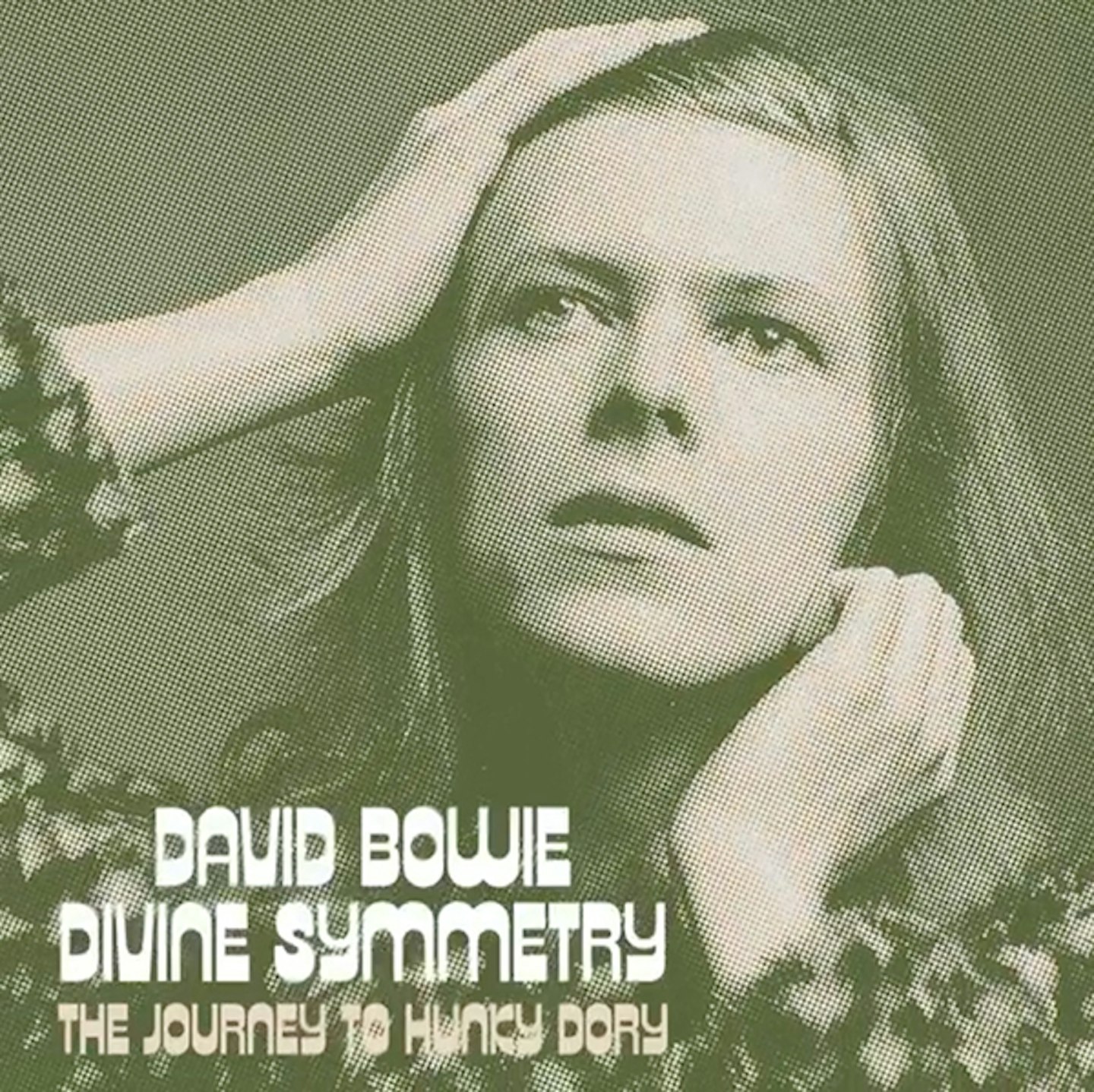 1971 starts with Bowie, if not in the total musical wilderness, then as a fringe figure. Despite being the most productive year of his entire career, it ends that way too.
He used it caching songs, building on an already sizeable repertoire and, at the end of the year, releasing his first undisputed classic, Hunky Dory. It's the go-to LP for anyone new to his music, yet in so many ways, it is the ending, not the beginning of a story. This was the last Bowie LP made in a position of relative anonymity, the last year in which David Bowie, and his creator, Brixton-boy David Jones, would be anything less than famous.
Recently married and about to become a dad, he would compose on acoustic guitar and the piano at home in Haddon Hall, Beckenham. His band the Spiders were forming but were as yet unnamed. Bowie had no manager and wasn't signed to a record label. He was just 24. As a songwriter, he was still committed to not only writing songs for himself but for others. As a performer he was not yet confident stepping front and centre stage.
This vulnerability marks CD1 of this exhaustive box set, including 14 demos from which only six became actual finished tracks on Hunky Dory. We start with Tired Of My Life, written in 1970, unpromising with its wearied tempo and self-absorption. It's binned… for now. More promising is Shadow Man, with its melody faintly reminiscent of Bee Gees' To Love Somebody, and a lyric dealing with the possibility of adopting a new persona. The theme predates the Ziggy Stardust experiment. The music, like the next demo, Looking For A Friend, is mildly derivative of American country rock. Bowie is breaking no new musical ground here. Another demo for How Lucky You Are switches styles completely to a Brechtian staccato 3/4 time and has a rather contemptuous lyric suggesting the coercive emotional control of a partner ("When you walk, you follow two steps behind"). The song was offered to Tom Jones, who passed. Right On Mother could have sat comfortably on Bowie's 1967 debut, telling the tale of a live-at-home man trying to break free of his mother. It too is never pursued beyond demo stage. However, we get to hear demos for songs which would become Bowie classics: Changes, Quicksand and Life On Mars?.
Also included are live versions of Quicksand, and The Velvet Underground's Waiting For The Man (with an intro that seems to interpolate The Ad Libs' doo wop song The Boy From New York City). Both were recorded not in concert, but in a San Francisco hotel. In January and February 1971 Bowie made a promotional visit to America to promote his then new LP, The Man Who Sold The World, and these songs were recorded unofficially. In fact, he performed seven songs in this private, hotel-room gig, one of which, reported to be named So Long Sixties, remains unreleased.
Bowie collectors will have heard inferior sound quality versions of all these demos but not King Of The City. It had been assumed, from its title, that this might have been the progenitor of Suffragette City. But no, it's an entirely different song, pleasing enough, unremarkable except for that melody underpinning the verses which Bowie would repurpose in the "I've never done good things/I've never done bad things" section of 1980's Ashes To Ashes. And the 'repurposing' goes on. Tired Of My Life was ripped up and started again as It's No Game, also for Scary Monsters and again drastically improved upon, whilst Shadow Man was one of the songs Bowie reworked much later in his 2000 Toy project, given an official release in 2021.
CDs 2 and 3 are wholly devoted to live material. In June 1971, David Bowie And Friends performed for John Peel's In Concert slot and here we get both stereo and mono versions, whilst in September, Bowie once again performed at the Beeb, this time a session for Bob Harris's Sounds Of The '70s. The audio is clear, the performances stripped down and the repertoire includes the non-LP song, Bombers, Jacques Brel's Amsterdam and the first rendition of Kooks, written, so Bowie explains, when he was told of the birth of his son Zowie whilst listening to a Neil Young record. Finally, Live Friars, Aylesbury, also from September '71, is a live performance from an artist who still seemed ill at ease as a frontman. The set starts with just Bowie and his guitarist "Michael Ronson", with Bowie quipping "are you going to get nearer?… To the mic!" to an almost silent audience. Fill Your Heart starts the acoustic set, one of five covers played that night. Oh! You Pretty Things had been a sizeable UK hit for Peter Noone but now Bowie was making it his own, twisting and improving the melody. Just six months later, Bowie would debut The Spiders From Mars at the very same venue. The transformation from this hesitant live performer to the new demigod rocker was miraculous.
A Divine Symmetry does not try to cover everything Bowie recorded in 1971. Its focus is on Hunky Dory, reverse engineering Bowie's music, showing the stages of creation. Very much like a portrait artist will make numerous sketches, so we see the evolution of these songs as Bowie rewrites lyrics, improves melodies, tweaks arrangements, each stage an improvement on the previous. Not long after Hunky Dory, Bowie would create unscripted, record with no demo and with perhaps just a basic melody in his head. By sharp contrast, HD is as well-tuned and road-tested as any Bowie LP has ever been. Bowie, recording at Trident Studios with producer Ken Scott, remade his sound and gave the music pinpoint clarity. Whilst in Mick Ronson, Bowie had found a friend, gifted arranger and superb pop-rock guitarist.
Of course, we know Hunky Dory is brilliant, containing as it does the first bona fide glam rock Bowie song, Queen Bitch, the manifesto-like Changes and the twin poetic enigmas of Quicksand and The Bewlay Brothers. CD4 collects alternative mixes, promos and single versions of several HD songs but also Lightning Frightening which first made an appearance on the Ryko Bowie reissues of 1989. The fifth disc, a Blu-ray audio, finishes the journey with a re-imagined full LP compiled from various alternative mixes, a bonus mix of Life On Mars? and the Bob Harris session.
Hunky Dory would go on to become a huge commercial success, but only after its follow-up, The Rise And Fall Of Ziggy Stardust And The Spiders From Mars, had been one first. Astonishingly, by the time Hunky Dory was released on December 17, 1971, his follow-up LP, apart from one song, had already been written and recorded.
Bowie began 1972 with a new confidence, finally unafraid of putting himself out there, on-stage. But that's another story, the story of Ziggy Stardust, a story, one would reasonably guess, that's next to be anthologised, as the Bowie Afterlife shows little sign of dying.
David Bowie, A Divine Symmetry is out now via RCA.
BECOME A MOJO MEMBER today and receive every new issue of MOJO on your smart phone or tablet to listen to or read. Enjoy access to an archive of previous issues, exclusive MOJO Filter emails with the key tracks you need to hear each week, plus a host of member-only rewards and discounts.