Talking Heads
Stop Making Sense
Dir: Jonathan Demme
*****
A24 C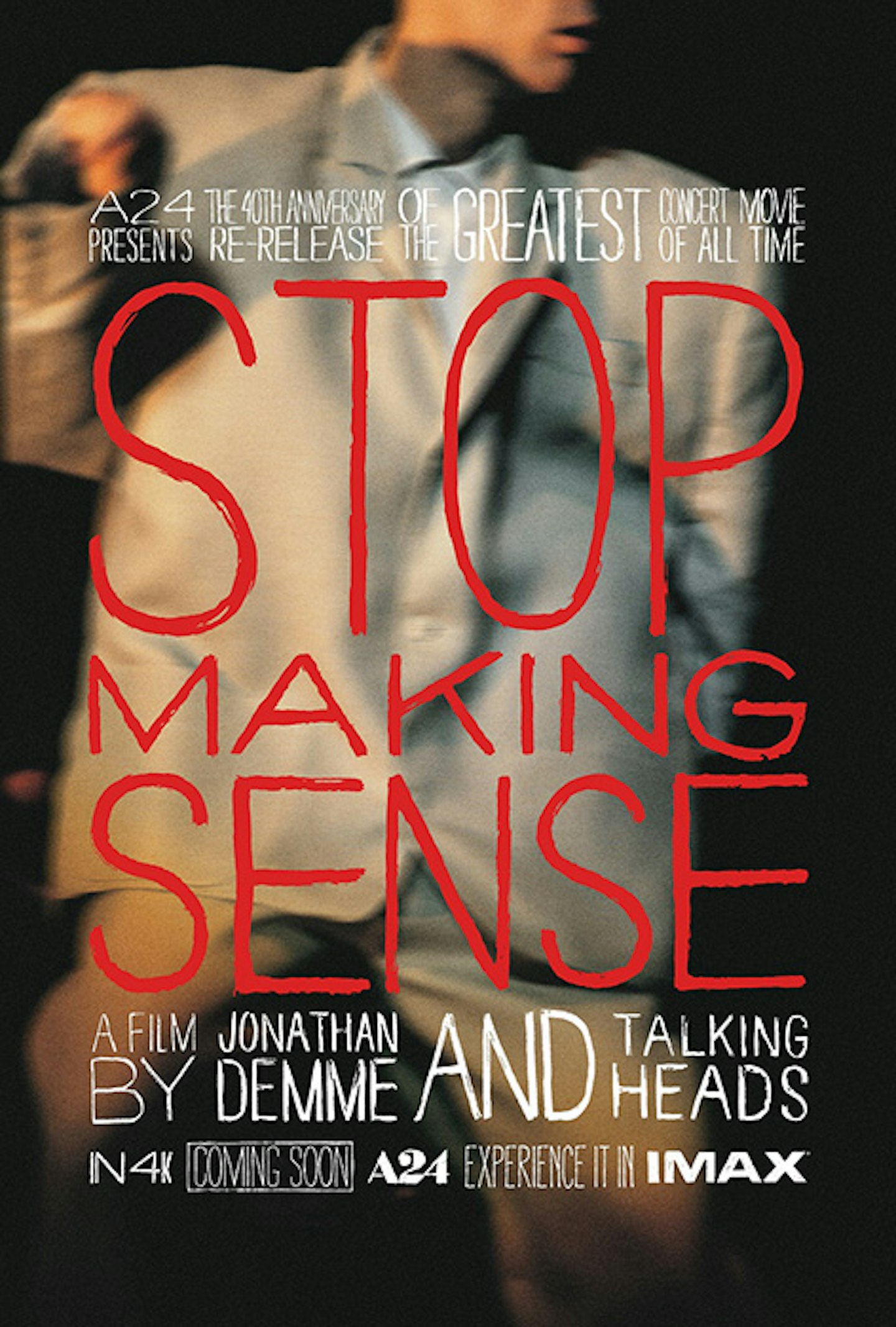 When bassist Tina Weymouth initially heard David Byrne's plans for the Talking Heads live shows around their fifth album, Speaking In Tongues, she wasn't happy. That the singer would come onstage alone, gradually joined by the extended band (among them P-Funk keyboardist Bernie Worrell and guitarist Alex Weir), unnerved her; she worried it was an attempt to rewrite history by portraying Byrne as originator, waking the others to dance to his tune. 
He has since said that wasn't the concept - that the set instead traced the development of a repressed man liberated by music, community and joy. Yet watching this 4K ultra-high-definition version of director Jonathan Demme's 1984 concert film, - so close and vivid it might well be a portal to Los Angeles' Pantages Theatre for those three December nights in 1983 - it does feel like the stuff of creation myth.
It begins with a formless patch of light, empty until the shadow of a guitar moves over it, animating it. Byrne's white sneakers appear as he heads to the front of an empty stage; there's a boom-box, a microphone. "I've got a tape I want to play," he says, the mild-mannered janitor, before launching into Psycho Killer. It ignites everything that follows – the crew building up the set around him, the musicians bringing more heat, more noise, more movement. It's cosmic chemistry, a big (if tightly syncopated) bang. With self-declared "fanatical rock'n'roller" Demme working with Bladerunner cinematographer Jordan Cronenweth, Stop Making Sense is a phenomenal document of people expanding into the space around them, making something wonderful from nothing. And there was light. 
It is fabulously calculated, as illustrated by the famous set-pieces – Byrne's visual catchphrase "big suit" appearing before Girlfriend Is Better; the Fred Astaire-inspired dance with a standard lamp during the euphoric This Must Be The Place; his Pentecostal fire-starting on Once In A Lifetime. There are fourth-wall-smashing moments – the singer staring at the camera as he dances during Psycho Killer feels like a foreshadowing of unnerving scenes from Demme's 1991 film The Silence Of The Lambs – while sequences of stark lighting and info-overload captioning ("Videogame / Sandwich / Diamonds") deepen the feeling there's a battle for something close to the human soul unfolding here.
Yet the intimacy is largely generated the sheer energy and pleasure crackling from the stage, essential vocalists Ednah Holt and Lynn Mabry in charismatic sync with Byrne, Weymouth smiling with her own secrets; percussionist Steve Scales exuberantly drawing focus. Demme wanted to avoid multiple shots of the audience having a good time - that "having fun?" nudge in the ribs for film viewers - and only a few appear during the closing Crosseyed And Painless (not least a child with a stuffed unicorn). The viewer, instead, is on stage with the band, the camera's companion as it avidly records Chris Frantz immersed behind his drums, or Byrne, Holt and Mabry hanging in spectacular suspended animation during Once In A Lifetime. ABBA chose holograms to revisit their past; Stop Making Sense somehow feels even more futuristic, collapsing 40 years down to nothing. It's pure transport, a divine spark still casting a rare light.
Stop Making Sense is showing in selected UK cinemas from September 29.
Read MOJO's verdict on this month's best new music in the latest issue, featuring Bob Dylan, Paul McCartney, Paul Weller, Kate Bush, Robert Plant, Dolly Parton and more. More info and to order a copy HERE!