Picture credit: Jelmer de Haas
IN A PERFECT WORLD, all music festivals would have a mission beyond mammon. Flying their freak flag since 2007, the organisers of Utrecht's Le Guess Who? vow to "platform underrepresented sounds rarely heard in other places". So where better to begin MOJO's trek into the unknown than the pipes and drums of The Master Musicians Of Jajouka?
At central arts complex the TivoliVredenburg's commodious Grote Zaal hall, the Master Musicians are marshalled by Bachir Attar, whose father was bandleader when Brian Jones recorded their debut LP in Morocco in 1969. Though a few of the septet onstage look like they may have played for the Stone, this is a group dwindling in size through natural wastage – to "underrepresented" add "critically endangered", but still capable of mystery and mesmerism.
BECOME A MOJO MEMBER today and receive every new issue of MOJO on your smart phone or tablet to listen to or read. Enjoy access to an archive of previous issues, exclusive MOJO Filter emails with the key tracks you need to hear each week, plus a host of member-only rewards and discounts
From Sufi Trance to Dutch post-punk? Here at Le Guess Who?, not a problem. Over at the swish Stadsschouwburg theatre, Rotterdam's Rats On Rafts present a special one-off performance of their album Visions Of Chapter Three. It's enhanced with psychedelic visuals, a giant floating onstage head and a robed, masked interpretive dance troupe with a serious case of the Stacia-from-Hawkwinds: put them all together and it's an I Am Kurious Oranj-like spectacle of oddities, with Natasha Van Waardenburg's cubist basslines an additional treat.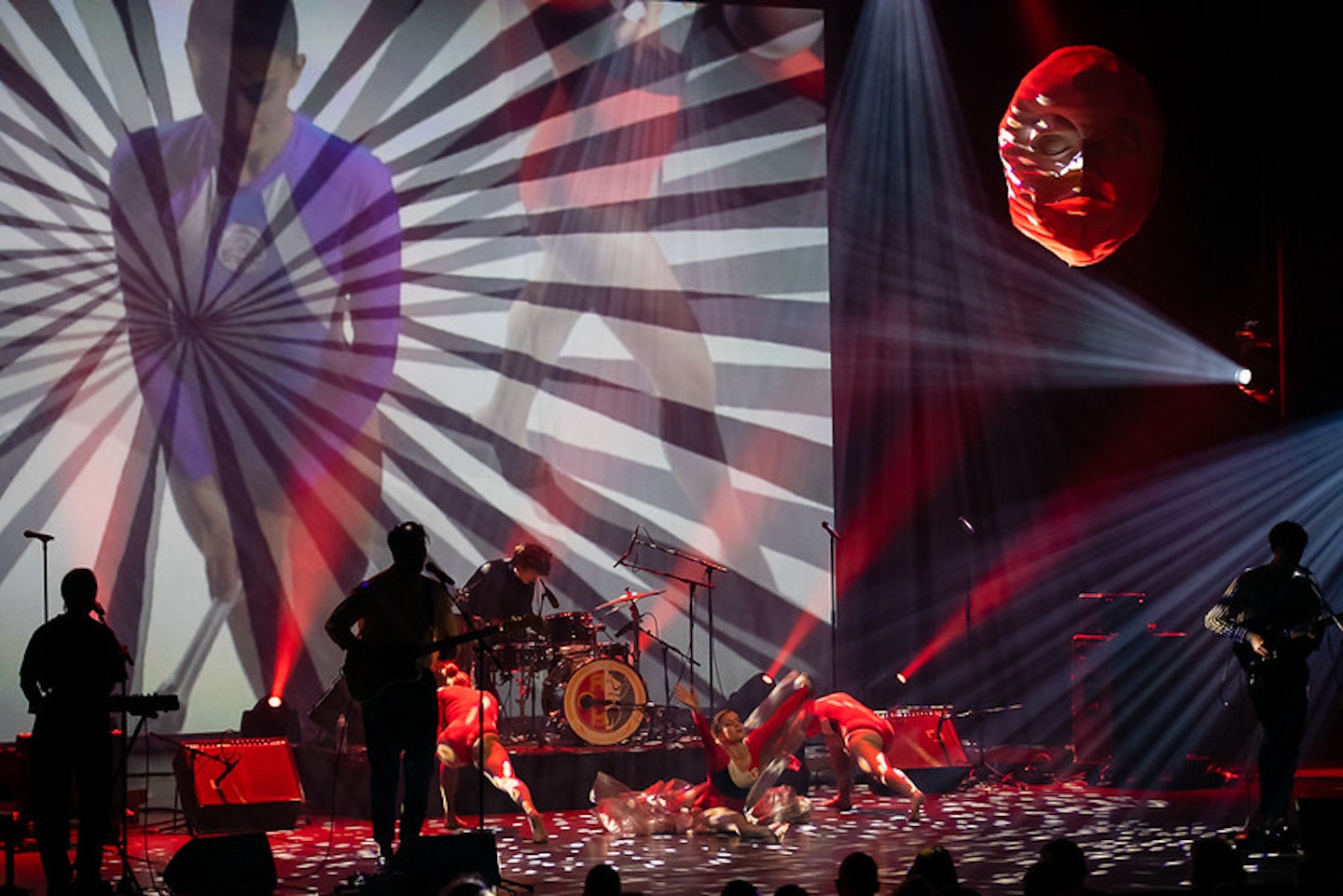 Rats on Rafts. Credit: Maarten Mooijiman
The narratives don't get any more clearly defined back at the Grote Zaal, with Alabaster DePlume presenting a gloriously rambling set of "fucking beautiful poetry" and jazz. "Look at me," he begs a rapt audience. "Do I look as if I know anything?" While the jury is out on whether or not he does, the Fulu Miziki Kolektiv, ending the first night at the upstairs Pandora venue, push the confusion even further: they claim to come from Kinshasa, yet their stage presence and electronic trance suggest instead they are Konono No1 From Space. That'll be the "other places".
On Friday, at bijou attic space Cloud 9, the astral theme continues with Slovenia's Sirom. They appear bemused to be in Utrecht. "We are used to playing wide open spaces, this is like a spaceship," they explain before invoking the folk horror of Tubular Bells with balafon, guimbri and – the first of three MOJO will see this weekend – hurdy-gurdy. Mixing new LP Stumpwork and earlier liminal transmissions, Dry Cleaning bring brain-sparking non sequiturs and glowing rock action to the Ronda, though more down-to-earth fare is to be found in the company of The Staples Jr Singers. The veteran Mississippi-based blues and gospel trio are on their debut European tour – none of them had been on a plane before – and they turn the austere Janskerk into the Harlem Square Club for 40 minutes, with I'm Going To A City the storming finale.
Lining our stomachs in preparation for Saturday night, MOJO fills up on raw-meat sausages, a Utrecht bar delicacy. Our evening begins at the Ronda hall with the sonic experiments of Colombia's Lucrecia Dalt and then to the Grote Zaal for Penboyr's Cate Le Bon. Both intrigue, with the former the perfect amuse bouche to a celebratory, 50th-anniversary performance by Idris Ackamoor & The Pyramids. But this being an eminently venue-switching kind of party, there's also time for Ghent Soulwax-affiliates Charlotte Adigéry & Bolis Pupul at the Ronda. Playing sarky, trenchant but super-animated electro-pop from their Topical Dancer LP – the track Haha is 99 per cent rendered in laughter – it's a scintillating experience, like Grace Jones and the Pet Shop Boys on a manic high. And whoever's doing the lighting, keep it up.
A superb set from Goat (in their own way, a raw-meat sausage type prospect) and some Congolese Rhumba from the Habibi Funk DJs at the most swinging Ekko club would have been the perfect way to round off the night, were it not for DJs including Kode 9 at the WAS. club (seemingly a drained swimming pool) keeping the festivities going in punishing techno fashion until, ouch, 6am.
Valentin Clastrier: Credit: Tin van Veen
Blame those DJs for MOJO only just squeezing in at the back of a Sunday-afternoon show in out-of-town venue De Helling by Senegal's Wau Wau Collectif, whose set mixes electronica with the blues and the dreamy terrors of a clockwork musical jewellery box. In the 1960s, Valentin Clastrier played guitar for Jacques Brel, but he has spent the five decades since experimenting with the hurdy-gurdy: that this medieval instrument could be responsible for the primal assault on the senses we see at the Hertz theatre leaves you wondering what the avant-garde world could do with an actual crumhorn. Reeling, there's a stop at the Pandora where Baltimore avant-crew Horse Lords rock and groove hard and mathematically and the African rave-up of Mess Mend gets the heads nodding. We then make our way to the main hall, where South African jazz legend Abdullah Ibrahim soothes with a spellbinding hour that feels so intimate – has any other festival performance ever been watched in such rapt silence? – you could imagine you are in the great pianist's living room as he practises.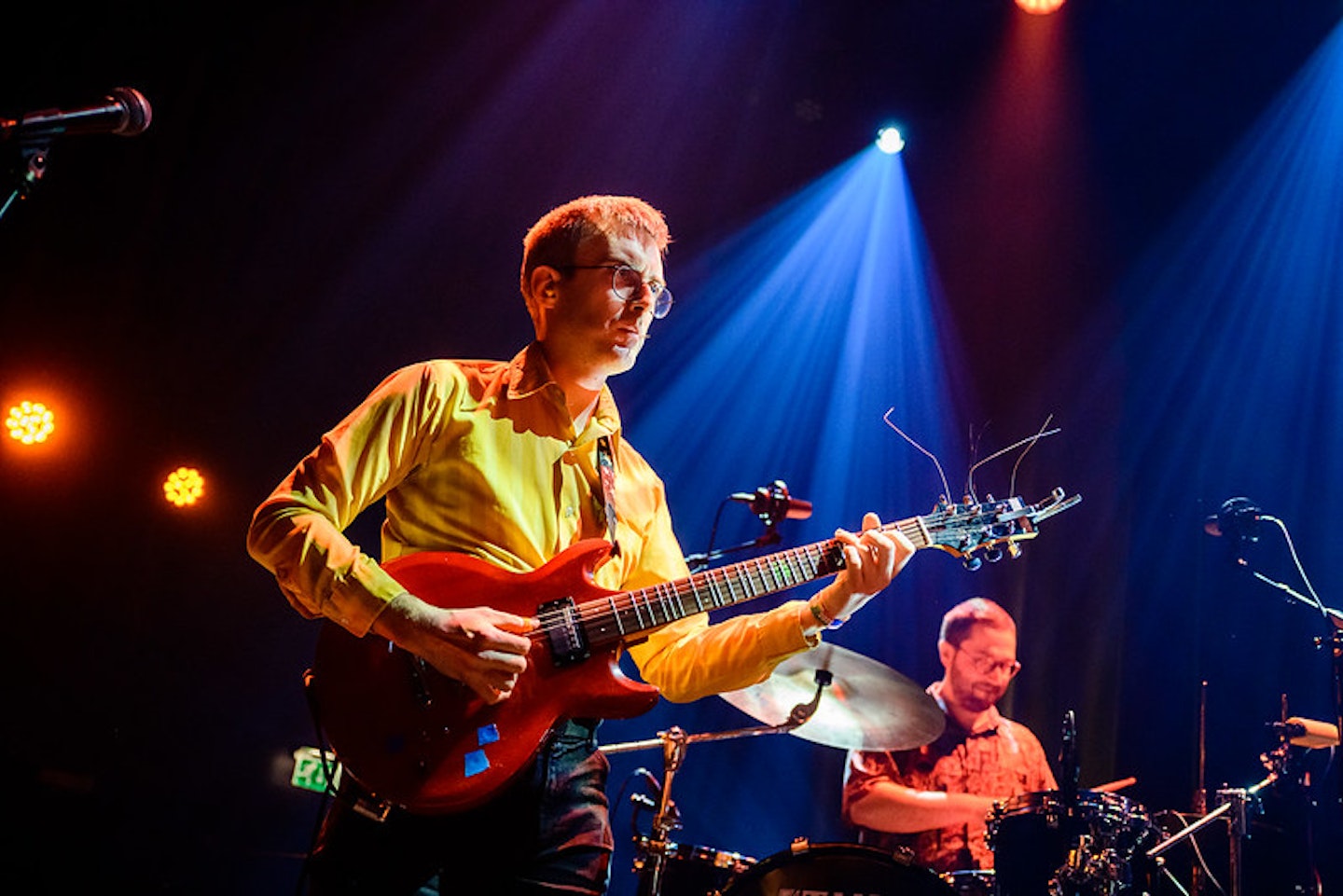 Horse Lords. Credit: Jelmer de Haas
With the day now bouncing from one extreme to another – poignantly, Ronda DJ Hairy Krishna plays some Bog Shed to salute departed bassist Mike Brydon – Panda Bear & Sonic Boom deliver a day-glo sound that nods to influences spanning 60 years of pop, their only common denominator an ability to induce smiles. Focusing on Timbuktu, the most accessible album of her career, Oumou Sangaré plays a Grote Zaal set powerful enough to deflect questions about how she even manages to stand while wearing possibly the world's biggest necklace. It feels like a headline show, the perfect way to round off the weekend… but then we are reminded The Bug is just starting with a bass so heavy it'll blow off our heads, to be followed by Dennis Bovell dubbing us to the finish line. And, who knows, there may even be a hurdy-gurdy.
BECOME A MOJO MEMBER today and receive every new issue of MOJO on your smart phone or tablet to listen to or read. Enjoy access to an archive of previous issues, exclusive MOJO Filter emails with the key tracks you need to hear each week, plus a host of member-only rewards and discounts.