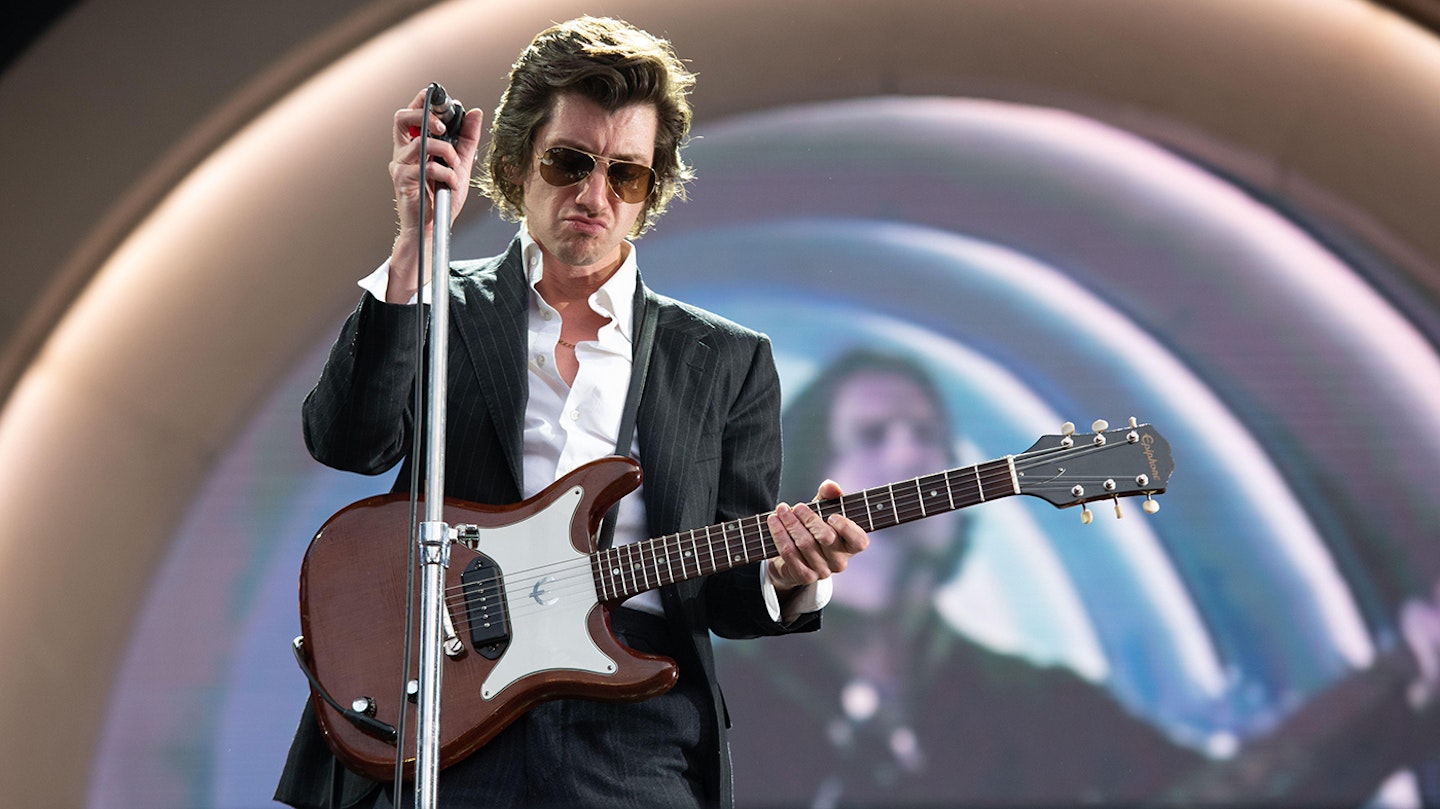 Where, quite, does Alex Turner think he is? Cuban heels, Bad Seeds tailoring, Sinatra hands carving out a syllable in the air before him, he remains suited for a small hours session in an anteroom somewhere less gaudy, more dank, on the Strip. There is, of course, a mirrorball, emblazoned with the word "Monkeys" in an unostentatious serif font.
The apparent disconnect between Turner's spiritual and physical location, though, is as spectacular as it has been, most show nights, these past five years. He and the rest of the Arctic Monkeys are confronted by tens of thousands of legacy fans in a North London football stadium, a constituency fixated on songs the band released between 2005 and 2013.  It has all the potential of being a dispiriting, albeit hugely lucrative, evening: if reconciling creative ambition with consumer demand is such a challenge, why bother trying too hard? Get the job done and cash the cheque; all in a night's work.
It is part of Turner's infinitely layered shtick that he must affect the air of never trying too hard. Nevertheless, there's something subtly miraculous about the way the Arctic Monkeys, 21 years old this year and hip to the concept of sustainable superstardom, make cohesive sense of the curious and to some degree risky place they find themselves in their career.
In these giant spaces, they're nothing if not pragmatic: out of 21 songs, 16 come from their first five albums, one from 2018's Tranquility Base Hotel & Casino, and only four from last year's The Car - a record which, to these admittedly atypical ears at least, is their best by some distance. In a certain light, the setlist isn't much different from one they would have played on the AM tour a decade ago. The stylistic gap between the spindly singalong indie of Mardy Bum (back in regular rotation after a long absence), the hypertechnical blastbeats of Brianstorm, the gothic carny thrash of Pretty Visitors, the modal anthemics of all those AM songs, and the pensive, soulful place they live now on record, is initially startling.
But somehow, as Perfect Sense ellides into Do I Wanna Know, or Turner adds a bitter cocktail piano prelude to Why'd You Only Call Me When You're High, it works just fine. There's never a sense of a band grudgefully playing the old hits, no palpable resentment at having to serve up more AM songs than Car songs. The whole production, from stage set to lighting design, seems predicated on being aesthetically satisfying to the band as well as functionally impressive for 50-odd thousand people; a precarious but superlatively entertaining balancing act.
Central to this is Turner. The exaggerated Elvis mannerisms, and the more arch aspects of his stage persona, have been dialled back this time out, even as he retains a few self-reflexive tics to distance himself from the mores of stadium cliché; fractional pauses and slight adjustments of pace add new punctuation to the likes of Fluorescent Adolescent without ever derailing their impact. His mature Nick Cave vibe seems more fully inhabited than mere dressup now, even when he drops to his knees in an exceptional Cornerstone.
It's songs like this which provide a throughline from where the Arctic Monkeys were then to where they are now: rueful romantic ballads written on a scale at once intimate and widescreen. The strafed art-glam guitars and rococo keyboard lines might be relatively new additions, as Four Out Of Five foregrounds more and more of an obvious debt to Bowie. But the core craftsmanship has been there since 505 – again, excellent tonight – closed Favourite Worst Nightmare in 2007.
Sculptures Of Anything Goes, meanwhile, manifests live as a stunned, blocky, uncanny modification of the AM sound. And Body Paint closes the main set with an extended flourish, Turner and Jamie Cook trading the wallowing solos for a while, but with an orchestrated sense of heft rather than one of rock self-indulgence.
If there's a tinge of frustration to this show, it's how these songs are more suitable to the big stage than they might have first appeared – the Pulp repertoire circa This Is Hardcore isn't a bad comparison – and that as a consequence they might have risked a few more Car tracks in the setlist. But perhaps the Arctic Monkeys' biggest problem this campaign has been scheduling: that they went from playing a couple of new songs at festival shows last summer, straight to playing four new songs at arena stadium shows this summer, without much in the way of more intimate gigs inbetween, a safe space where a bigger chunk of The Car could be indulged more securely.
Will they be able to maintain this strange but effective hybrid career indefinitely? At what point will the face-off between the band's instincts and the tastes of their mass audience become more tense? That's a calculation to make for the next campaign, for sure. But for now, as Sheffield antecedent Joe Cocker bellows out through the Emirates Stadium sound system and the lights flood the pitch, another lyric from I Ain't Quite Where I Think I Am springs to mind: "I can see both islands now."
Setlist: Arctic Monkeys, Emirates Stadium, London, June 16, 2023
Brianstorm

Snap Out Of It

Don't Sit Down 'Cause I've Moved Your Chair

Crying Lightning

Teddy Picker

From The Ritz To The Rubble

Cornerstone

Why'd You Only Call Me When You're High?

Arabella

Four Out Of Five

Pretty Visitors

Fluorescent Adolescent

Perfect Sense

Do I Wanna Know?

Mardy Bum

There'd Better Be A Mirrorball

505

Body Paint

Sculptures Of Anything Goes

I Bet You Look Good On The Dancefloor

R U Mine?
Photo credit: Christina Massei