PAUL McCARTNEY, PETER JACKSON, Michael Lindsay Hogg, Glyn Johns, Giles Martin and more contribute to the most detailed and revealing exploration of the Beatles' Let It Be album, film and upcoming Get Back documentaries yet published.
In the latest MOJO magazine, in UK shops from Tuesday, September 21, MOJO writers pull together all they've learned from Peter Jackson's upcoming three-part Get Back documentary, the revelatory bonus material in a new box set of the music made by the Beatles in January 1969, plus the 120 hours of Beatle footage and recorded conversation perused by MOJO writer John Harris in the course of editing content for a companion book, also entitled Get Back.
Over 13 pages including rarely seen photographs by Ethan A Russell and Linda McCartney from the Get Back book, plus stills from Jackson's films, we grapple with the full complexity of the Get Back/Let It Be project, including its doomed origins in an idea for a TV-broadcast live show featuring all-new songs by the Beatles, Paul McCartney's hopes for breathing life back into the troubled band, the concerns and objections of his bandmates, and – the shadow that looms most imposingly over the period – George Harrison's angry walkout on January 10.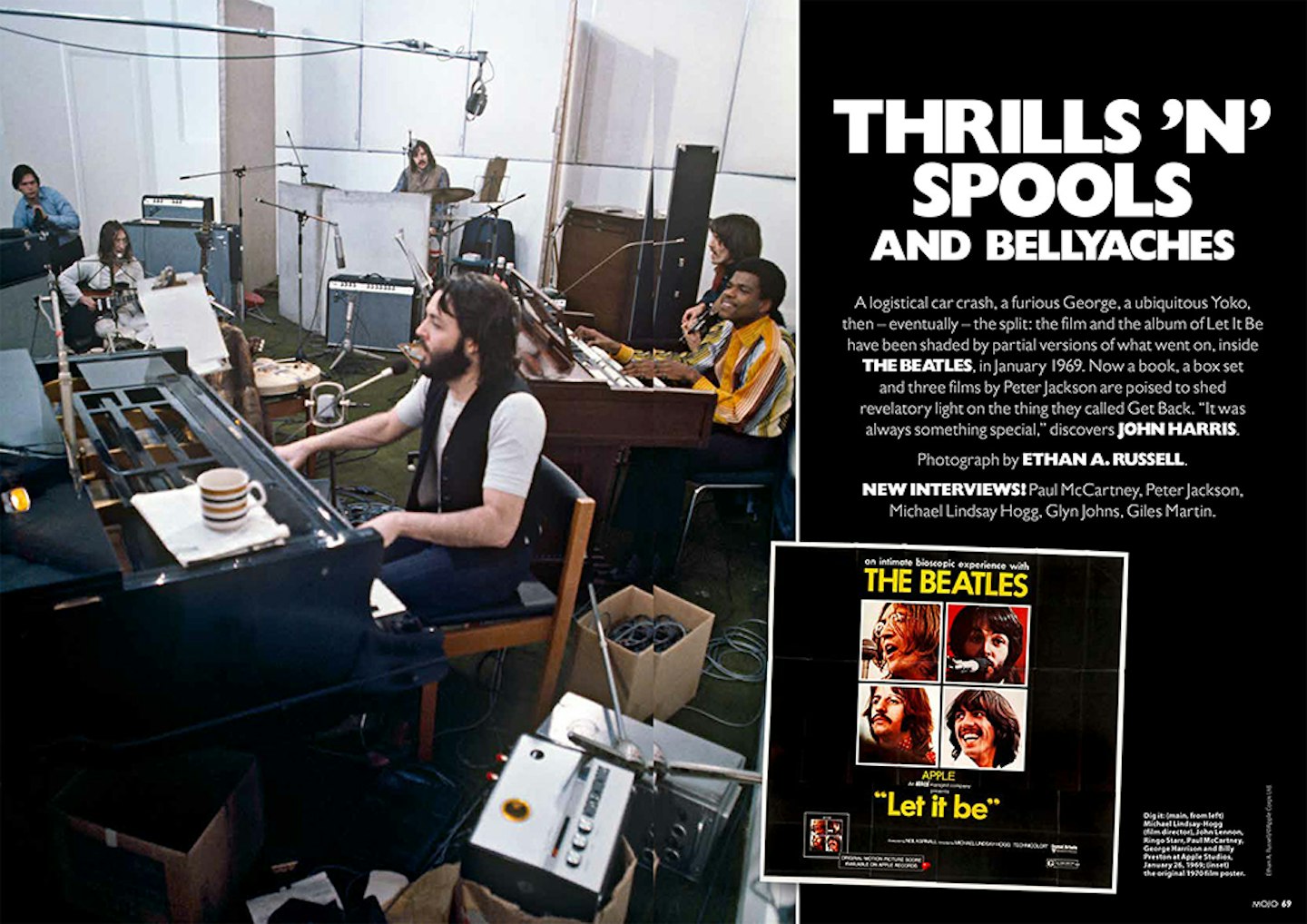 In new interviews with John Harris, Peter Jackson defends his new film against online sceptics predicting a sanitised reading. "I wanted to do it truthfully," says Jackson. "You could easily mount an argument that this movie is actually a lot tougher than Let It Be."
Paul McCartney adds his perspective, acknowledging the conflicted emotions he feared might be stirred up by Jackson's work, but delighting in the snapshots of a firing Beatles caught in the middle of thrilling acts of creation. "Every time we played together," he tells John Harris, "everything else was forgotten."
Original Let It Be director Michael Lindsay-Hogg relives the making of the original film, its political minefields and its initial release in the wake of the spring 1970 revelation of the Beatles' split. "No one was looking after Let It Be," the director tells MOJO. "The Beatles had broken up. They didn't care. It was a bit like the little child abandoned in the doorway."
And yet, challenging the conventional narrative that the making of Get Back – subsequently Let It Be – was an unmitigated misery-fest, all parties attest to the creativity (and for the most part, good humour) the Beatles sustained under difficult circumstances.
Remembering the rehearsal and recording sessions at Twickenham and Apple Studios, Savile Row, engineer Glyn Johns – whose original 1969 version of the Let It Be album, a thrilling fly-on-the-wall snapshot of the Beatles with the bonnet off, is finally to be released as part of a new Let It Be audio box set – says: "I was enormously impressed with the respect they had for each other. The speed they picked up on material that was being offered."
"Get Back is like date night," reflects Giles Martin, who contributes a new mix of the Let It Be album to the audio package. "The Beatles are trying to bring some spice back into their marriage."
Read MOJO's Get Back/Let It Be deep-dive and decide for yourself how successful they were.
---
MOJO is available in UK stores and online now.
The Beatles: Get Back book is published by Callaway and Apple Corps on October 12. The new Let It Be audio package, including Giles Martin remix and, in Super Deluxe editions, multiple discs of outtakes plus Glyn John's 1969 mix and tracklisting, is available everywhere on October 15.
Get Back, Peter Jackson's 6-hour, 3-part documentary, airs on the Disney+ channel November 25, 26 and 27, 2021.
More info from https://www.thebeatles.com/
Photograph: Ethan A. Russell / © Apple Corps Ltd.