EARLIER THIS MONTH, MOJO VISITED NOEL GALLAGHER'S LONE STAR STUDIOS in Kings Cross for an exclusive preview of the fourth High Flying Birds album, Council Skies.
With songs including Pretty Boy, Think Of A Number, Easy Now and Open The Door, See What You Find, the album's sound covers the range of Gallagher's long career, from unifying singalongs to psych-experimentation.
Time, phases of life, and deep roots are, it seems, integral to Council Skies. The title is borrowed from a book by Sheffield artist Pete McKee, Gallaghers' long-term brother-in-arms Johnny Marr plays guitar, while the cover art - shot by veteran Mancunian photographer Kevin Cummins -  depicts the band's live gear set up on the original centre spot of Manchester City FC's now-demolished Maine Road ground where Oasis played two shows in 1996.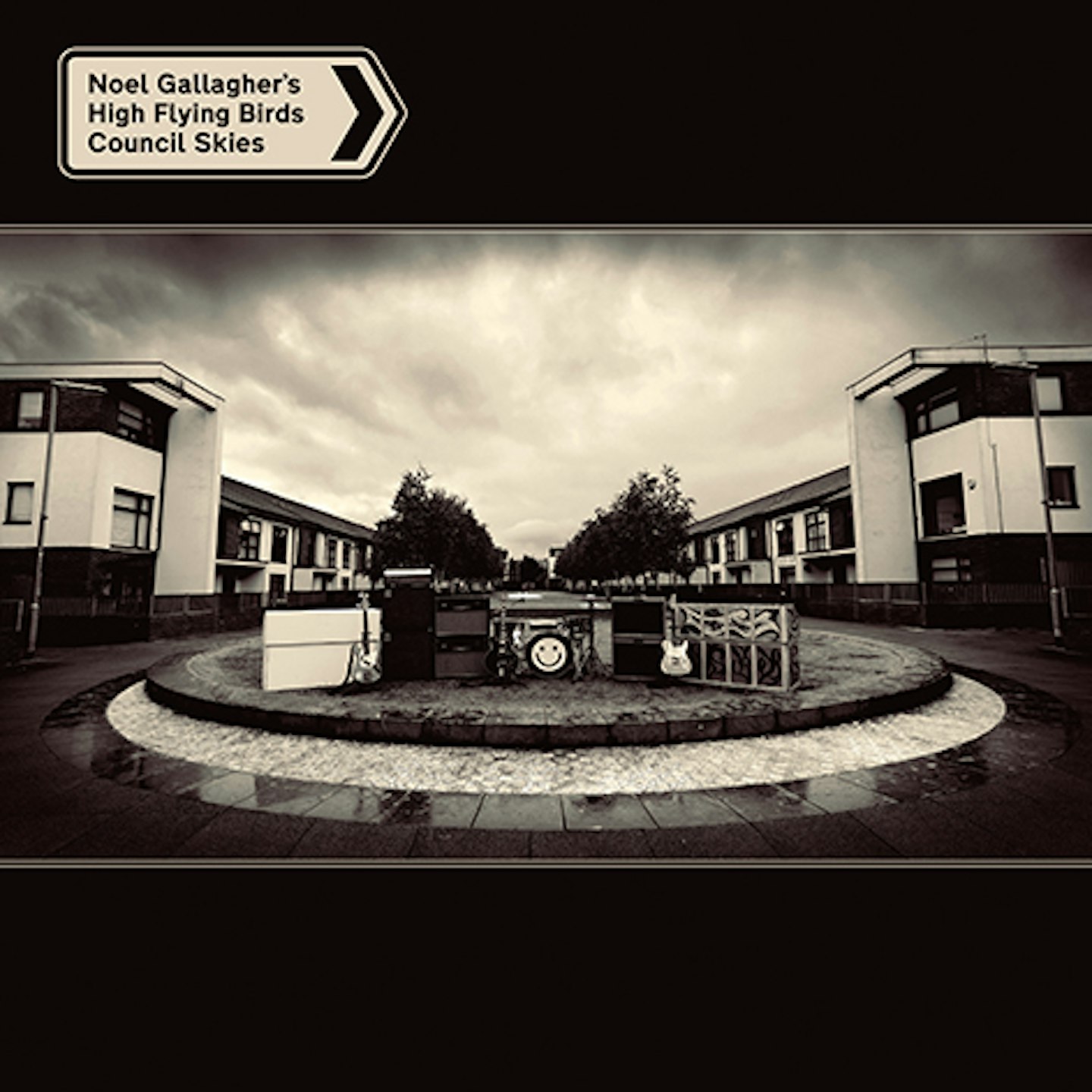 "It's quite reflective but it's not nostalgic," Gallagher tells MOJO. "Maybe Easy Now, which sounds quite Oasis-y. But the songs have a certain up-and-down mood to them. Pretty Boys is a fucking party tune. It's my fourth studio album and it encompasses, I think, everything that I've done in the last 13 years."
The album follows 2017's more experimental, David Holmes-produced Who Built The Moon?, but due to the realities of lockdown Gallagher took a more back-to-basics approach for his initial songwriting this time around.
The best songs I've written have always been about 'us' rather than 'me'.
"I wrote it on acoustic guitar, which is what I would do in the past," he says. "It was the position that David Holmes took me out of when I was writing stood up at a fucking synthesizer on Who Built The Moon?. All that stuff was so far away from what I'm known for… The best songs I've written have always been inclusive and about 'us' rather than 'me', you know."
With Covid throwing a spanner into his initial release plans, Gallagher put out a High Flying Birds best of, Back The Way We Came in 2021, which highlighted some of the more adventurous avenues he's explored since walking out of Oasis in 2009.
 "I feel, sometimes, that I'm defending my right to make music that's not fucking indie rock and to jump around artistically. You feel like when you're making Pretty Boy or [2019 EP] Black Star Dancing, you have to justify why you're doing it, because people want you to rewrite fucking Don't Look Back In Anger 14 times on an album..."
READ THE FULL INTERVIEW in which Noel discusses working with The Cure's Robert Smith, The Pet Shop Boys and the possibility of an Oasis reunion!
BECOME A MOJO MEMBER for instant access to the latest MOJO and receive every new issue on your smart phone or tablet to listen to or read from as little as 99p. Enjoy access to an archive of previous issues, exclusive MOJO Filter emails with the key tracks you need to hear each week, plus a host of member-only rewards and discounts.