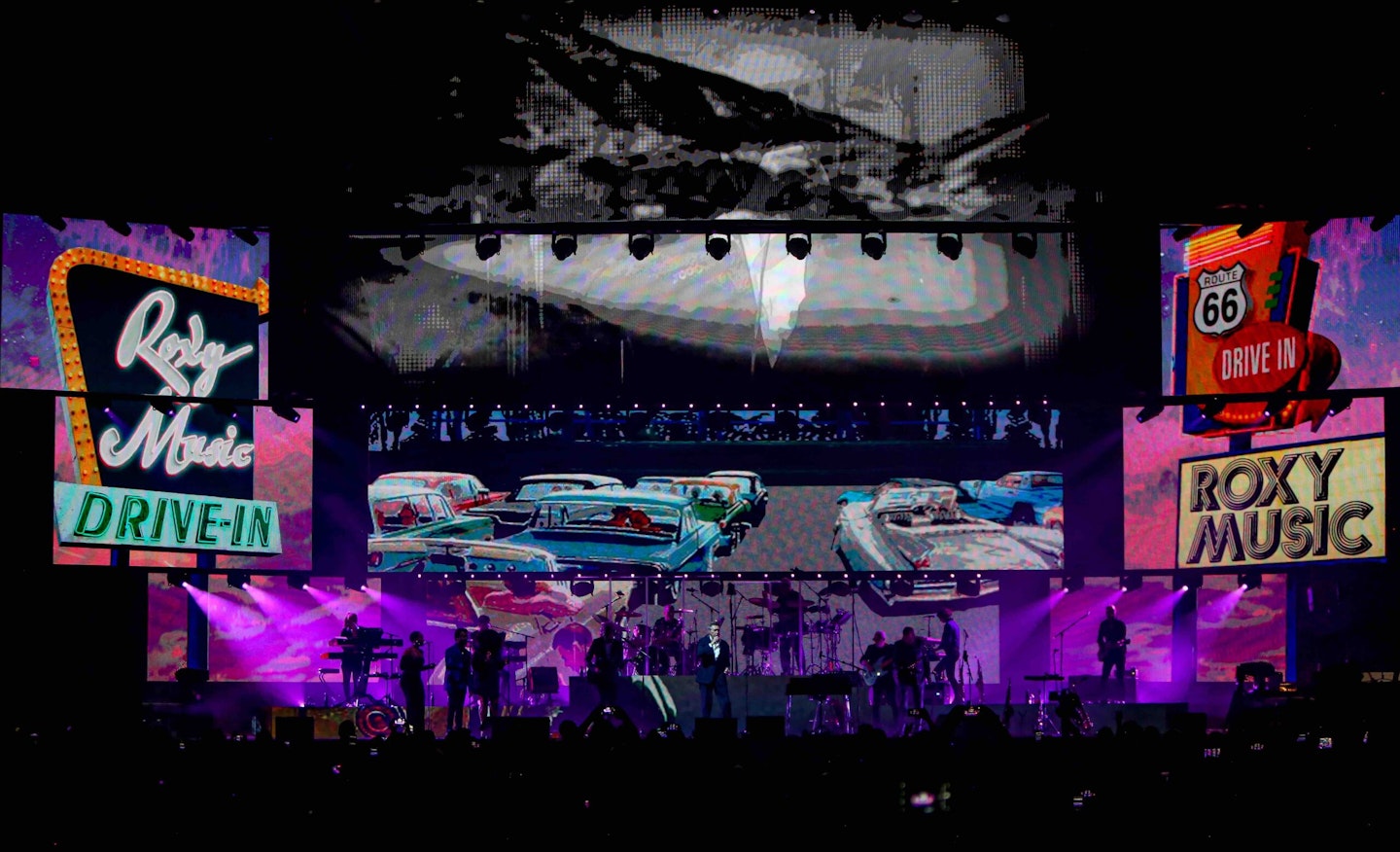 Bryan Ferry and enduring art-rock institutions Roxy Music complete their Golden Jubilee tour with a docklands mega-gig.
As Roxy Music guitarist Phil Manzanera told MOJO back in April, when Bryan Ferry suggested doing some gigs in late 2021, his reaction was: "Whaaat?!"
It was a sentiment shared by many who thought the group's 2011 tour would be their last, and that an inductory 2019 date at the Rock & Roll Hall of Fame was the final hurrah. And now here we are, in the vastness of the 02 Arena, at the end of 13 North America/UK reunion shows celebrating 50 years since the band's extraordinary self-titled debut, with original members Ferry, Manzanera, sax/oboe player Andy Mackay and drummer 'The Great' Paul Thompson.
The band all have additional musicians to hand, playing in real time, while Ferry's accompanied by a sympathetic vocal trio – including Fonzi Thornton, who first sang with Roxy back on 1982's swansong Avalon – to smooth out whatever rough edges there may be. Without a sound out of place, then, they're not intending to miss, and they don't: fresh from 1972, an opening, neon-bright one-two of Remake/Remodel and Ladytron bring back the group's original pop art-made-flesh incarnation with an electric charge, with big-screen snatches of the band as they were juxtaposed with a live feed.
It's eerie how apt the early songs seem to be, with If There Is Something's door-clanging reprise "when you were young" not lost on the fifty-something audience, Editions Of You's pathological personality-fracture accompanied by Warhol images, and, most explosive, a shivers a-plenty In Every Dream Home A Heartache, where sexual dysfunction, unreality and obsession gain extra malignancy when sung by the 77-year-old Ferry. Mackay and Manzanera are huge parts of the sound, with lengthy volcanic soloing from each sounding like transmissions from previous rock epochs. Ferry, who alternates between sitting at his electric piano and elegantly roaming the stage, counts each song out, a bandleader and frontman leaving nothing to chance.
It's not the most obvious setlist, and with six songs off Avalon (but no Street Life or Both Ends Burning), the more rational, polished, late-period charms of Roxy are convincingly re-stated. Songs of passed time and romantic regret, Dance Away, More Than This and Oh Yeah are choice moments where artifice and sincerity meet. This weary suavity doesn't last. A late sprint, only partially slowed by their version of Lennon's Jealous Guy, includes the sleazy disco of Love Is The Drug, a roof-raising, pink flamingo augmented Virginia Plain and a climactic Do The Strand where, as LP covers, press cuttings and portraits going back to the Eno days flash before our eyes, the decades crash into one, current time is suspended, and we get gloriously lost in the exhibition.
Earlier Ferry admitted, "We're pretty old now" and thanked the audience for coming to the "finale of our little tour." If this was indeed it, what a way to go out. Speculation is rife, though, that they will be back next year – meaning, in Roxy speak, that for those not yet fed up with fandango, there may yet be time to dance the cha-cha through till sunrise one more time.
Photographs: Matthew Becker