From playing songs of suburban alienation in English church halls to symphonising the mysteries of life across the world's most prestigious stages, the odyssey of The Cure spans six decades and defies rock'n'roll logic. Yes, it says: you can do whatever you want, all the time, in your own time, and people will fill football stadiums to vindicate you. A post-punk Monet, Robert Smith has worked with a consistent palette for more than 40 years – but thanks to the rigour and intricacy of his craft, there's always something new to catch your eye.
Because The Cure's song canon is as varied as any in pop, comparable with Smith's hero David Bowie for creative handbrake turns, a sonic landscape that permits DayGlo fantasy and monochrome gloom, the euphoric and the infernal, The Love Cats ("So wonderfully, wonderfully, wonderfully, wonderfully pretty!") and One Hundred Years ("It doesn't matter if we all die!"). Tears, tunes and boxes of lipstick-flavour chocolates – Robert Smith dispenses them all, sweet and sour, like Willy Wonka with a baritone guitar.
Smith announced in 2022 that a new Cure album, Songs Of A Lost World, was imminent. Then again, he said as much in 2019. Such are the perils of perfectionism. But as MOJO's Top 30 emphasises, the world of his band is already bursting with wonders. Just close your eyes and see…
30
The Hanging Garden
(from Pornography, 1982)
A bestial apparition with a touch of evil.
For a few years, Smith was obsessed with Siouxsie & The Banshees. He became their touring guitarist, made an album with Steve Severin as the Glove and modelled his rag-doll image on Siouxsie, hence the hysterical tom-tom rhythm that drives this bad trip of a song. It's a sweaty hallucination of animals (or people dressed as animals) kissing, screaming and dying in a place whose name suggests a place of execution rather than horticulture. LSD is one hell of a drug.
29
Why Can't I Be You?
(from Kiss Me, Kiss Me, Kiss Me, 1987)
Stalker confessional disguised as chart charmer. How Cure.
Having already pastiched The Bare Necessities with Love Cats, Robert Smith chose another Jungle Book hit as the template for Kiss Me, Kiss Me, Kiss Me's daffy pop moment. Why Can't I Be You? was effectively I Wanna Be Like You's Louis Prima swing transposed to a drunken fancy dress party, a feckless cavort underpinned by Simon Gallup's Motown bass line. The lyric had just enough creepy undercurrent ("I'll eat you all up or I'll just hug you to death") to resonate with Pornography devotees.
28
Three Imaginary Boys
(from Three Imaginary Boys, 1979)
Fey, in the best way.
A sonic blueprint being sketched in real time, the lines and angles of a version of The Cure we would come to know very well materialise in the chorused guitars and disorientated lyrics of Three Imaginary Boys. There's even a hint of I Am The Walrus in the boom bap beat and spitty vocal rhythm. Smith casts himself as ghost or intruder (or both) in the verses. In the choruses, he's under the bed clothes frightened by the prospect of daylight and everyday depression.
27
The End Of The World
(from The Cure, 2004)
Boys do cry, after all.
The song title suggests another classic tilting-at-windmills Smith whinge, yet End Of The World is actually a love song, from a drama queen's point of view: "Not just a boy and a girl / It's just the end of the world." Smith references tears, kisses, sighs and lies as The Cure shift into chugging, streamlined and hook-driven beat-group mode (albeit with an incongruous mid-section synth solo). It's not as springy or iconic as Boys Don't Cry but there's a lineage between both singles.
26
Friday I'm In Love
(from Wish, 1992)
"Really out there in Happyland", noted Bob.
Echoing The Easybeats' famous diary-build to weekend ardour, this slick, jangling ear-worm comes on like a record company ultimatum for a single, yet it still takes 30 seconds for the lead vocal to show. "To taxi drivers, I'm that bloke that sings Friday I'm In Love," said Smith, flagging the song's new demographic reach. A proper hit both sides of the pond, built around a chord sequence so blatantly perfect The Cure's leader worried he'd nicked it.
25
Killing An Arab
(Small Wonder single, 1978)
Bazaar ramifications.
The Cure's first single – and a fascinating hostage to fortune. So-called "Gypsy scales" instantly, engagingly, evoke the souk. But it's the depiction of the murder scene from Albert Camus's The Outsider that's proved controversial – particularly with a song title so open to jingoistic misinterpretation. Seeing himself reflected in the dead Arab's eyes, the song's narrator is more sympathetic than Camus's anti-hero, but this hasn't stop Killing An Arab becoming one part albatross, three parts compelling existential signature tune.
24
Underneath The Stars
(from 4:13 Dream, 2008)
Dreamy long-form skygazer channels Crazy Horse!
Shades of Disintegration in the protracted intro to this opener from Smith's most recent collection of all-new material, whose fraught genesis involved Morrissey-esque web broadsides against his label. The deliberate pace and cavernously reverbed fuzz chords echo Neil Young's Cortez The Killer, until at 1:50 a quintessentially Cure-y riff chimes in, and we're in Robert's World of Romance, the wispy effects around his vocals' edges approximating celestial ether, as goth's first couple enjoy a wondrous star-gazing clinch. "The kiss is infinite", indeed.
23
Lullaby
(from Disintegration, 1989)
Spiderman, just not the Marvel type…
"I screamed for what seemed like days," Smith told NME of his uncle's grim bedside stories and the recurring arachnid nightmares they induced. Lullaby made them flesh; Smith's whispering dread escalating above a stifling, claustrophobic beat and the ghostly intrusions of Roger O'Donnell's sticky synth-strings. A pure moment when The Cure's pop and dark sides coalesced amid Disintegration's deathly soul-purging, the Freudian gift of Smith devouring himself in Tim Pope's lurid, Polanski-inspired video burrowed it into the UK Top 5.
22
Fire In Cairo
(from Three Imaginary Boys, 1979)
Spells it out: The Cure were going to be different.
What fire in Cairo? And why has Smith's mind wandered to North Africa again? With little concrete to illuminate it, Fire In Cairo retains a weird, unsettling mystique: for starters, is the fleeting lovers' triste here, soon dissolving like a mirage, real or a simply imagined? The Eastern-sounding chord change in the bridge and parched guitar stabs evocatively colour this desert story, but it's the clever, tongue-twisting spelling-out of the title in the chorus that insinuates Smith's uncommon gift for prosody in song.
21
Charlotte Sometimes
(single, 1981)
In the past, a gateway to the future.
Inspired by Penelope' Farmer's 1969 children's fantasy novel of the same name, the mood of The Cure's seventh single was drizzly-grey and despondent, with Tolhurst's steady electronic pulsebeat icy and precise. Yet at its core, the song glowed. Smith once described Farmer's book as, "very romantic", and his tribute radiated a new-found warmth from Smith's flanged guitar and choral harmonies, with a wraparound ambient hum in the background. The Cure would move on to their bleakest album, Faith, from here, but Charlotte Sometimes provided a timely refuge for those times when unwelcome visitors make their presence felt.
20
The Walk
(Fiction single, 1983)
 In an instant, it changed ev-ry-thing…
The Cure became a streamlined synthpop twosome following the temporary departure of bassist Simon Gallup, though fans might've assumed that Peter Hook had replaced him on this bright, pulsing track. The Cure's dance-duo era was short-lived, and this clubby commercial breakthrough – with its wolf-whistling vocals, loopy lyrics, and drummer-turned-keyboardist Lol Tolhurst's chirping, circling circus-music riff – could've been just a whimsical one-off in the band's otherwise doomy discography. Yet The Walk unexpectedly, established the happy/sad aesthetic of the many smash singles that followed.
19
A Strange Day
(from Pornography, 1982)
Dying on a beach.
Amid Pornography's churning horrorscapes, A Strange Day strikes a lonely beatific note. So this is how the world ends: to a spiralling guitar plaint, tectonic bass, last-gasp beats (Lol Tolhurst bought a 10-inch deep snare drum from The Specials' John Bradbury) and Robert Smith floating into the apocalypse as the sun hums, the sea grows, "and the sky and the impossible explode". With nuclear dread a post-punk staple, The Cure re-cast Armageddon as the ultimate heartbreak.
18
Let's Go To Bed
(Fiction single, 1982)
The pros and cons of getting it on.
Post Pornography, Smith detoxed in the Lake District and, refreshed, set about scrubbing up much-demoed outtake Temptation, formerly deemed too lightweight, into a deliberately more extrovert alt-disco format, complete with Lol Tolhurst's whip-cracking syndrums and an irresistible "doo doo-doo doo" chorus. Amid Edward Lear surrealism ("perfect like cats", "shaking like milk", etc), Smith seems to be lampooning the ennui of promiscuity ("I don't care if you don't"; "It's just the same, a stupid game"), but the silky synth-pop groove is, paradoxically, sexy as hell.
17
Catch
(from Kiss Me, Kiss Me, Kiss Me, 1987)
Suddenly US-friendly, Cure go gorgeously soft.
Unlikely contenders (as the music weeklies had it) to "SLAY STATES", something went right in '87 among the grab-bag 18 tracks on Kiss Me, Kiss Me, Kiss Me, winning The Cure Billboard Top 40 kudos. Lack of an organising principle allowed disparate singles, including this dreamily-strummed, deeply analgesic ditty, inspired by the childbirth/coma scene in Rocky 2 (no, really) and lushly romanticised in a French Riviera-set promo – Smith and co. taking goth coiffs and studio tans for a sacrilegious turn in the sunshine. Emily Dickinson verses were pinned around the Manor studio for reference.
16
Primary
(from Faith, 1981)
The adolescent angst begins to curdle.
The first track recorded for Faith and the album's sole single nails that period Cure's preoccupation with loss of innocence and search for some emotional substitute for Smith and Tolhurst's childhood Catholicism (both encounter grief for the first time during the album's protracted recording). The song has sleeping children dressed in white, a worrying suicide fixation and no guitars (Smith plays six-string bass). High-speed, helicoptering ominousness offsets all pomposity, largely thanks to Simon Gallup whose performance is so energetic you see his blusher sliding off in the video.
15
Lovesong
(from Disintegration, 1989)
A pessimist's concession to true romance.
Smith began dating Mary Poole when he was 14 but it took him 15 years to marry her and write her, as a gift, a straightforward love song devoid of metaphor or whimsy ("She would have preferred diamonds," he quipped). Uniquely on Disintegration, Lovesong gets straight down to business, Gallup's gymnastic bassline setting off a chain reaction of hooks while Smith expresses unqualified gratitude and undying fidelity, until it concludes as crisply as it began. Better than diamonds after all.
14
Play For Today
(from Seventeen Seconds, 1980)
A chilly kitchen-sink drama.
This is the sound of metamorphosis. The first song Robert Smith wrote for The Cure's second album, Play For Today was also his last composition with the same kind of angst-pop dynamics heard on their debut. Frosty drum effects helped to bridge the gap between the band's past and its present. Named after the long-running BBC drama anthology, Smith succinctly described his own three-minute tragedy as addressing "the fraudulent aspects of an insincere relationship." A story as old as time.
13
The Love Cats
(Fiction single, 1983)
Playful wheeze morphs to purrfect pop.
"A joke composed drunk", claimed Smith, but alleycat meows and purrs, 'milk-bottle' percussion and giant moggie costumes (see video) only cemented The Love Cats' appeal. Part uxorious love song, part curious Cure excursion into skiffle-ish jazz, it all hangs on Phil Thornalley's fat double bass, plus Smith's slinky piano and hitherto hidden flair for bouncing, Django Reinhardt-style guitar chords. Lol Tolhurst's contribution? Vibraphone. Their first UK Top Ten single, and about as gothic as Top Cat.
12
A Night Like This
(The Head On The Door, 1985)
A band called Malice break America.
Perfect Curepop, full of scowling, romantic regret. The lyric was written in the rain, Smith said ("I was upset") while the Roxy-ish chord structure was a slowed down version of Plastic Passion from Three Imaginary Boys. Its origins stretch back as far as December 1976 when Malice – the school band whose line-up included Smith, Porl Thompson, Lol Tolhurst and Michael Dempsey – played an antecedent of Plastic Passion, entitled A Night Like This, at St Wilfrid's School Hall in Crawley.
11
Pictures Of You
(from Disintegration, 1989)
Love and loss, frosty and glacial – Smith's high watermark I frazzled numbness.
In Autumn 1988, a domestic fire destroyed Robert Smith's home in Sussex. Freshly married that summer to his childhood sweetheart, Mary Poole, the singer raked through the wreckage and came upon a wallet filled with photographs dating back through the ten-plus years they'd been together. One had graced the cover of 1981's Charlotte Sometimes, distorted and reversed into negative, but would be displayed in full clarity for the sleeve of Pictures Of You – the elegantly poised seven-minute masterpiece that discovering this cache of images inspired – when it was released as the fourth single off Disintegration in March 1990. This glacially-paced weepie was, however, anything but a recent bridegroom's rush of euphoria. Here, a funereal beat establishes a slo-mo groove, which, overlaid with frostily sustained synth chords and a gentle, flanged strum, broods for almost two minutes before Smith launches into a litany of woe, recounting the memories of a lost love evoked by just such a stack of photos, which he ultimately tears to pieces in despair. As a loser-in-love's anthem, it's unparalleled.
10
The Caterpillar
(from The Top, 1984)
The mushroom tea kicks in…
A neo-psychedelic campfire song that grew out of a far more ominous (and *Pornography-like) demo, with heavy rolling tom-toms and lyrical spiders excised. The Caterpillar revelled in flamenco-ish pop: all castanets and congas, scratchy violin and madhouse piano. Smith's vocal piled on the anguished emotion (he later confessed he fretted he'd gone "too far" as he sang it). But, fittingly, romantic deception and possible guilt lay at its heart – when our narrator stops covering up his "lemon lies", the girl will fly away.
9
All Cats Are Grey
(from Faith, 1981)
"When all candles be out all cattes be gray." – 16th century proverb.
Inspired by a cave-dweller in Mervyn Peake's gothic Gormenghast books, as well as the death of Robert Smith's grandmother, All Cats Are Grey is nevertheless among The Cure's most pleasingly ambient and psychedelic works. Warm, soft synths unfurl as Smith croons distantly about all cats being grey: a proverb Benjamin Franklin popularised to explain his promiscuousness. Hmm. The song found renewed appeal as a rave-era chill-out room staple, with Soft Cell's Marc Almond enthusing about hearing it the first time he took ecstasy in New York.
8
Close To Me
(The Head On The Door, 1985)
Through the wardrobe to the Curepop renaissance.
While no one could blame Robert Smith for retreating to childhood after the gloom trilogy, the handclaps and xylophone scales here offer only superficial comfort. In the studio, Smith paired the music with a pre-existing lyric that relived the sense of dread and hallucinatory confusion he felt during an infant bout of chicken pox (the same "nightmare visions" gave the album its title). Tim Pope's video famously channeled the track's claustrophobia by locking The Cure in a wardrobe and throwing it off Beachy Head.
7
Jumping Someone Else's Train
(Fiction single, 1979)
Last stand for bassist Michael Dempsey.
After a show in June '79 with the Merton Parkas, Robert Smith penned The Cure's standalone third single, a swipe at the mod/ska revivals. A careening smartpop piece that threatens to derail at any moment, the disdain palpable throughout, from the sharp lyric ("If you pick up on it quick/ you can say you were there") and detached delivery to the "sub Townshend" opening guitar chord, accelerating rhythm and glorious topping: Lol Tolhurst's onomatopoeic speeding-down-the-track drum coda.
6
One Hundred Years
(from Pornography, 1982)
Putting the creepy into Crawley.
Out of interdepartmental chaos – drugs, sauce, issues – the Cure's make-or-forsake fourth LP groans like a stricken liner amid death-rattle electronic beat and caterwauling guitar. Smith gets to the point: "It doesn't matter if we all die." Poe-infused imagery dances macabrely to bunking-off nihilism: "Something small falls out of your mouth… the death of her father pushing her." Wickedly addictive, squalling, desperate, terrifying, off what was – naturally – their first Top 10 album. Smith took a restorative camping holiday. Critics, satisfied, danced on the Cure's grave.
5
10:15 On A Saturday Night
(Three Imaginary Boys, 1979)
Suburban alienation gets its theme-tune.
The deluxe edition of The Cure's debut has an illuminating home demo of its opening track. Slowed down and played on his sister Janet's Hammond organ, it reveals Robert Smith's Bowie fixation; in this case, roughly, the guitar part to Be My Wife. While the album version is a metronomic race through suburban isolation imagery – strip lighting, tap dripping, telephone staying silent – that befits its hasty creation: The Cure smuggled in at night to the studio where The Jam were making All Mod Cons.
4
Just Like Heaven
(from Kiss Me, Kiss Me, Kiss Me, 1987)
So good that Dinosaur Jr got out of bed to cover it.
Enough happens in the instrumental prelude to affirm Just Like Heaven's greatness: the auspicious Gallup-Williams rhythm intro, yearning synth and giddy descendant lead guitar create an entire plotline in 49 seconds, whereupon Robert Smith's vocal simply rides the euphoric wave to an eternal blue horizon: "Why are you so far away?" the girl asks the narrator, too lost in himself to notice. A perfect example of the muscular mid-'80s Cure's capacity for powering Smith's inner light to the world.
3
Boys Don't Cry
(Fiction single, 1979)
Stiff-upper-lip England debunked.
Featured on the demo that secured The Cure's deal with Fiction, and later resonant enough to command its own episode of BBC Radio 4's Soul Music, Boys Don't Cry loosed the emotional repression of late '70s Crawley, and helped lads everywhere feel feelings. Hatched in the party-room extension of Robert Smith's parents' house, it ekes singular magic from Lol Tolhurst's ritardando drum hook and Smith's simple, rising guitar chords. The faux-naif mood masks real emotional intelligence.
2
In Between Days
(The Head On The Door, 1985)
Caterpillar become butterfly
In Between Days was The Cure's fourth consecutive Top 20 hit in the UK, but if its predecessor, The Caterpillar, felt like hothouse exotics, all cats, bugs and eccentric embellishments, In Between Days felt less fretful about subverting the hit-writing process. From Boris Williams's opening drum burst to the final forlorn fade, it was an unmistakably glorious pop song, one broken relationship crushed into two verses and three minutes. It feels generous, abundant, the intro rapidly layering drums, bass and acoustic guitar, before the synth riff lifts the whole song up by its corners, throwing it into the blue. Young and old, happy and sad: In Between Days exists in a state of perfect unresolved yearning, oscillating in its own never-ending story. "Just walk away," sings Smith, "Come back to me." A love song, a hate song, a pop song, a sad song. Everything in between.
1
A Forest
(Fiction single, 1980)
A ghost story from the brothers grim – one to envelope them all.
"It's always the same" is such an archetypal Cure sentiment that before it appeared in A Forest it featured in 10:15 Saturday Night. In one song Robert Smith is waiting for something that will never happen; in the other he's looking for someone who isn't there. In real life, Smith was admirably prolific and ambitious but in his songs, the biggest Camus fan in Crawley suggested that action and inaction had the same result. He crystallised this existential quandary most brilliantly in A Forest: the sound of a band becoming themselves, even if they would later become many other things.
In late 1979, dissatisfied with the scratchy, primitive Three Imaginary Boys, Smith had an icily clear idea of what he wanted the Cure's second album to be. Writing the demos on a Woolworths guitar, a drum machine and his sister's Hammond organ, his touchstones were David Bowie's Low, Nick Drake's Fruit Tree, Van Morrison's Madame George, Jimi Hendrix's performance of All Along The Watchtower at the Isle of Wight festival and the Adagio from Aram Khachaturian's 1942 ballet Gayane, made famous by 2001: A Space Odyssey. Apart from the second side of Low - clean, modern, emptied-out - Seventeen Seconds doesn't sound much like any of those but they got him where he needed to go.
Compared to the dispiriting seven-month slog of making Faith a few months later, the Seventeen Seconds sessions with producer Mike Hedges at Morgan Studios in Willesden in January 1980 were virtually a party. Smith, drummer Lol Tolhurst and new recruits Simon Gallup (bass) and Matthieu Hartley (keyboards) recorded it in eight days and mixed it in seven, sleeping on the floor to save time and money. The watchword was minimalism. "Anyone who wanted to play more than one piano note could go and do it somewhere else," Smith explained.
A Forest turns depression into ecstasy and straitened solitude into communal motion.
This bare-bones aesthetic extended to the words. Most songs have scant or inaudible lyrics, two have none at all, and the palette of imagery is monochrome: empty rooms, night-time, cold, silence, time passing slowly. It is an album about absence and futility, where the only options are going through the motions or doing nothing at all. Still only 20, Smith was already trying to articulate in these cheerless songs the feeling that would soon overwhelm him. "I felt really old," he remembered. "I felt life was pointless. I had no faith in anything." The last song in the session, the one that took the most time, was A Forest.
A Forest is less a song than an atmosphere. Smith once said that it stemmed from a dream about being trapped in the woods and it does have that tantalising dream-quality of pursuing something just out of reach, combined with the depressive's sensation of being stuck with no hope that anything will, or even can, change. The lyric is self-negating. In the first verse, a siren call beckons the narrator into the trees: "Find the girl, if you can." Then he takes over the story, doing as he's told, only to find himself lost and alone. "The girl was never there/ It's always the same/ I'm running towards nothing." Sameness, nothingness, neverness: these are the anti-qualities of which the young Robert Smith was the master. Action leads to another kind of stasis; change is worse than staying put. The effect is purgatorial. Like its protagonist, the song doesn't really go anywhere but loops in cold, grey circles, "again and again and again and again…"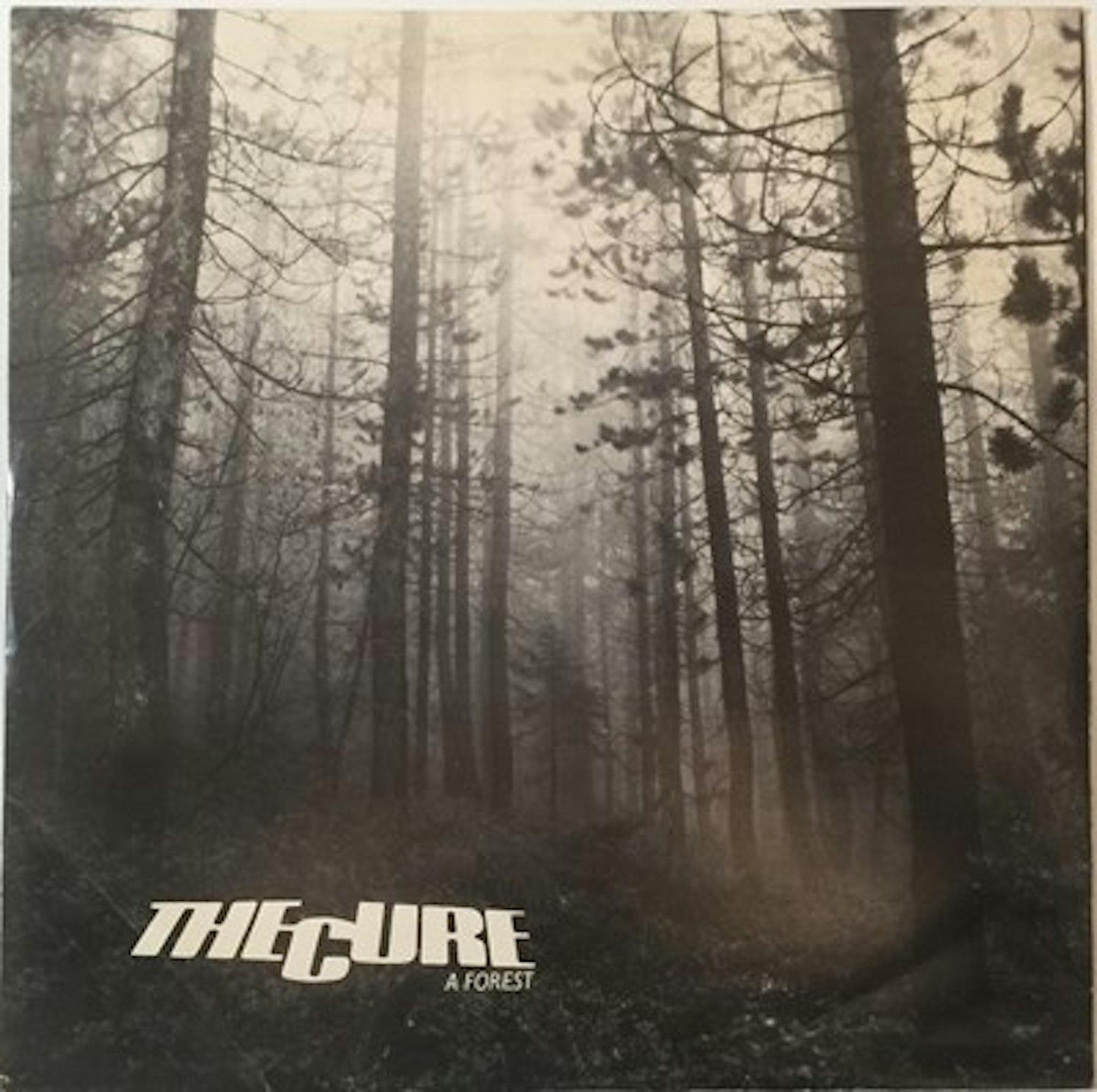 One thing that distinguishes A Forest from a stone-cold bummer like All Cats Are Grey is that it moves at a fair old clip, propelled by Gallup's indelible four-note bassline and Tolhurst's clipped, motorik beat: "simultaneously rushing forward and standing still," the drummer said recently. It may go nowhere but it goes nowhere fast. As various remixes and cover versions have revealed, it functions very effectively as dance music, the repetition trance-like and addictive. Even though the song does properly end rather than fading out, it gives the impression that it's been going on forever and you've just tuned in for six minutes. Even in the studio, Gallup didn't know when it had actually finished. "The drums would stop, Robert would carry on playing guitar and I was never sure when he was going to stop so I'd just carry on after him," he recalled.
The song also feels too huge to be claustrophobic. Using every effect at their disposal — flangers, reverb, chorus pedals, reggae-inspired tape delay — Smith and Hedges created the illusion of three-dimensional space, in which the music and lyrics were constantly describing each other. A Forest feels like a forest: the rhythm section running close to the ground, the synths hovering at the treeline alongside Smith's frosty moan, the guitar circling like birds. No wonder the video and sleeve art were so literal. As the novelist Ian Rankin has said, "It sounds like a film waiting to be made, almost certainly in black and white." It's either that or something like The Blair Witch Project. A Forest is, after all, a kind of ghost story.
A Forest gave the Cure their first Top 40 hit but it really lives on stage, where it is by far the most performed song in their catalogue. Its psychedelic-jam quality means that it can be prolonged indefinitely and still feel too short, turning depression into ecstasy and straitened solitude into communal motion. Smith has written stronger melodies and sharper lyrics but nothing so inexhaustibly compelling — nothing that insists so forcefully on being heard again and again and again and again.