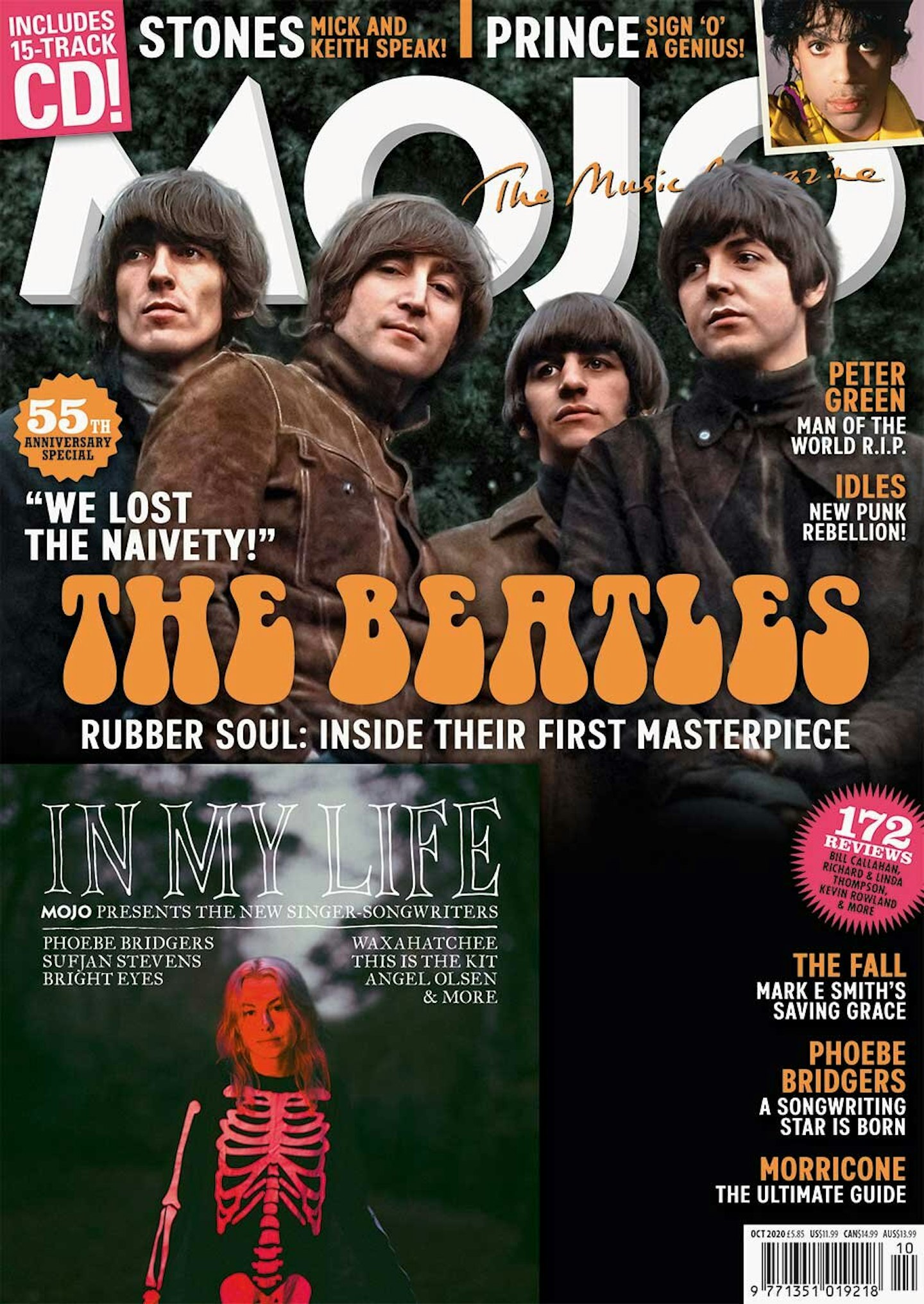 DRUGS, GAGS, SITARS, and the loos at Buckingham Palace: visit them all on our deep dive into Rubber Soul, The Beatles' masterpiece that changed music and culture forever. Marvel at a rare chat with Mick Jagger and Keith Richards, as the Rolling Stones relive the "hairy" creation of Goats Head Soup; get sucked into the byzantine machinations of Prince's Sign 'O' The Times; be inspired by a fitting tribute to Peter Green and a revealing interview with James Taylor. Meanwhile, a new school of singer-songwriters is explored on our Covermount CD, with tracks by Waxahatchee, Blake Mills, Ren Harvieu, Bright Eyes and This Is The Kit, while two of its brightest stars – Sufjan Stevens and Phoebe Bridgers – explain themselves inside. Plus: Idles return; Ennio Morricone is saluted; The Fall reach their peak; Dan Penn; Michael Rother; Joachim Cooder; Bill Callahan, Afel Bocoum; the birth of Glastonbury, and… Penetration!
CONTENTS MOJO 323
THE BEATLES The Fabs' first masterpiece said goodbye to Beatlemania, hello to drugs and weirdness. Paul Du Noyer, John Harris, Rob Sheffield and more celebrate a watershed for music and culture, 55 years on.
COVERMOUNT CD: IN MY LIFE Brilliant songs from the current crop of extraordinary singer-songwriters: This Is The Kit, Sufjan Stevens, Bright Eyes, Waxahatchee, Angel Olsen and more
THE ROLLING STONES How great is Goats Head Soup? Greater now the Stones have found some killer outtakes. So great that Mick Jagger and Keith Richards want to tell us all about it.
PRINCE You're the brightest auteur in pop, but you're broken hearted and your band is no more. What to do? Make four genius albums and release one: Sign 'O' The Times.
JAMES TAYLOR Lester Bangs called him "the enemy of rock'n'roll". "I could see his point," says the master singer-songwriter who survived drugs and stardom… just.
SUFJAN STEVENS Twenty years of recording have yielded at least two bona fide masterpieces. What's next for the US indie elf? Apocalyptic visions… and some weeding.
ENNIO MORRICONE The king of the movie soundtrack died last month. MOJO whistles a requiem for his life and work, a moody influence on rock and pop as well as film.
PHOEBE BRIDGERS The newest star of songwriting likes "ugly stuff" and wants to tell her truth. "She has all the fear but she goes in anyway," discovers Victoria Segal.
THE FALL A guy from Incantation. Great pop hooks by the wife. In 1985, Fall führer Mark E Smith seemed to be opening up. Cue: This Nation's Saving Grace.
REVIEWED Idles / Richard & Linda Thompson / Bill Callahan / Kevin Rowland / Afel Bocoum /
PLUS Peter Green – a fitting tribute to the blues enigma / Dan Penn tells all / Michael Rother / Joachim Cooder – a chip off the old block / the birth of Glastonbury / and… the rise and fall of Penetration!