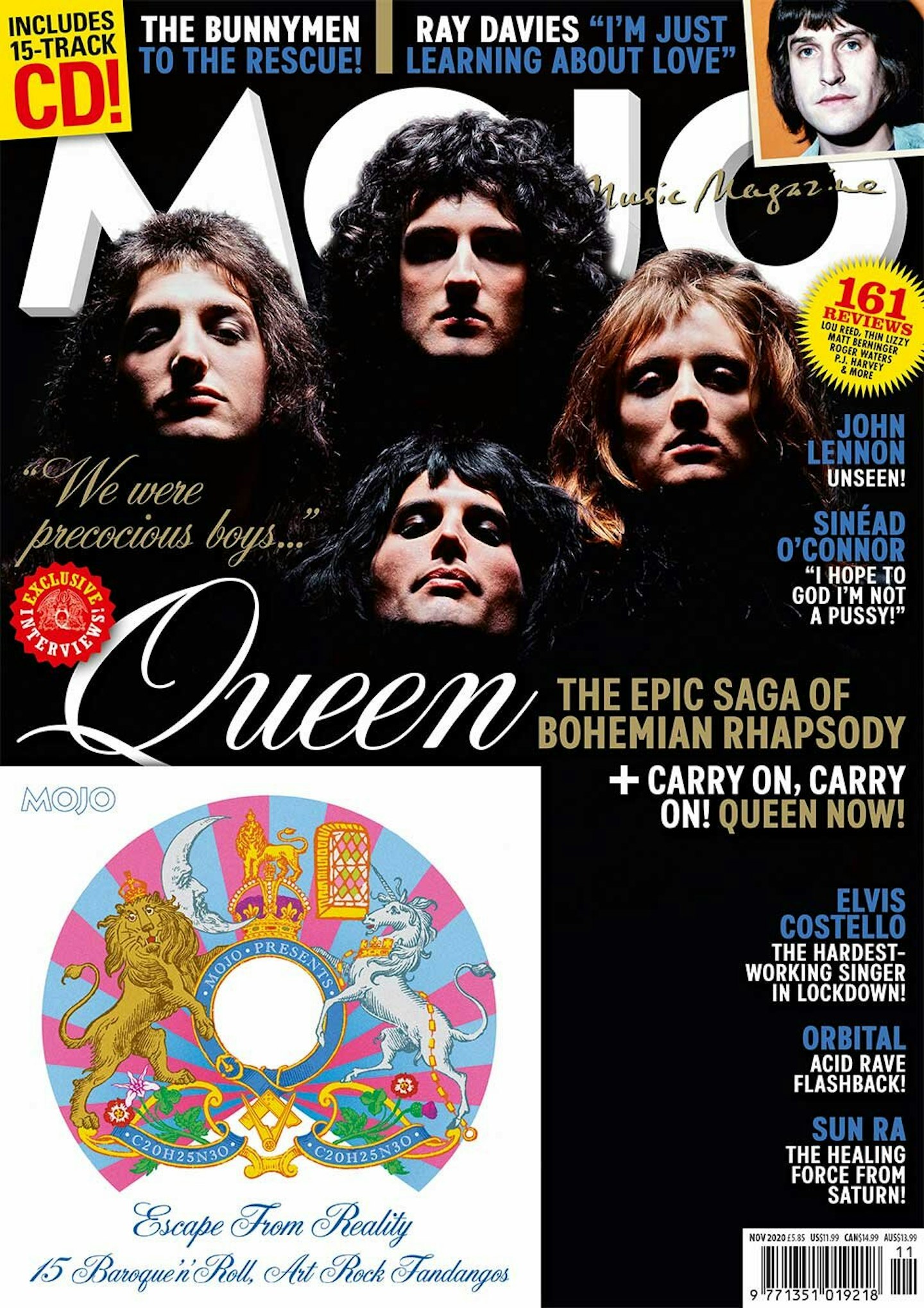 FORTY-FIVE YEARS AGO, Queen released a single that became a legend. Today, Brian May and Roger Taylor take MOJO back to the birth of Bohemian Rhapsody, and behind the scenes of a new Queen live album with Adam Lambert. Our covermount CD has a regal theme, too: epic art-pop and rock by Sparks, Todd Rundgren, Rufus Wainwright, XTC, John Grant, Os Mutantes, The Flaming Lips and more. Inside the magazine, the stars align. Ray Davies says amazing things in The MOJO Interview; Sun Ra's fellow (astral) travellers remember the man from Saturn; Elvis Costello delivers a postcard from lockdown; Echo & The Bunnymen on Crocodiles, 40 years on; and John Lennon's baking years – at last, the evidence! Plus: Robert Plant, Sinead O'Connor, Matt Berninger, Oasis, Orbital, This Is The Kit, Lou Reed, Thin Lizzy, the confounding Connie Converse and star-hunting '60s drug cop Norman Pilcher.
CONTENTS MOJO 324
COVER STORY: QUEEN Brian May and Roger Taylor help MOJO immerse in Bohemian Rhapsody, history's most outrageous rock song, 45 years young. The back story! The legacy! Plus their new live album and a photo portfolio by Neal Preston.
COVERMOUNT CD: ESCAPE FROM REALITY Fifteen tracks pushing rock and pop's ambition envelope, tipping a cap to our cover stars. Songs by Sparks, Todd Rundgren, Rufus Wainwright, XTC, John Grant, Os Mutantes, The Flaming Lips and more.
JOHN LENNON Unseen photographs of the Beatle at work and play – and the inside skinny on the new mixes of his best work: an 80th birthday present from his son, Sean.
RAY DAVIES The Kinks' tormented mainman on Lola, lockdown, love and lyrics. "It's a way of withdrawing from the world, being a songwriter," he tells Jim Irvin.
ECHO AND THE BUNNYMEN Celebrating "40 Years Of Magical Songs" with the scaly tale of their debut album: Crocodiles. Plus: Wayne Coyne, Chris Martin and 'The Hoff' pay tribute.
ELVIS COSTELLO Enter the Renaissance Man of pop, bearing a new album and a definitive Armed Forces redux. How was his recent visit to the Palace? "Nobody was unpleasant."
SUN RA Music that was beyond jazz, a personality (literally?) out of this world: bandmates remember Herman Blount's genius and fight for his legacy.
THIS IS THE KIT With her fifth album of cosmopolitan post-folk, Kate Stables comes out of her shell in style. "I found it easier to have a conversation in song," she says.
ORBITAL How their spine-tingling 1990 single Chime turned rave into music for homes and producers into artists. The Hartnolls, and more, get in MOJO's Tardis.
REVIEWED Lou Reed / Thin Lizzy / Matt Berninger / Roger Waters / PJ Harvey / Alicia Keys / Kevin Morby / Songhoy Blues / Jack Nitzsche / Working Men's Club / A Certain Ratio / Elliott Smith / The Replacements / Future Islands / Black Sabbath / Laura Veirs / Split Enz / Garcia Peoples / Makaya McCraven / Anna Von Hausswolff / Travis / Fleetwood Mac / Joachim Cooder / Loudon Wainwright III / Emmy The Great / Sufjan Stevens
PLUS Sinead O'Connor returns / The Mighty Sparrow, 85 not out / Denise Sherwood and Psychic Temple introduce themselves / Nirvana's 1989 / How To Buy… Oasis / 10cc – the beginning and the end / Jon Hassell drops in / Kevin Rowland by his own hand / Bob Gruen's punk pix / Norman Pilcher – scourge of the spliff-smoking '60s rockerati / All Back To Robert Plant's!