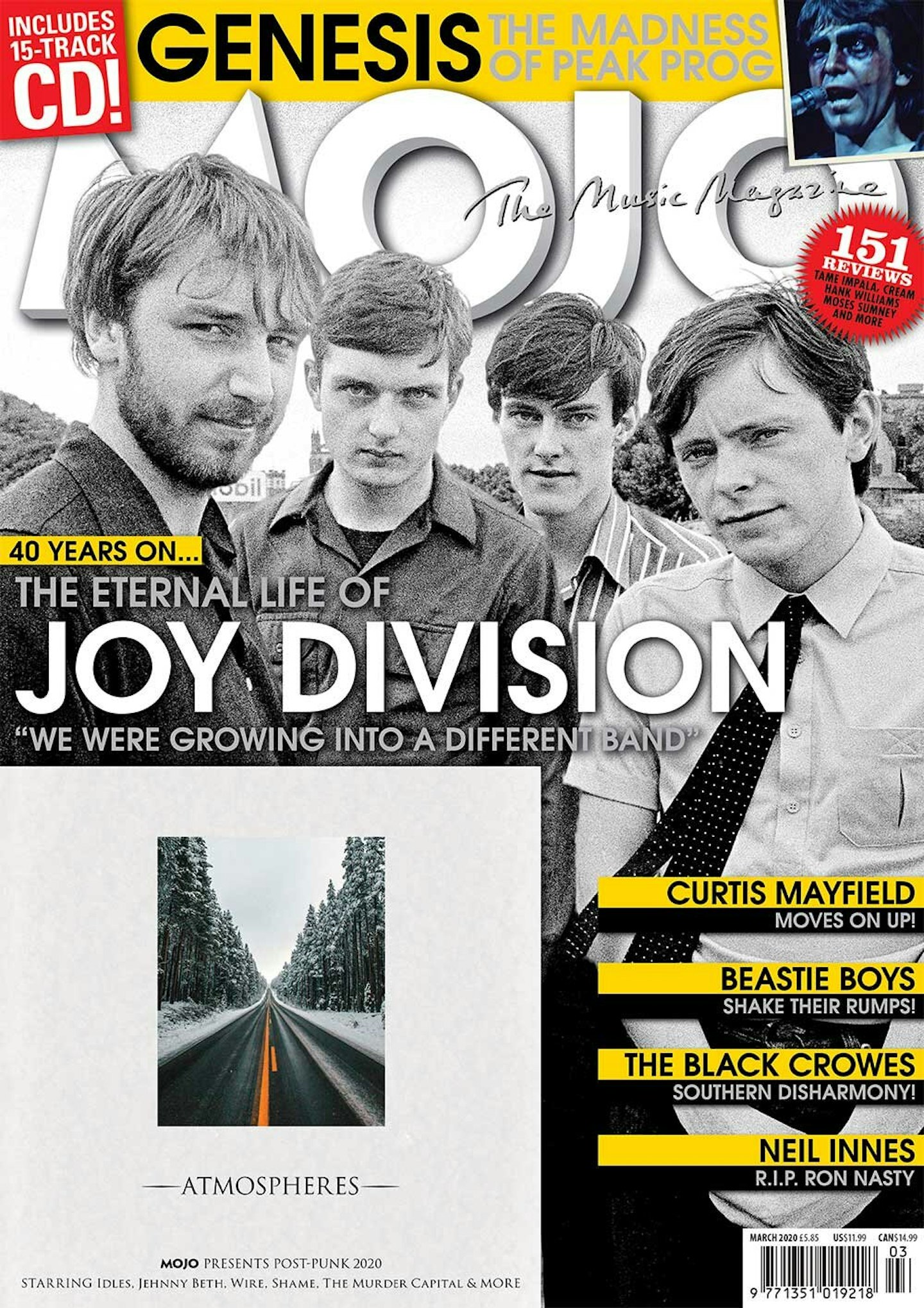 MARKING 40 YEARS SINCE their epic final album, Closer, and Ian Curtis's tragic suicide, Joy Division's surviving members revisit their 1980, while MOJO's covermount CD, Atmospheres, traces the band's fertile milieu and legacy through Wire and A Certain Ratio to Idles, Jehnny Beth and Black Country, New Road. Also in this issue: how The Lamb Lies Down On Broadway spelt the end for Peter Gabriel's Genesis; Curtis Mayfield's early-'70s bid for autonomy; The Black Crowes' battle royale. Plus: Beastie Boys, John Prine, Peter Green, The Necks, Maria McKee, Mosey Sumney, Hank Williams, Tame Impala, Etta James, The Chocolate Watch Band, Neil Innes RIP, and Brian Jones… on acid!
CONTENTS MOJO 316
COVER STORY: JOY DIVISION In 1980, the Mancunian quartet were poised to unleash Closer, an extraordinary re-imagining of rock, when the unthinkable happened. Forty years on, its makers revisit its painful but sacred ground.
COVERMOUNT CD: ATMOSPHERES Overcoats on for 15 tracks of chilly, heavy, gnarly or Mancunian vibes. Wire, Idles, Mark Lanegan, A Certain Ratio, Shame and Black Country, New Road star.
CURTIS MAYFIELD Fifty years ago, the Gentle Genius of soul went solo, taking his quest for autonomy to the next level, and Curtis – his masterly solo debut – was born.
THE BLACK CROWES The warring Robinson brothers have called a truce and tour in 2020. Drummer Steve Gorman went through heaven and hell in the service of their rock'n'roll revival.
GENESIS The Lamb Lies Down On Broadway was the album that broke Genesis. Did it also symbolise an entire genre's strengths and ultimate over-reach?
BEASTIE BOYS They were puerile, vilified, then redeemed by Paul's Boutique – the album that reasserted their cratedigging credentials and moved hip-hop somewhere new.
JOHN PRINE The Songwriter's Songwriter is more popular than ever. In advance of a UK visit MOJO raids his vast chest of stories: Dylan, Sam Phillips and more.
THE NECKS The world's cultiest cult band is also its most unique. Read why Underworld, Swans and The Bad Seeds' Warren Ellis rate them so highly.
REVIEWED Moses Sumney / Tame Impala / Hank Williams / Nada Surf / Cream / Pet Shop Boys / Caribou / Frazey Ford / The Undertones / Destroyer / Neneh Cherry / Agnes Obel / Seth Lakeman / Robert Plant / Greg Dulli / Real Estate / Les Amazones D'Afrique / Pat Metheny / Moses Boyd / Son Little / Green Day / James Taylor / Martyn Joseph / Pale Saints
PLUS The greatness of Bonzos/Rutles' Neil Innes / a Peter Green sighting / Maria McKee's short rib goulash / Michael Cooper's '60s pop portfolio / Soccer Mommy shoot, score / classic rock takes to the waves / Jerry Dammers paints for MOJO / and then all back to Sérgio Mendes's… with Pelé!