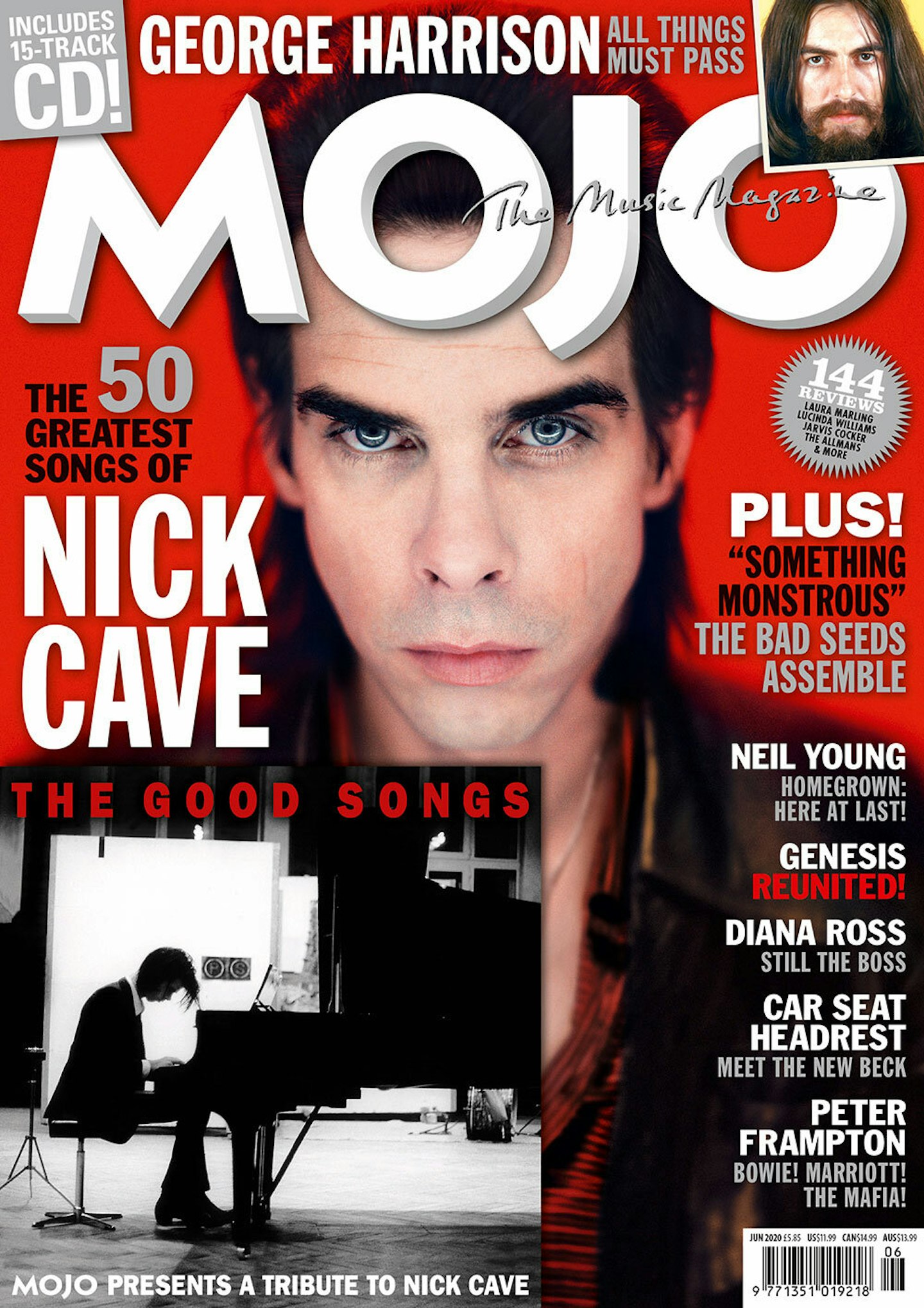 EXALTING THE GENIUS of Nick Cave And The Bad Seeds, MOJO gets inside his 50 Greatest Songs, while collaborators old and new remember Cave's classic phases. Meanwhile, our covermount CD presents The Good Songs, a collection of moody and magnificent covers of Cave's landmark compositions by Primal Scream, Sharon Van Etten, Giant Sand, Mark Lanegan, My Morning Jacket and more. Also in this issue: George Harrison's All Things Must Pass turns 50; Neil Young's Homegrown turns up at last; Diana Ross spurns Motown; Steve Earle revisits Guitar Town; inside the Genesis reboot; Peter Frampton on Bowie and the Mafia. Plus: Laura Marling; Car Seat Headrest; Booker T; Sonic Boom; Stephin Merritt; McCoy Tyner; Dinosaur Jr; The Lovin' Spoonful; Aphex Twin; Terry Riley and so much more. IN UK STORES FROM TUESDAY, APRIL 21
CONTENTS MOJO 319
COVER STORY: NICK CAVE'S 50 GREATEST SONGS The deepest dive into the vibrant and haunting world of a modern great and his badass band(s), with insights from old friends and new. "Nick gave more than is possible," they tell MOJO, "pushing himself to such extremes. He knew he was special."
COVERMOUNT CD: THE GOOD SONGS a collection of moody and magnificent covers of Cave's landmark compositions by Primal Scream, Sharon Van Etten, Giant Sand, Mark Lanegan, My Morning Jacket and more.
GEORGE HARRISON How the Beatles' Dark Horse came by on the outside to win big with All Things Must Pass, in spite of Phil Spector, The Chiffons and Allen Klein.
DIANA ROSS Fifty years a solo star, 40 since she broke the shackles of Motown, the label that made her great, MOJO salutes black pop's imperious queen.
PETER FRAMPTON School with Bowie, University Of Life with Steve Marriott and the Mafia, the superstar of Frampton Comes Alive is learning his greatest lesson.
CAR SEAT HEADREST American indie-rock's new hope put on a hazmat suit to walk the pre-viral streets of Brooklyn. As David Fricke discovers, it's not his only eccentricity.
STEVE EARLE How a Nashville write-off breathed the rock, and reality back into country-rock, and how it bit him in the ass. Eyewitnesses revisit Guitar Town.
REVIEWS Neil Young's Homegrown / Laura Marling / Don Bryant / Mark Lanegan / Norah Jones / Robbie Basho / Tim Burgess / Lucinda Williams / Margo Price / Biffy Clyro / Sparks / Rose City Band / Nightingales / Cable Ties / The Everly Brothers / Ghostpoet / Damian Jurado / Jarv Is… / Throwing Muses / Jon Hassell / Suzanne Vega / White Heaven / Kaitlyn Aurelia Smith / Jason Isbell / Perfume Genius / Rufus Wainwright / The Psychedelic Furs
PLUS Inside the Genesis reboot / …and The Lovin' Spoonful's… / rising up with Jess Williamson and Greentea Peng / Paul McCartney' rustic retreat / Sonic Boom's fondue fetish / Stephin Merritt vs The Termites / Booker T: up and down with the M.G.'s / All Back To… Brendan Benson's / The Brothers – outliving the Allmans / Dinosaur Jr roar again / Aphex Twin owns 1992 / How To Buy… Terry Riley / Fare thee well McCoy Tyner, Bill Rieflin, Manu Dibango, Adam Schlesinger, Kenny Rogers, Julie Felix and Genesis P-Orridge…
Please note: MOJO went to press too early to honour Bill Withers, John Prine, Hal Willner and Ellis Marsalis Jr. They will be acknowledged in future issues.