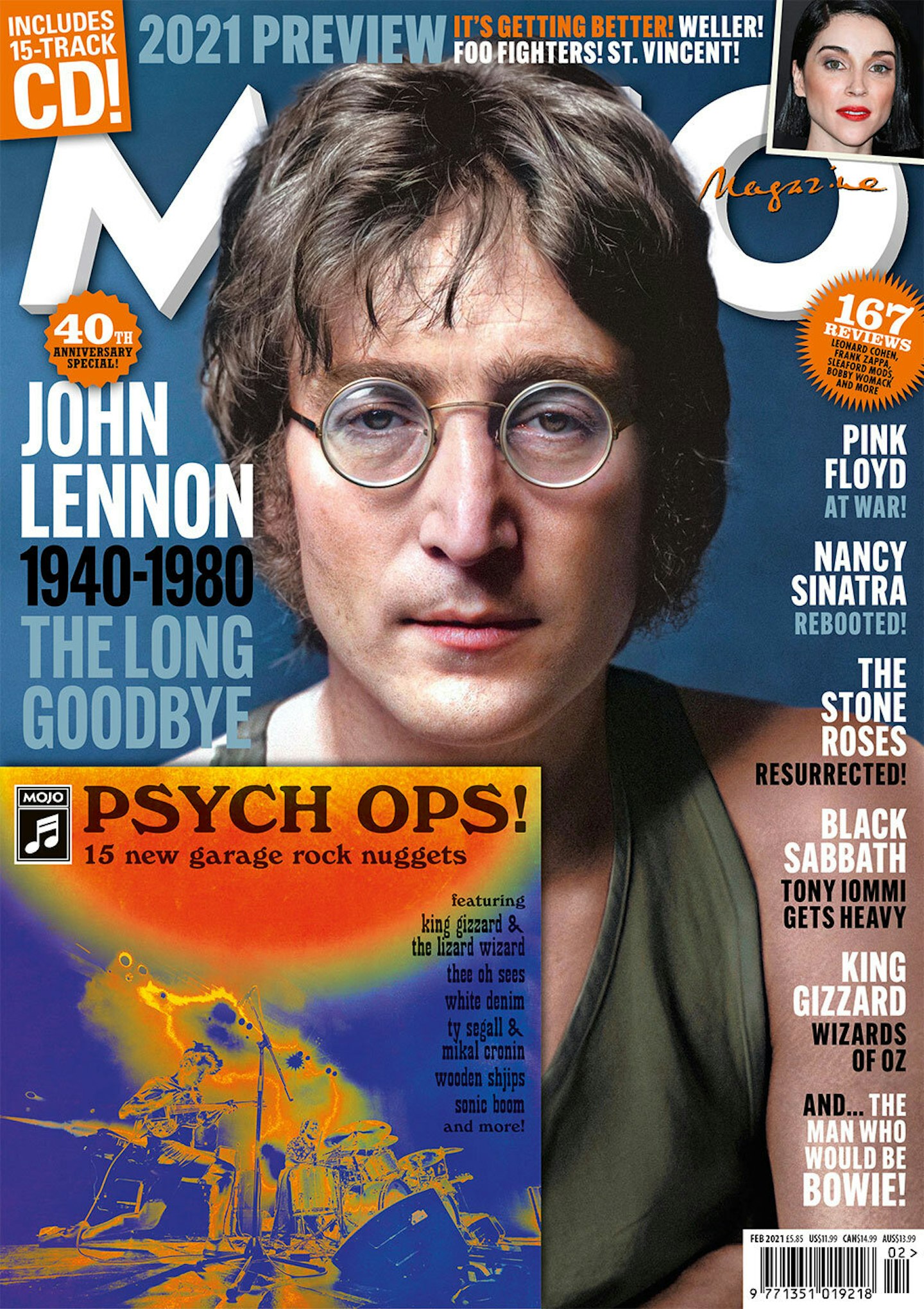 FORTY YEARS ON, MOJO remembers the devastating death of the Beatles' troubled soul and relives the 20 times he changed our lives (and the world) forever. Cranking up the pace, our covermount CD is a psychedelic garage-fest featuring White Denim, Hot Snakes and A Swayze, with CD stars King Gizzard & The Lizard Wizard interviewed inside, alongside Black Sabbath riff lord Tony Iommi and '60s icon Nancy Sinatra. Also in the issue: Pink Floyd's gnarly dynamic explained; synth music's annus mirabilis revisited; 2021's exciting prospects revealed; The Stone Roses' cursed comeback dissected. Plus: Sleaford Mods, John Mayall, Steven Wilson, Buzzcocks, Cat Stevens, Bobby Womack, The Shadows Of Knight, and cracked actor Johnny Flynn takes us inside the notorious Bowie biopic.
CONTENTS MOJO 327
COVER STORY: JOHN LENNON Forty years since Lennon's murder, John Harris revisits a world in mourning, while Klaus Voormann, Earl Slick and MOJO's writers remember the times and the ways his greatness changed the world: "He was unique. He was a fucking anomaly."
COVERMOUNT CD: PSYCH OPS! Get your mind blown by our psychedelic garage-fest starring featured artists King Gizzard & The Lizard Wizard (see below). Plus White Denim, Hot Snakes, Ty Segall, Sonic Boom, Wooden Shjips, Brigid Dawson, Death Valley Girls, A. Swayze and more.
FLOYD WARS! 2020 saw hostilities resume between the big beasts of Pink Floyd past and present. But when did their beefs begin, what lies behind them, and why can't they all just get along?
THE STONE ROSES In 1995, the implosion of Britain's coolest band became public property, but The Second Coming wasn't even the end of it. As eyewitnesses recall: "It was a proper Spinal Tap moment."
TONY IOMMI Black Sabbath's Riff Lord remembers high times, low frequencies and a ton of hiring and firing. Plus, the spooky "fifth member" of the classic fifth line-up: "The Over-Self"…
SYNTH '81 Jon Savage selects the electronic anthems that turned music upside-down 40 years ago. Kraftwerk, Soft Cell, Cabaret Voltaire, Depeche Mode, New Order, Human League and, hang on… Abba?!
NANCY SINATRA From a fabled stable came the personification of sassy mid-'60s sophisto-pop. "Everything was fresh," she reminds Dave DiMartino. "Everything was approached from a new point of view."
KING GIZZARD & THE LIZARD WIZARD People Vultures! Android vomit! Turkish guitars! "Subverting the norm"! From the vast imagination of mainman Stu Mackenzie comes the freak-rock phenomenon of the 21st Century.
REVIEWED Sleaford Mods / John Mayall / Steven Wilson / M Ward / The Isley Brothers / Shame / James Yorkston / Belle & Sebastian / Buzzcocks / Tangerine Dream / The Avalanches / Dave Alvin / The Black Keys / Kiwi Jr / Jim Ghedi / Aaron Frazer / Sigue Sigue Sputnik
PLUS MOJO's 2021 Preview features St. Vincent, Paul Weller, Foo Fighters, Richard Thompson and that long-rumoured Velvet Underground film / Julien Baker and Made Kuti reveal themselves / Johnny Flynn IS David Bowie / The Shadows Of Knight have their day in the sun / Bobby Womack cherry-picked / Frank Zappa by Bill S. Preston, Esq. / Bye-bye Ken Hensley and Baron Wolman / Stephen Street and Morrissey: the several alliances