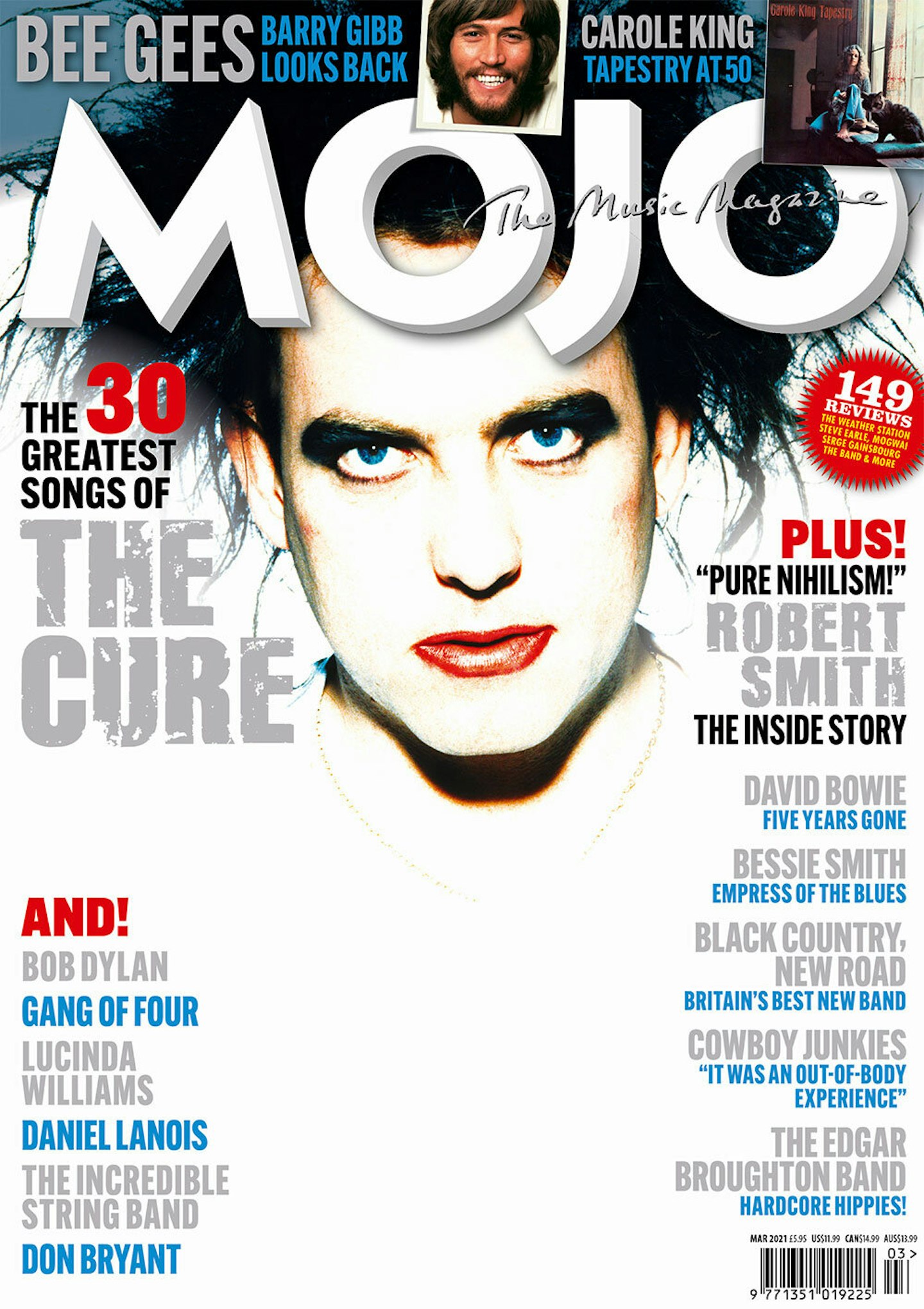 THIS MONTH'S MOJO COVER STORY IS THE 30 GREATEST SONGS of Robert Smith's dark pop phenomenon, painstakingly ranked and lauded at length, plus a deep delve into their formative years with his original bandmates. Inside the magazine, Bowie is re-mourned; Carole King's Tapestry reassessed; Edgar Broughton Band resurrected; while Barry Gibb remembers everything. Plus: Bessie Smith; Black Country, New Road; Cowboy Junkies; The Weather Station; Serge Gainsbourg; Lucinda Williams; Fugees; The Band; Don Bryant; Daniel Lanois; Hurray For The Riff Raff; Dylan's song sell-off… and all back to Edie Brickell's!
Unfortunately, UK newsstand copies of MOJO 328 will NOT feature the usual covermount CD. This is due to unprecedented issues with the transport of the CDs from continental Europe to the UK.
The CD will, however, be included with all subscriber copies of MOJO 238, all newsstand copies outside the UK, and all physical copies ordered from MOJO's magazine sales web site, greatmagazines.co.uk.
The CD, entitled Why Can't I Be You, features 15 classic Cure covers starring Dinosaur Jr, Phoebe Bridgers, Luna, Tricky, Mark Lanegan and more.
CONTENTS MOJO 328
COVER STORY: THE CURE The 30 Greatest Songs of Robert Smith's post-punk dream-weavers, the kings of quirk, strangeness and charm through five decades. Plus: the band's early transformations in depth, and why the "corduroys, Hush Puppies and grandpa jumper" simply had to go.
CAROLE KING Fifty years since it first smashed the charts around the world, Tapestry is still weaving its spell. Its makers and moulders tell MOJO why: "We had made the soundtrack of a lot of people's lives."
BARRY GIBB The last Bee Gee reflects on delinquency, disco and belated solo flight. Plus, the steel in the soul of the Brothers Grin: "We knew that we were not going to give up until we became famous."
BESSIE SMITH A voice from the margins that captivated America, bursting barriers of racism and violence. An extract from Scottish poet Jackie Kay's new book offers new insight into the Empress Of The Blues.
BLACK COUNTRY, NEW ROAD Thrilling, pan-generic jams from the 14-legged groove machine going somewhere fast. But what do Richard Hell, Ariana Grande and Fleetwood Mac have to do with it? Victoria Segal investigates.
EDGAR BROUGHTON BAND Beefheart! Socialism! Riots! Hell's Angels! Max Clifford! Life was never straightforward for the UK's ultimate underground warriors. "It was a primal scream sort of thing," discovers Andrew Male.
COWBOY JUNKIES Some of the most bewitching music of the '80s was made by Canuck siren Margo Timmins and band. Read how ley lines, Gap ads and Hunter Thompson played a part: "It was an out-of-body experience!"
REVIEWED The Weather Station / Serge Gainsbourg / Steve Earle / Mogwai / The Band / Foo Fighters / Goat Girl / The Staves / Osees / Matthew Sweet / Django Django / John Carpenter / Nat Turner Rebellion / Mary Timony / J Dilla / Curved Air / more
PLUS Bowie: music from beyond the grave / inside Bob Dylan's song sell-off / in the studio with Hurray For The Riff Raff / How To Buy… Lucinda Williams / that Eno/Lanois/Scott Walker album – the truth! / soul survivor Don Bryant / a beginning and an end with The Incredible String Band / John Fogerty's boys have a band / adieu, Harold Budd, Leslie West, Gerry Marsden, MF Doom / the sleeve art of Cuba / and more
COVERMOUNT CD: WHY CAN'T I BE YOU? The perfect package of 15 classic Cure covers starring Dinosaur Jr, Phoebe Bridgers, Luna, Tricky, Mark Lanegan and more. NB: NOT AVAILABLE ON UK NEWSSTAND COPIES.