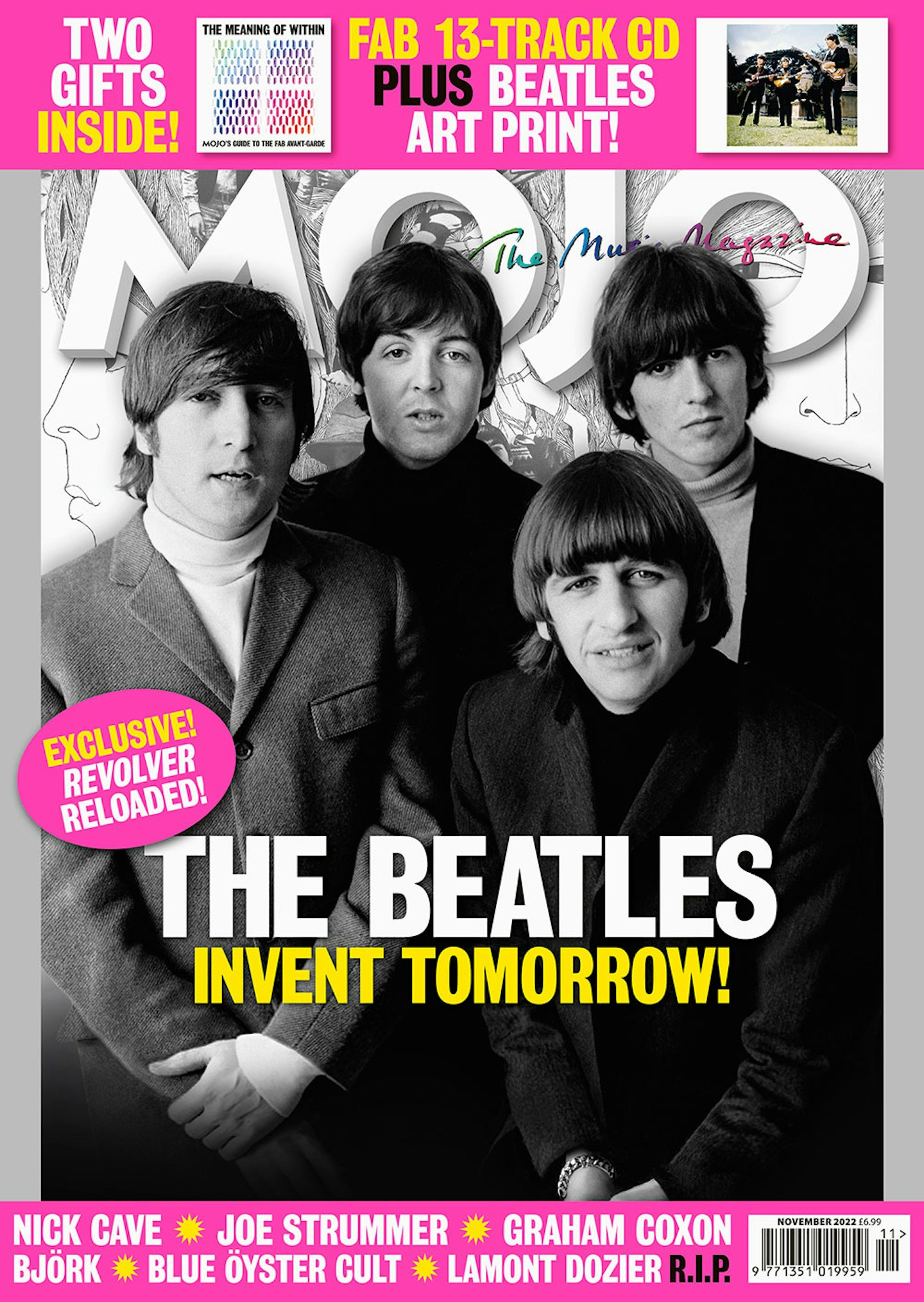 REVOLVER – THE BEATLES ALBUM that turned rock and pop on its head – returns, remixed and revitalised with revelatory outtakes and studio chatter. With exclusive access, MOJO tells the full crazy story – acid and sitars, jam jars, tin baths and all – in a bagged package that includes CD and Beatles art print, wherever you are in the world. Also in this issue: Nick Cave – from despair to... where? Joe Strummer's final fling. Blur's Graham Coxon searches his soul. Plus: Blue Öyster Cult, Björk, Dry Cleaning, Jellyfish, Creedence Clearwater Revival, Lamont Dozier, John Cale, Grateful Dead, Mickey Jupp, Joni Mitchell, Don Cherry and 'compostable' vinyl?!
THIS MONTH'S COVERMOUNT CD is The Meaning Of Within, 13 tracks of the music in the minds of the Beatles in 1966: Delia Derbyshire, Ornette Coleman, Ravi Shankar, Nat King Cole and more!
You can now receive every new issue of MOJO on your smart phone or tablet to listen to or read. Enjoy access to an archive of previous issues, exclusive MOJO Filter emails with the key tracks you need to hear each week, plus a host of member-only rewards and discounts.
MOJO 348 CONTENTS
COVER STORY: THE BEATLES The album that invented modern pop and rock gets a stereo makeover, augmented by revelatory outtakes. MOJO delves into the secrets of its creation and consults the musicians whose lives it changed.
NICK CAVE Heartfelt, wise and fearlessly frank, Cave reflects on the transformations in his life and work since 2015 in this extract from a stunning new book.
JOE STRUMMER Exploring the music and the mayhem of the Clash man's final fling. "Joe would stay up all night, bringing the joints in, he was the puppet master."
BLUE ÖYSTER CULT 50 years on, its stars recall how killer riffs, literary fantasies and gay clobber fuelled the '70s most unique band. Until it went all Spinal Tap.
GRAHAM COXON Blur's troubled guitarist on the agony and the agony of Britpop, plus the recent realisation that it might not be The End Of The F***ing World, after all.
DRY CLEANING Florence Shaw's existential shopping lists were the unlikely hit of lockdown. Luckily, there's more where those came from, discovers Laura Snapes.
THE EQUALS Black and white unite in the heyday of UK R&B and hit Number 1 with Baby Come Back. Then: a car crash, a political awakening and a symbolic wig-burning.
JELLYFISH Set to be the Beatles of the '90s, before the whims of their singing drummer cast his colleagues to the winds, to seed the sound of Beck, St Vincent and more.
REVIEWED Björk / The Cult / Beyoncé / Pink Floyd / Bill Callahan / Yeah Yeah Yeahs / Creedence Clearwater Revival / Alela Diane / The Cure / Lightning Seeds / Bitchin Bajas / Joni Mitchell / Sorry / The Libertines / The Comet Is Coming / Courtney Marie Andrews / Brian Eno / Robyn Hitchcock / The Bad Plus / Dungen / Can / The Everly Brothers
PLUS Celebrating Lamont Dozier / John Cale in the studio / Grateful Dead – a bootleg odyssey / Leah Weller and Big Joanie are rising / Lewis Taylor rises again / Lee Fields / Mickey Jupp / Beth Orton / Keith Morris: the Black Flag years / Making sense of Don Cherry / Compostable vinyl – really? / And – erk! – all back to Diamanda Galás's