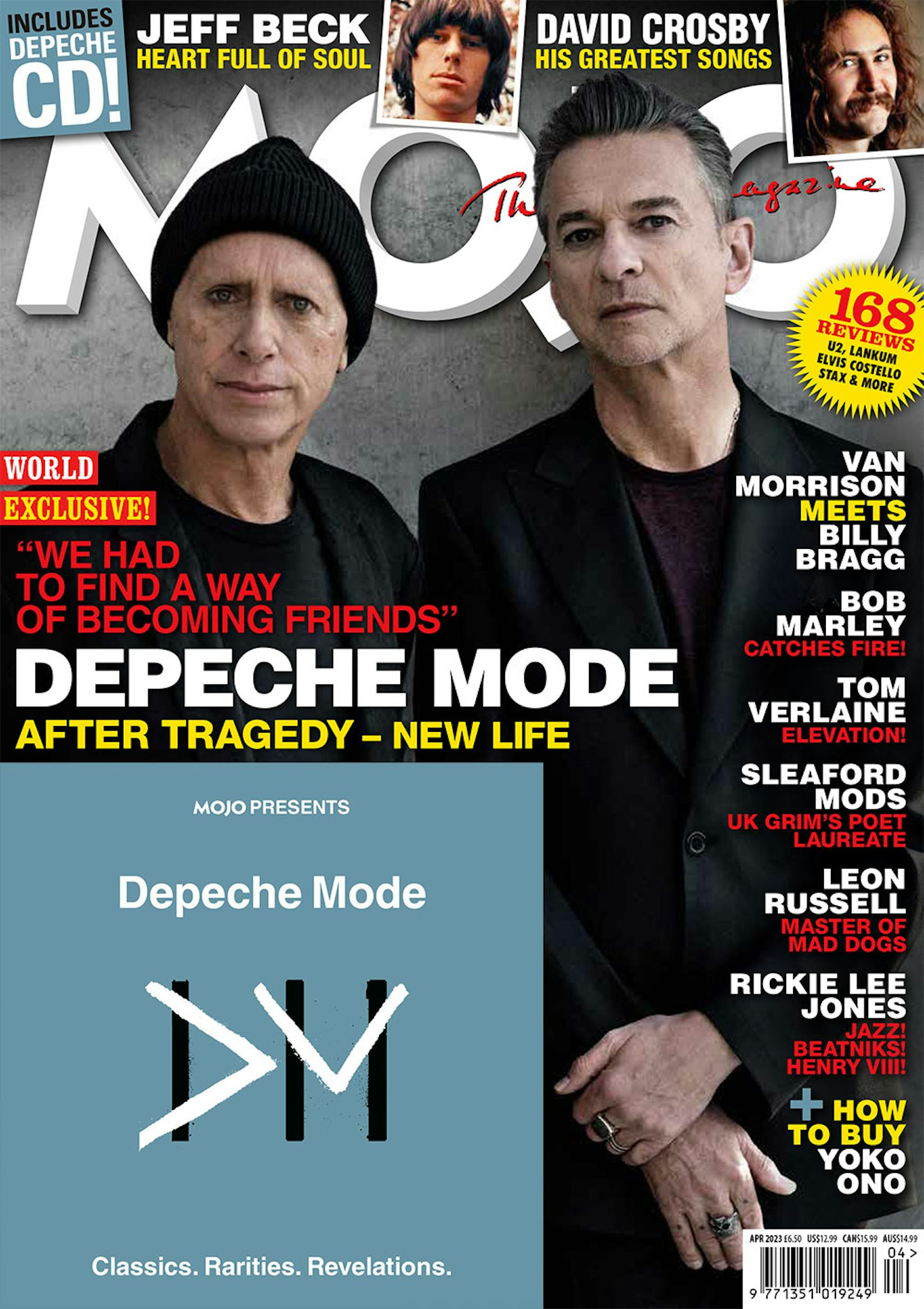 THE LATEST MOJO STARS a world exclusive interview with Depeche Mode, emerging from mourning for founder member Andy Fletcher with an exciting, surprising new album. Inside: in-depth tributes to the sadly departed David Crosby, Jeff Beck and Tom Verlaine; the full, crazy tale of Joe Cocker and Leon Russell's Mad Dogs & Englishmen tour; Van Morrison gets his skiffle on with guest writer Billy Bragg; Bob Marley's Catch A Fire turns 50; the unlikely rise of Sleaford Mods' Jason Williamson; Noel Gallagher goes back to Manchester. Plus: Rickie Lee Jones, Wattstax, U2, Yoko Ono, Rogê, Gong, Macca's snaps, and all back to Ian Hunter's!
THIS MONTH'S COVERMOUNT CD is a must for fans of electronic pop and rock, as Depeche Mode raid their own catalogue to present 15 Classics, Rarities & Revelations. Includes an acoustic Enjoy The Silence, alternate Never Let Me Down Again, and more!
MOJO 353 CONTENTS
COVER STORY: DEPECHE MODE How will the loss of founder member Andy Fletcher impact on album number 15, Memento Mori? And will one of the world's biggest bands ever feel at ease with themselves? "We've always been the odd one out, the weird kid in the corner..."
DAVID CROSBY Flags are lowered for The Byrds and CSN's angelic voice and force of nature. Cue: his 20 Greatest Songs plus a classic encounter with MOJO's Dave DiMartino.
BOB MARLEY Fifty years since Catch A Fire broke the Wailers internationally, eyewitnesses relive their UK sojourn: "I saw Peter Tosh coming up the Neasden High Road..."
LEON RUSSELL The full, crazy tale of Joe Cocker's Mad Dogs & Englishmen tour and its top-hatted mastermind – from a brand new book by Buffalo Tom's Bill Janovitz.
JEFF BECK The guitarist's guitarist was so, so much more. Mat Snow corrals his heartbroken collaborators and Ronnie Wood pays tribute: "He was always creating something new."
VAN MORRISON returns to his skiffle roots with guest writer Billy Bragg, 'fessing to his lifelong debt to Chris Barber, The Vipers, Lonnie Donegan et al.
SLEAFORD MODS The punk-rap duo's game-changing frontman Jason Williamson sits for The MOJO Interview. On the agenda: shit Britain, midlife fame and baking.
ROGÊ Presenting Roger José Cury: the man breathing new life into vintage Brazilian pop and a lost genius star of its glory years – Arthur Verocai.
REVIEWED U2 / Wattstax / Lankum / Elvis Costello / James Holden / Genesis / Iris DeMent / The Necks / Lonnie Holley / The Pale Fountains / Willie Nelson / Baaba Maal / Andy Fairweather Low / H. Hawkline / Duffy Power / Count Ossie /
PLUS Tom Verlaine remembered / Unearthed: Paul McCartney's Beatle snap hoard / Rickie Lee Jones's surprising genealogy / Noel Gallagher and Steven Wilson in the studio / Kara Jackson and James Brandon Lewis arise / How To Buy... Yoko Ono / James Brown's big '66 / Piblokto! – the band who scared Ginger Baker / Farewell Barrett Strong, Van Conner, 'Top' Topham / Gong / All Back To Ian Hunter's!
BECOME A MOJO MEMBER for instant access to the latest MOJO and receive every new issue on your smart phone or tablet to listen to or read. Enjoy access to an archive of previous issues, exclusive MOJO Filter emails with the key tracks you need to hear each week, plus a host of member-only rewards and discounts.
{#h-}