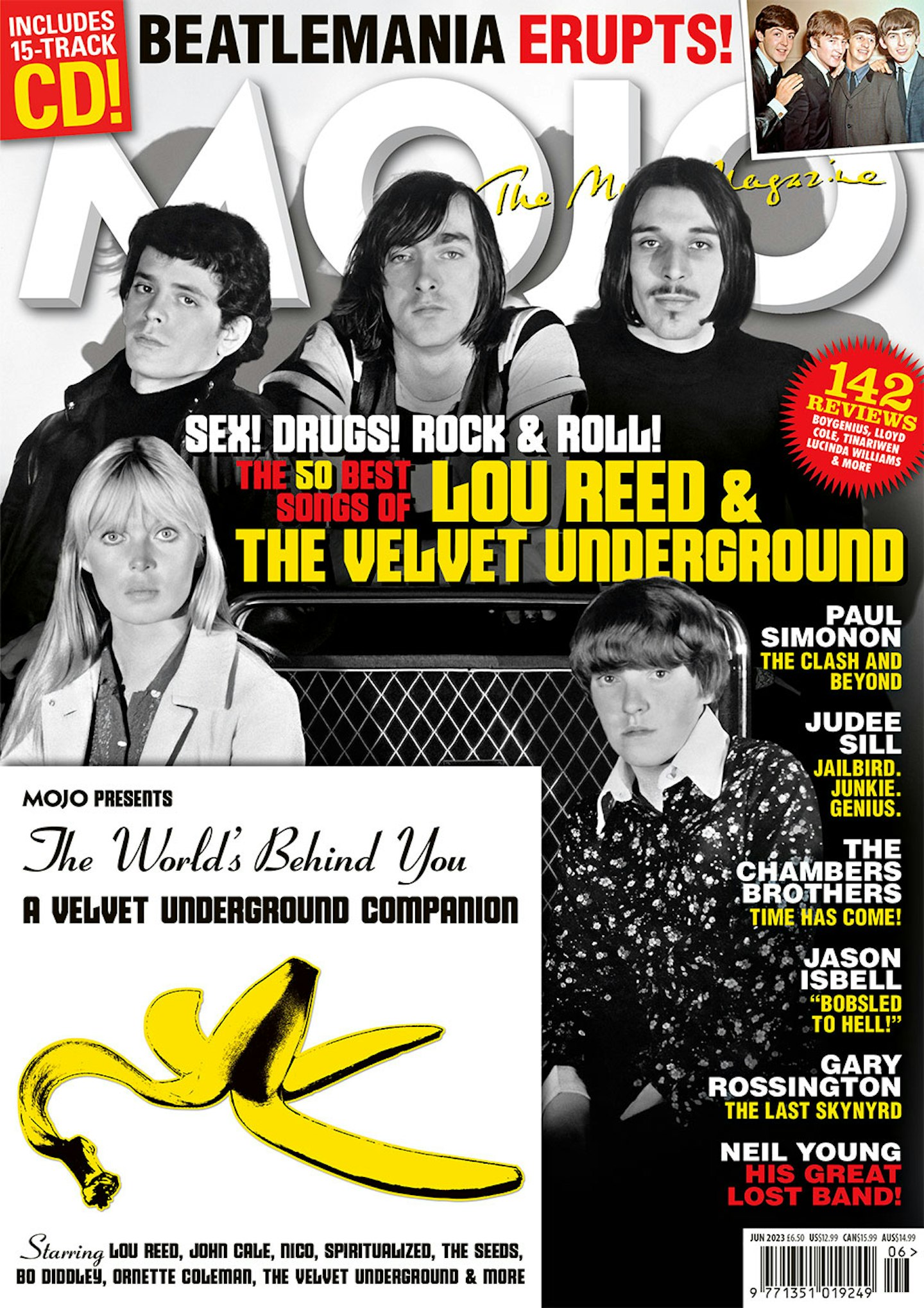 THIS MONTH IN MOJO MAGAZINE: the 50 Greatest Songs Of The Velvet Underground and Lou Reed solo, from saturnine psychedelic masterpieces to gritty street hassles, from feedback flameouts to doo-wop soul poetry – including the madness and mastery of Lou's Berlin LP, 50 years on. Also in this issue: the Beatles' insane 1963, in depth, by John Harris; the junkie genius of Judee Sill; Paul Simonon – World's Coolest Man. Plus: Jason Isbell; The Chambers Brothers; Boygenius; Tinariwen; BC Camplight; Julie Tippetts; Wayne Shorter; Dexys; and Neil Young & The Ducks, redux!
THIS MONTH'S COVERMOUNT CD is a 15-track Velvet Underground Companion to blow your mind, starring Lou Reed, John Cale, Nico, Bo Diddley, Olatunji, Luna, Spiritualized, Ornette Coleman and the Velvets themselves!
MOJO 355 CONTENTS
COVER STORY: LOU REED & THE VELVET UNDERGROUND Ten years since he passed, the 50 Greatest Songs of Lou Reed and the revolutionary band he founded are celebrated in MOJO. With contributions from collaborators and famous fans, plus: Berlin at 50!
THE BEATLES Sixty years since they changed Britain with their blazing pop and irreverence, John Harris puts 1963 – their first annus mirabilis – under the microscope.
JUDEE SILL Friends and peers tell the hair-raising tale of the West Coast singer-songwriter with all the songs but none of the luck. "She was like Van Gogh," says J.D. Souther.
THE CHAMBERS BROTHERS From the cotton fields to Hollywood to the Aquarian activism of Time Has Come Today, the original black rock band take stock: "We scared Columbia!"
PAUL SIMONON The Clash's boss bass on punk punch-ups, jail in Greenland and his album with Kevin Ayers' daughter: "It's a bit like Bernard Cribbins and Brigitte Bardot..."
JASON ISBELL The Southern Man pricking Americana's conscience and alarming his 7-year-old with the sadness of his new songs: "We are all more desperate than we were."
BC CAMPLIGHT Since moving to Manchester, "alien" US songwriter Brian Christinzio's colourful gloom-pop has flourished – fuelled by the wreckage of his life.
REVIEWED Boygenius / Tinariwen / Rickie Lee Jones / Lloyd Cole / Lucinda Williams / The Damned / Graham Nash / Durand Jones / Gabriels / Hawkwind / Angel Bat Dawid / Pere Ubu / Tiny Ruins / Rose City Band / Angelica Rockne / Rodney Crowell / Mega Bog / The Lemon Twigs / Shirley Collins / Susanne Sundfør / Arlo Parks / King Tubby / Stephen Stills / Marcia Griffiths / B.E.F.
PLUS Terence Donovan's pop portraits / Julie Tippetts / Wayne Shorter in albums / Dexys' sexy new direction / Egypt 80 / The Tubs and Sarabeth Tucek rise up / A&R legend Andrew Lauder / R.I.P. Garry Rossington, Jim Gordon, David Lindley, Steve Mackey / David Thomas on Van Dyke Parks / Neil Young & The Ducks, redux!
OR WHY NOT BECOME A MOJO MEMBER for instant access to the latest MOJO and receive every new issue on your smart phone or tablet to listen to or read. Enjoy access to an archive of previous issues, exclusive MOJO Filter emails with the key tracks you need to hear each week, plus a host of member-only rewards and discounts.
{#h-}