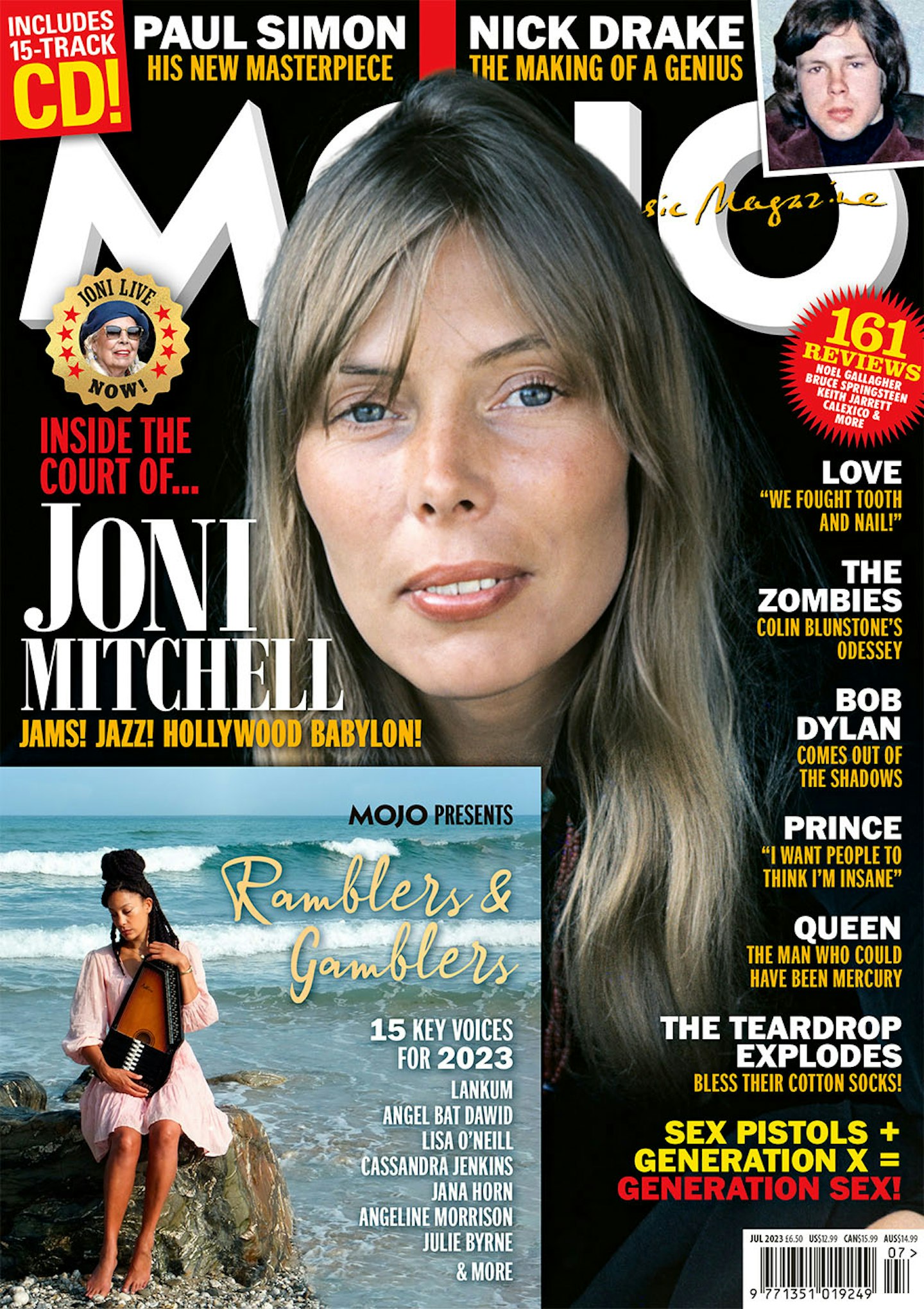 ON THE EVE OF HER first full-sized, pre-announced show for over 20 years, we celebrate another Joni Mitchell landmark: Court And Spark, recorded 50 years ago and the bridge between the folk majesty of Blue and the ground-breaking jazz-pop to come. Also in this issue: Nick Drake – the making of a genius; Generation Sex – punk's piratical supergroup; Paul Simon's stunning new album; Dylan's Shadow Kingdom; the truth about Love. Plus: Queen, The Zombies, Harry Belafonte, Willy DeVille, WITCH, Prince, The Teardrop Explodes, Sparks, Gang Of Four, Calexico, Keith Jarrett and Blood, Sweat & Tears.
THIS MONTH'S COVERMOUNT CD is Ramblers & Gamblers, compiling 15 brilliant artists for 2023. Stars Sunny War, Lankum, Lisa O'Neill, Jim Ghedi, Meg Baird, Angeline Morrison, Julie Byrne, Angel Bat Dawid and more.
MOJO 356 CONTENTS
COVER STORY: JONI MITCHELL Her genre-trashing genius shines in the story of Court And Spark, told by the people who made it. Plus: her onstage exploits fêted in the run-up to her big June show, and the story of her rehab by Rufus Wainwright.
NICK DRAKE From all-new interviews, Richard Morton Jack identifies the music that made Drake who and what he was, and the moments his talent took giant steps.
GENERATION SEX Steve Jones, Paul Cook, Billy Idol, Tony James: punk supergroup as motley crew. Thankfully, there'll be no Friggin' In The Riggin': "That's pantomime territory."
LOVE The band's last surviving member, Johnny Echols, keeps their legacy alive, mourns Arthur Lee anew, and clears the fog of fiction that obscures their true story.
THE TEARDROP EXPLODES In their post-punk pomp they supported Queen and beat Paul McCartney at pool, but Julian Cope and band burnt bright and fast, culminating in a "disastrous wake".
WILLY DEVILLE From New England to New York to New Orleans, Willy DeVille lived the street soul of rock'n'roll. High time he was recognised, says Sylvie Simmons.
COLIN BLUNSTONE The choirboy pipes of the Zombies and solo gems on a lifetime of taking the unconventional route: "Nothing The Zombies has done has been simple or traditional."
WITCH Zambia's 'Zamrock' pioneers reboot in the 2020s, and look back on the turmoil and tragedy, poverty and violence that surrounded their psychedelic uprising.
REVIEWED Paul Simon / Bob Dylan / Noel Gallagher / Fatoumata Diawara / Bruce Springsteen / Calexico / Lloyd Cole / Metallica / Cowboy Junkies / Damian Lewis / Squid / King Krule / Jason Isbell / This Is The Kit / Baxter Dury / Rufus Wainwright / Yes / Meiko Kaji / Codeine / Daft Punk / Blood, Sweat & Tears
PLUS Prince becomes TAFKAP / Queen prehistory / the Chicago blues / Sparks' extra day in the sun / Gang Of Four re-reform / Alan Sparhawk: life after Low / Angeline Morrison and Kassa Overall arise / Joe McAlinden: man and Superstar / RIP, Harry Belafonte, Ryuichi Sakamoto, Mark Stewart, Jah Shaka, Seymour Stein… / Rock logos / How To Buy… Keith Jarrett
OR WHY NOT BECOME A MOJO MEMBER for instant access to the latest MOJO and receive every new issue on your smart phone or tablet to listen to or read. Enjoy access to an archive of previous issues, exclusive MOJO Filter emails with the key tracks you need to hear each week, plus a host of member-only rewards and discounts.
{#h-}