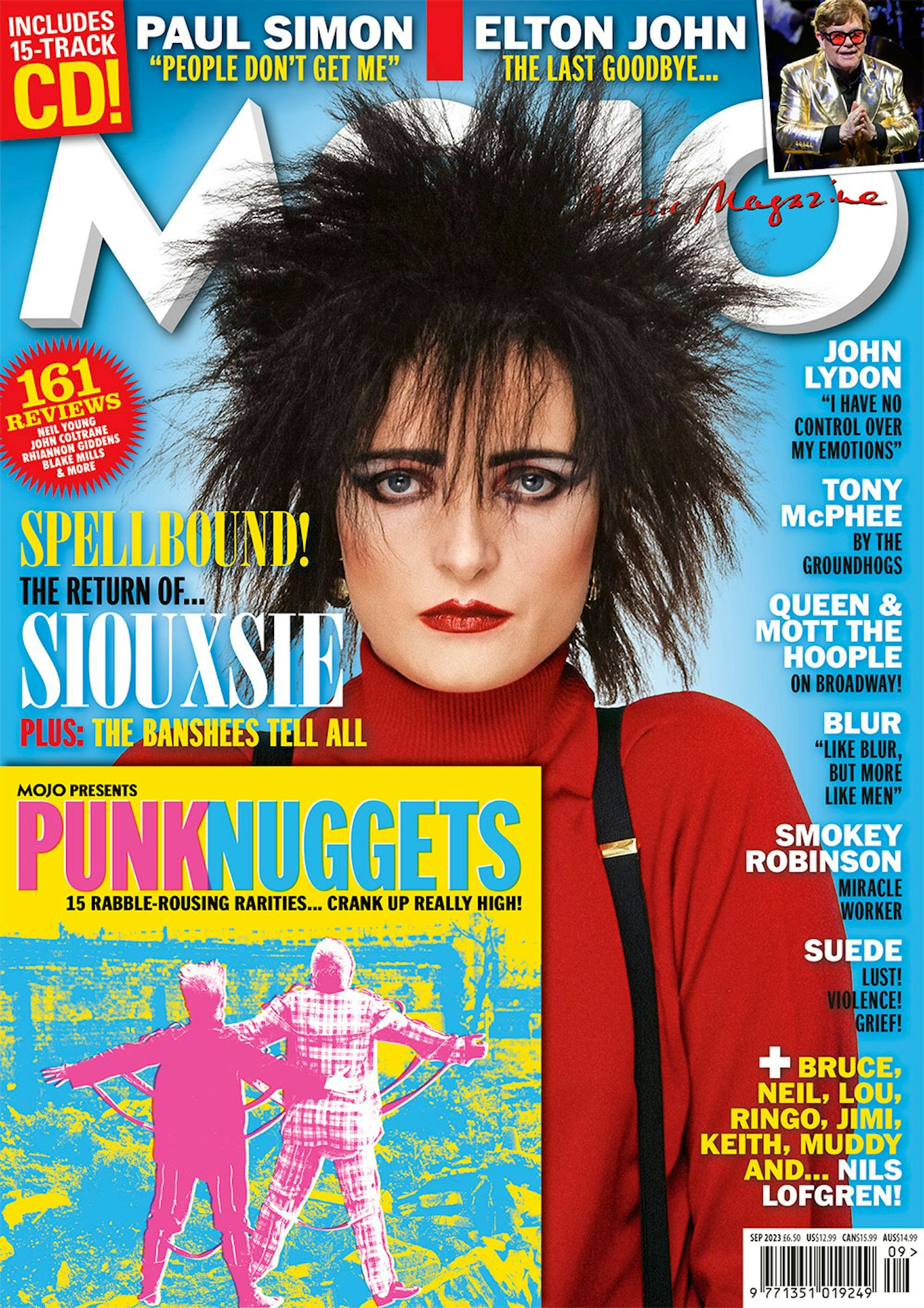 CELEBRATING SIOUXSIE SIOUX'S surprise return to the stage, MOJO delves deep into the music and the stories of Siouxsie & The Banshees, post-punk pathfinders and reluctant avatars of 'goth'. Also in the issue: Elton John's swan song; Paul Simon on God, Garfunkel and Harry Partch; John Lydon opens his heart; Mott The Hoople take America – almost; The Turtles' Mark Volman – court jester of rock! Plus: Tony McPhee, Smokey Robinson, Nils Lofgren, Suede, Julie Byrne, Donovan, Nick Lowe, Blur, Bobby Rush, all back to Ian Anderson's, and more.
THIS MONTH'S COVERMOUNT CD is Punk Nuggets – 15 connoisseur cuts of late-'70s piss and vinegar, courtesy of The Dils, The Electric Chairs, Slaughter & The Dogs, Black Randy, The Mekons and more!
MOJO 358 CONTENTS
COVER STORY: SIOUXSIE Back on the boards and in our hearts, Siouxsie is the Comeback Queen of 2023. Writers and Banshees tell the story of post-punk's signature band and their iconic, ground-breaking singer. Just don't say the word 'goth'!
PAUL SIMON Inspired by a mysterious dream, Simon conceived his most potent album in years. But what do Harry Partch and Davy Graham have to do with it? Over to Paul…
PUBLIC IMAGE LTD John Lydon's pain has always found an outlet in PiL, and wife Nora's recent death is the cruellest cut: "It's the deepest I think I've ever had to write."
NILS LOFGREN Serving the songs of Bruce, Neil and Lou, and carving a niche for his own music, a Swiss Army musician on how Hendrix saved him from classical accordion.
JULIE BYRNE Bereavement also lies at the heart of the ethereal singer-songwriter's spellbinding new album. But so does survival: "It was an act of defiance."
MOTT THE HOOPLE In 1974, Mott arrived on Broadway to take America, armed with Midlands attitude, puppets and Queen. Then critical mass became gravitational collapse…
SUEDE As the '90s dawned a pall lay over UK alt-music. How four young men in blouses, in thrall to Bowie and The Smiths, blew it away: "It was genuinely Dionysian."
MARK VOLMAN The larger-than-life, usually topless Zelig of '60s and '70s rock and pop on the Turtles, Zappa, Nixon, Yoko, Alice, Bowie, Bolan, drugs, lawyers and more!
REVIEWED Blur / Neil Young / John Coltrane & Eric Dolphy / Ziggy: the movie / Rhiannon Giddens / Blake Mills / Bonnie 'Prince' Billy / Sigur Rós / The Hives / Bettye Lavette / Bush Tetras / Jungle / Osees / Tucker Zimmerman / Lewis Taylor
PLUS Elton John's apotheosis / Tony McPhee: a life in riffs / In the studio with Donovan / Margo Cilker and Bill Orcutt rise above / Nick Lowe 'fesses up / How To Buy… Smokey Robinson / Bobby Rush – in rude health /farewell, Astrud Gilberto / The Animals roar! / Thin Lizzy: the Midge Ure years / Notting Hill Carnival: a sound system odyssey / All Back To… Ian Anderson's
OR WHY NOT BECOME A MOJO MEMBER for instant access to the latest MOJO and receive every new issue on your smart phone or tablet to listen to or read. Enjoy access to an archive of previous issues, exclusive MOJO Filter emails with the key tracks you need to hear each week, plus a host of member-only rewards and discounts.
{#h-}