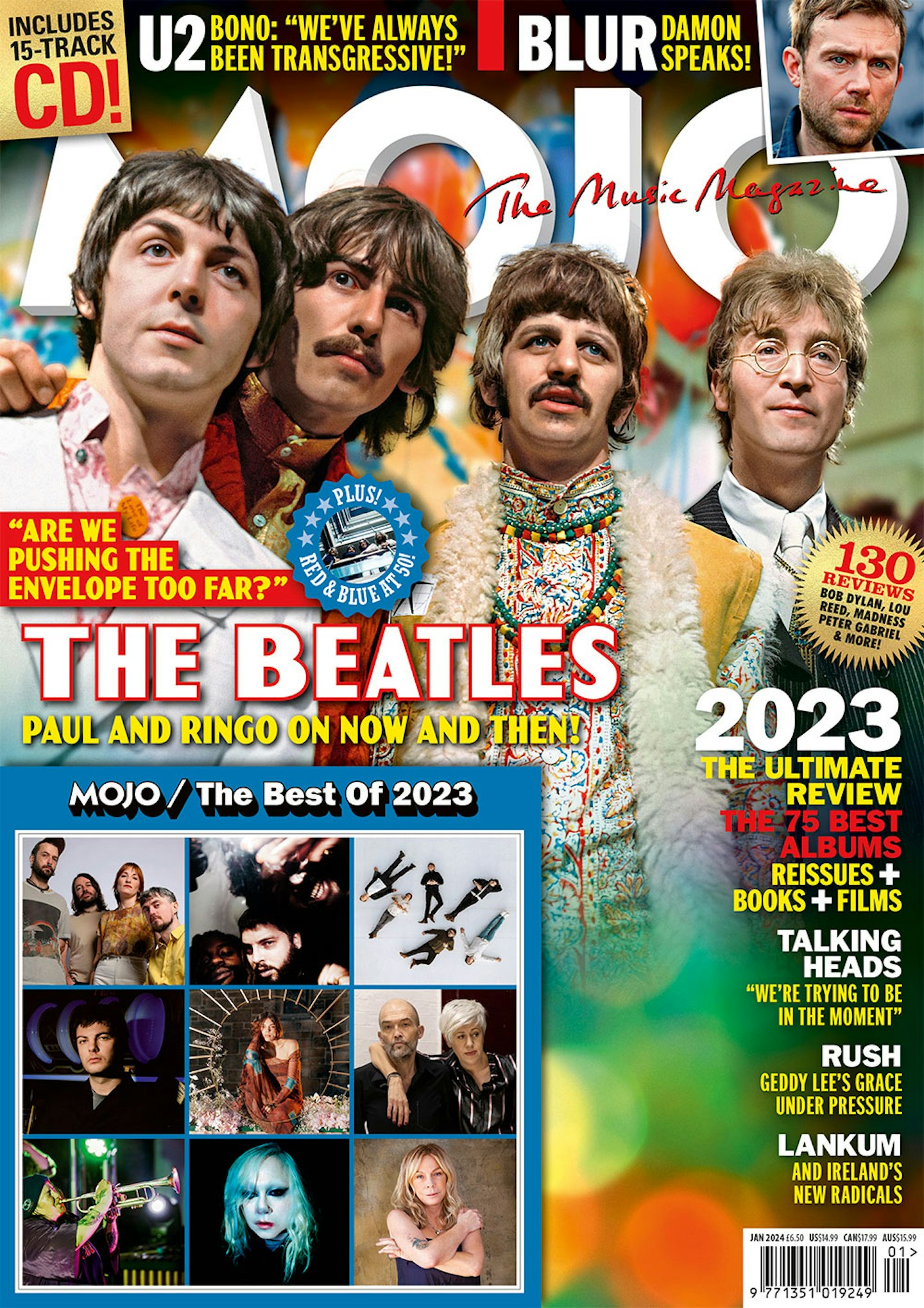 THE FULL STORY BEHIND THE BEATLES' Now And Then Resurrection! Emotional new interviews with Paul McCartney, Ringo Starr, Sean Lennon and Giles Martin plus the lowdown on the Red and Blue compilation albums' 50th Anniversary reboot, including a revealing audience with their original compiler. Enjoy, too, our ever-essential Review Of The Year, including 2023's 75 Best New Albums, 20 Best Reissues, best music books and films, featuring Blur, Talking Heads, Sly Stone, Bob Dylan, Lankum and Ireland's new folk radicals. Also inside: U2 – behind the scenes at their Vegas supershow; Rush's Geddy Lee chokes up; Warren Zevon – a Werewolf in full; Midlake founder Tim Smith returns; Fun Boy Three; Martin Carthy; Anohni; Peter Gabriel; Say She She; Madness; Sparks; Rudolph Isley; The Raincoats and more!
THIS MONTH'S COVERMOUNT CD is The Best Of 2023. Features tracks from MOJO's favourite albums, by artists including: Lankum; Everything But The Girl; Rickie Lee Jones; The Coral; Wilco; Grian Chatten; Julie Byrne; Young Fathers and more!
GREAT NEWS FOR ALL READERS! MOJO's covermount CD is now available on newsstands IN ALL TERRITORIES, WORLDWIDE, UNTIL FURTHER NOTICE!
MOJO 362 CONTENTS
COVER STORY: THE BEATLES Paul McCartney and Ringo Starr tell the story of Now And Then, the Lennon demo transformed into the last Beatles song. Plus! The Red and Blue albums – the Fabs' canonical compilations get a 50th birthday facelift, and their original compiler speaks!
THE BEST OF 2023 The 75 Best New Albums, 20 Best Reissues, the books and films of the year. Plus! A focus on Ireland's folk radicals, Talking Heads, the goth revival and Blur's Damon Albarn. And! The Best Thing I've Heard All Year: our annual celebration of musical discovery, starring Paul Weller, Ian Hunter, Everything But The Girl and more!
GEDDY LEE The high voice and low moments of Rush's bass ace, dealing with the passing of Neil Peart and the end of his band: "I was actually quite depressed."
WARREN ZEVON The wildman Werewolf and Songwriter's Songwriter, 20 years gone but still recruiting new fans. "He was vivid in everything he wrote," says Jackson Browne.
FUN BOY 3 How Terry, Lynval and Neville left the Specials, found Bananarama and still greater fame. Not only that, but "the dressing room smelled much nicer."
REVIEWED Harp / Peter Gabriel / Acetone / Bob Dylan / Madness / Neil Young / Jean-Michel Jarre / Prince Fatty / Jimi Hendrix / Dolly Parton / John Francis Flynn / Cymande / Bryan Ferry / Shirley Hurt / Thin Lizzy / Pete Molinari / Matmos / The Kinks / Vince Clarke / Peter Hammill / Guided By Voices / R.E.M. / Outkast / X-Ray Spex / Shack
PLUS U2: inside the Sphere / Martin Carthy hits the road / How To Buy Sparks / Gina Birch – in and out of The Raincoats / Deaf School – back from the deaf / Say She She and Hamish Hawk are up and coming / Gruff Rhys is in the stiwdio (that's Welsh for studio) / Corinne Bailey Rae on Björk / Anohni considers her body in space / Adieu, Rudolph Isley, Carla Bley and Angelo Bruschini / All back to Trevor Horn's!