Betty Davis
50th Anniversary Reissues
Light In The Attic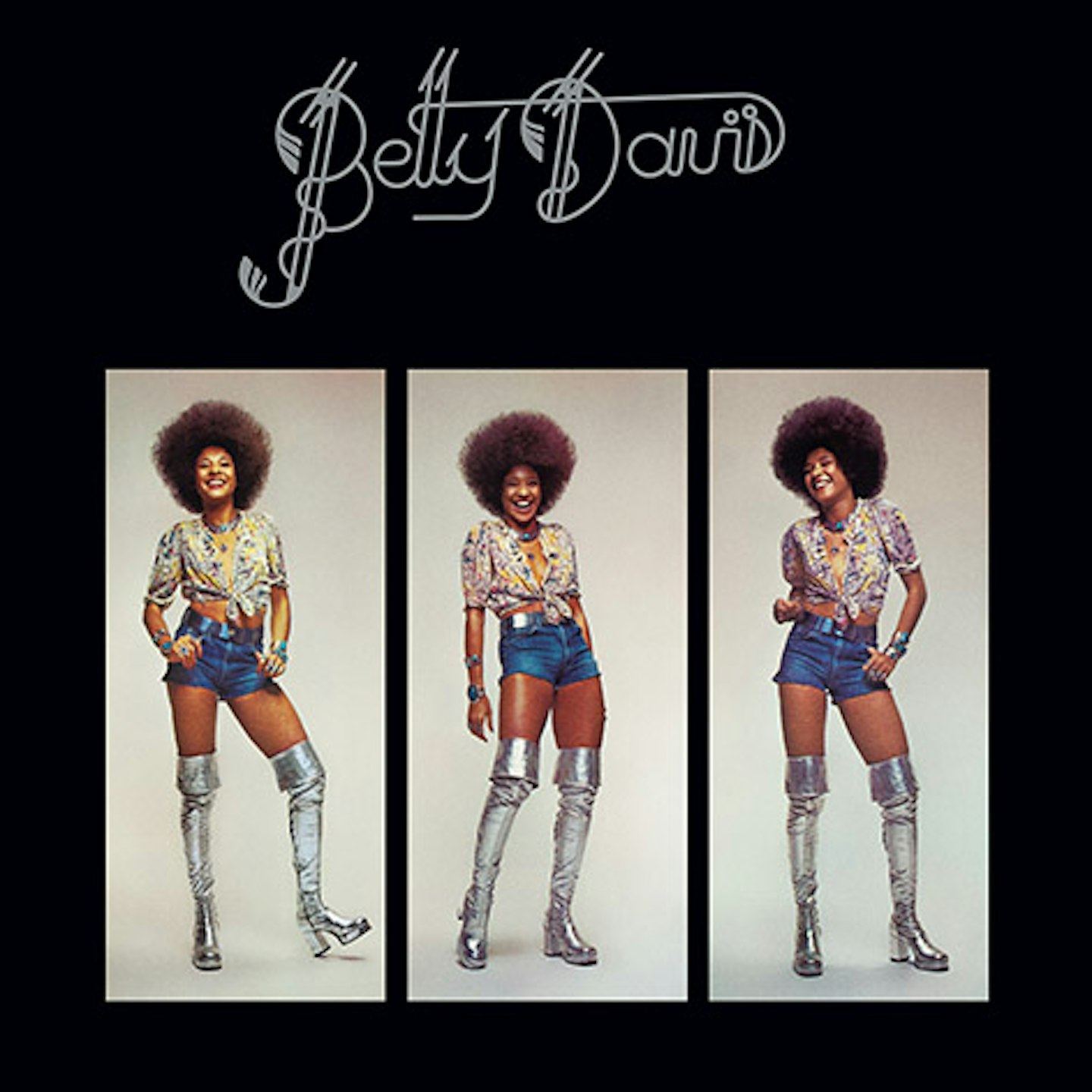 WHEN 27-YEAR-OLD Betty Davis arrived in San Francisco in 1972 to record her debut LP she'd already changed the direction of 20th century music. Of course, the most well-documented example is how this North Carolina-born songwriter, designer and model – born Betty Mabry – married Miles Davis in the autumn of 1968 and, in just a few months, reworked his entire look, sound and aesthetic, taking him to the hippest New York boutiques, playing him LPs by Hendrix, Sly Stone and Santana, getting him off drugs, insisting he go electric and changing the title of his Betty-influenced LP 'Witches Brew' to the more incendiary Bitches Brew. But she split from Miles after one year, fleeing from his aggressive behaviour and channelling her pain into her music. "I told no one of how Miles was violent," she said in 2018, "so I wrote and sung my heart out instead." Hooking up with a budding Alabama soul-funk outfit called The Commodores, Davis wrote a bunch of songs for them and secured a deal with Motown Records.
For some, that would be enough. But not Davis. After turning down Berry Gordy's offer to work as an in-house songwriter and taking her songs with her, Betty signed to Just Sunshine, the nascent label of Woodstock organiser Michael Lang, and recorded the songs herself. Promised full artistic control and publishing rights – unprecedented for a black woman at the time – Davis hooked up with Sly And The Family Stone drummer Greg Errico. The pair brought in Santana guitarist and percussionist Neal Schon and Michael Carabello, plus future Mandrill guitarist Doug Rodrigues, former Sly bassist Larry Graham and the backing singers Sylvester, The Pointer Sisters, and Big Brother & The Holding Company's Kathi McDonald. Working as both arranger and bandleader, Davis kept rhythms tight while producer Errico pushed Davis's own off-the-beat metallic vocals high in the mix. The result was Betty Davis (★★★★★), an avant-garde '70s funk LP that is simultaneously free and dangerous, with transgressive, sex-positive lyrics that refuse to conform to any safe notion of early-'70s liberation.
Although ultra-nasty stop-start funk opener If I'm In Luck I Might Get Picked Up invoked the wrath of the NAACP for what they deemed was a positive depiction of prostitution, all the tracks here possess a nonconformist attitude, both in their message of unfettered female sexuality (Walkin' Up The Road; Anti Love Song; You Won't See Me In The Morning) but also in how Davis and her singers move within the songs, stepping out of the groove (Game Is My Middle Name), running ahead of it (the almost proto-punk Steppin' In Her I Miller Shoes) or seemingly ignoring it completely (Ooh Yea).
"The Betty Davis LP is simultaneously free and dangerous."
Shunned by radio and the mainstream black media, it was perhaps inevitable that Betty Davis would fail to sell, but if Lang expected They Say I'm Different (★★★★) to cleave closer to commercial respectability he was sorely mistaken. Produced by Davis herself, with Headhunters drummer Mike Clark, Band Of Gypsys drummer Buddy Miles, guitarist Cordell Dudley, and Betty's cousin Larry Johnson on bass, They Say... is a raw-power, riff-heavy minimalist funk behemoth, made strange by Davis's prowling, purring, screeching vocals that are, once again, for ward in the mix. The songs don't hit in quite the same way because they're not really songs, more unimpeachable riffs, grooves and jams, like the slinky clavinet grind of 70's Blues or the good-foot James Brown sleaze of Git In There, where Davis exhorts her musicians to "Get down, down, down, down in there" as she emulates the sound of a wailing guitar rising to delirious ecstasy.
After They Say…, Davis toured with new group Funk House, comprised of her first cousins (Johnson and drummer Nicky Neal) and their childhood friends keyboardist Fred Mills and guitarist Carlos Morales. Described by Davis's close friend Winona Williams as "unbelievably decadent [and] way ahead of [its] time", live shows saw the singer decked out in Afro-futurist Larry LeGaspi outfits, performing her slow-grinding burlesque funk workouts whilst writhing on the floor and fellating her microphone. It was, perhaps, too ahead of its time. According to a Washington Post review, "the audience stared like an army of stiffs as Davis flipped her tail about and let loose an anarchist's cry".
Despite poor sales, a Betty Davis fanbase gradually grew – most notably in San Francisco and Washington DC – and a deal with Island was struck, for which Davis and Funk House recorded two LPs, 1975's Nasty Gal (not part of these LITA reissues) and a second LP which, thanks to a dispute with Chris Blackwell, remained unreleased until 2009. It's hard to say what audiences would have thought of Is It Love Or Desire (★★★★) in 1976 but in 2023 it sounds incredible, a take-no-prisoners female-fronted Funkadelic with Davis trying everything from ecstatic Little Feat country funk (Whorey Angel) to hypnotic motorik sex jams (It's So Good), whilst aiming attacks at disco (Bottom Of The Barrel) and her own record label (Stars Starve, You Know).
However, when the LP was shelved, the band split and Davis relocated to Los Angeles, immersing herself in the West Hollywood party scene before assembling her fifth and final album, 1979's Crashin' From Passion, now available on vinyl for the first time ever. Recorded with Funk House guitarist Morales and jazz drummer Alphonse Mouzon, plus Herbie Hancock on keyboards, Chuck Rainey on bass and a quartet of backing vocalists comprised of Martha Reeves, Patryce Banks, and Anita and Bonnie of the Pointer Sisters, Crashin' From Passion (★★★) should be incredible. It isn't, but beyond such failed style experiments as the Manhattan Transfer vocal jazz of Hangin' Out In Hollywood and I've Danced Before's winsome calypso-pop can be found a haunted vulnerability on digital soul epic You Take Me For Granted and the title track where Davis sings, "Tried my best but I failed the test, made mistakes… Now you hate me."
After Crashin'…, Davis spent three years in Japan before moving back to her family home in Pittsburgh, where she lived in relative solitude until her death in February last year. Since those final sessions, Davis has been sampled repeatedly and cited as an influence by everyone from Prince to Janelle Monáe. Even Miles Davis in his 1989 autobiography wrote that, "If Betty were singing today, she'd be something like Madonna; something like Prince… she was ahead of her time." But doors in the industry kept closing. Always white men behind desks telling me to change – change my look, change my sound. I needed to 'fit in' or else no contract. I learned stars starve in silence."
 Portrait: Robert Brenner
Read MOJO's verdict on this month's best new music in the latest issue, featuring The Smiths, Bob Marley, Gram Parsons, Sinéad O'Connor and more. More info and to order a copy HERE!