John Coltrane With Eric Dolphy
Evenings At The Village Gate
★★★★
IMPULSE!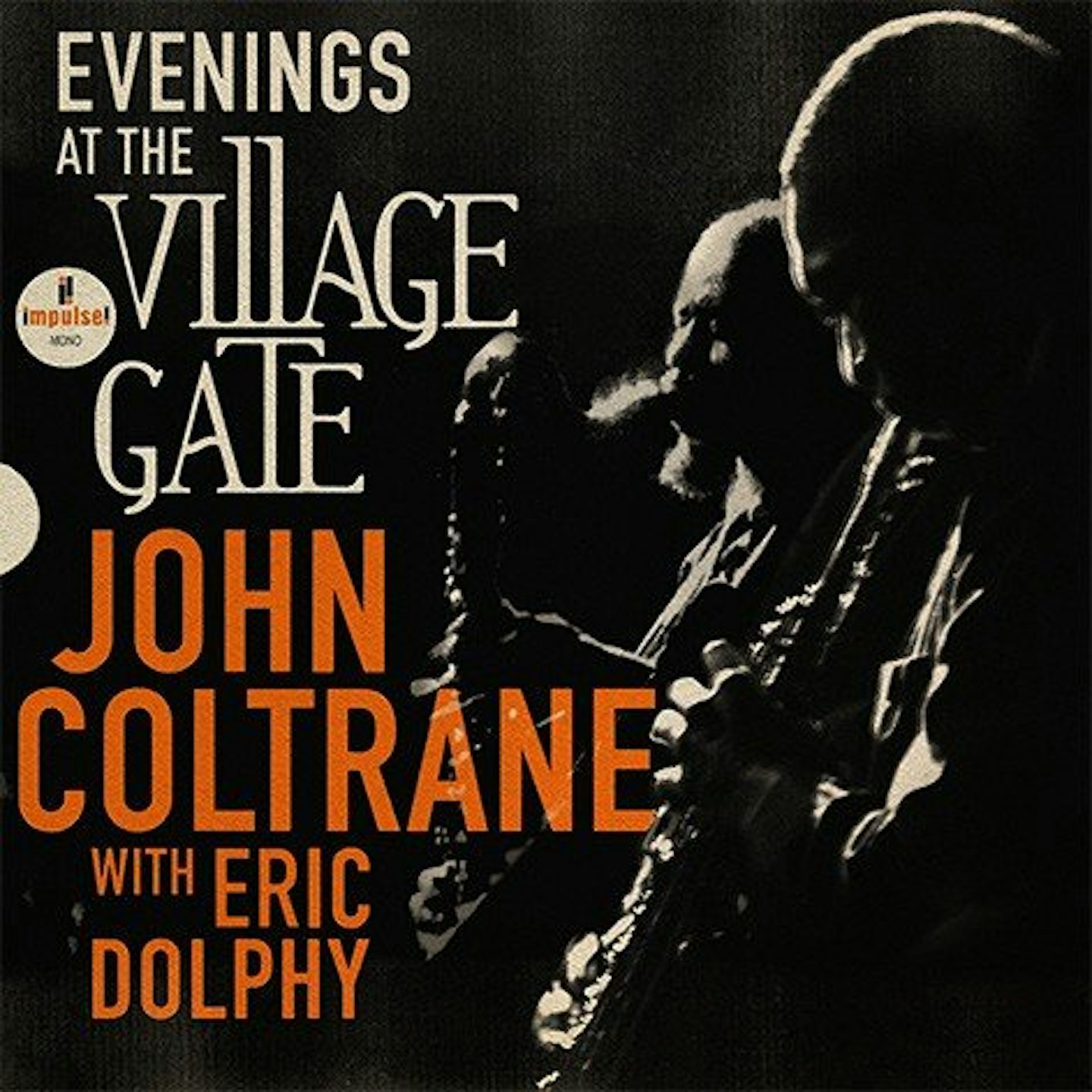 1961 WAS AN annus mirabilis for John Coltrane. In March of that year his radical, modal reworking of Rodgers & Hammerstein's My Favorite Things was an unlikely radio hit for Atlantic Records. Then, in April, the then 36-year-old saxophonist became the first artist signed to Creed Taylor's new Impulse! label, recording the defiant Africa/Brass and briefly augmenting his piano/bass/drums line-up of McCoy Tyner, Reggie Workman and Elvin Jones with 34-year-old experimental multi-instrumentalist, Eric Dolphy. By the end of the year came another three Coltrane LPs, all of them capturing the sound of an artist in a constant state of flux and evolution.
Of course, that wasn't the whole story. While the LPs were Coltrane's documented broadcasts to the world, his live sessions in the clubs of Cleveland, LA, Detroit and most specifically New York captured a different kind of creative performance, more intense, combustible, fleeting, and contentious. Part of that rare uncertain quality was down to the presence of Dolphy, who Coltrane had first befriended in New York in 1959. First showcased to the world on the controversial 1962 Impulse! release, Coltrane "Live" At The Village Vanguard, the union of Dolphy and Coltrane is now seen by many as the charged genesis point for free jazz, the saxophonist's own entry point into a more spiritual, soul-searching sound, and a vital document from the meagre recorded legacy of Dolphy, who, in the wake of his death just three years later in June 1964, came to be seen as an impish, puzzle at the heart of jazz modernism, a gnomic, misunderstood genius forever in need of revival or rebirth. However, back in 1961 the duo's elemental, modal playing was regarded by some as a step into nihilism and anarchy, an "anti-jazz", in the contemporary words of Downbeat magazine's Leonard Feather.
Such historical opinions can often seem comically outmoded when placed next to the music being critiqued. But listening to this recording, captured at Art D'Lugoff 's cavernous basement venue in the heart of Greenwich Village by sound engineer Rich Alderson (see Back Story), is to hear an artist – Coltrane – trying to push through, playing tracks from old setlists but in a new way that rejects the old structures and, yes, that does invoke notions of anarchy.
Beginning with a version of My Favorite Things, with Elvin Jones drumming clean, hard hypnotic patterns, Reggie Workman's bass sure and steady, and McCoy Tyner's piano intense and beaming, Coltrane repeatedly sounds like a man trying to find a way over, under, through or beyond his own sound, taking his squalling soprano sax out to heights too dizzying, before coming back to the grounded surface melody. Dolphy, meanwhile, plays a high bird-song flute that seems to dance above it all, offering Coltrane possible paths for a lighter flight. The second track, a cover of Benny Carter's 1936 swing standard When Lights Are Low, begins as a low-slung blues amble, defined by Jones's up-beat rhythms and Workman's walking bass, before Dolphy's playfully loping bass clarinet is cut deep by Coltrane's high wailing soprano reed and Tyner's bright piano waltz which seems to have arrived from another, happier world entirely.
Coltrane was trying to play in a way to invoke notions of anarchy.
The degree to which this is a transitional recording is perhaps best exemplified by the early run through of Coltrane's Impressions, first recorded in the studio in 1962 but best known from the version captured at New York's Village Vanguard in November 1961. That version might be the finest documented example of the Coltrane/Dolphy quintet. Recorded with the same line-up as this album, it's a euphoric, exploratory masterclass in what Coltrane was capable of in 1961. Against Jones's driving polyrhythmic be-bop patterns Coltrane niggles away at a tiny harmonic idea reminiscent of Miles Davis's So What, before turning the whole thing upside down and inside out, Dolphy cutting in on incendiary agitated alto sax, the duo reaching for something ancient and primal as Tyler seemingly scales the walls with his glittering keyboard runs.
By contrast, the version here, as much to do with the drum-forward recording as anything, feels somehow more sluggish, Coltrane's and Dolphy's motivic Eastern patterns sounding disquieted and imprisoned, like two giant glittering insects trapped in a conservatory and only the duet between Jones and Tyler allowing any sense of escape.
It's as if the quintet has not yet achieved lift-off velocity. As such, the most fascinating tracks here are the older standards, like their version of Greensleeves, where you can actually hear Coltrane and Dolphy go up into the exosphere, push, circle, attempt to blast through and almost pass out, before returning back down into a swirling blue-sky glide, Tyner's glittering melodies providing a soothing landing.
Chasing Trane: MOJO charts the genius of John Coltrane across his ten greatest releases
The set ends with a 22-minute version of Africa, the Tynerarranged big band number from Africa/Brass stripped back to quartet, but with the addition of second bassist, Art Davis. It's unarguably the LP's highlight with Workman providing a steady droning undertow and Davis dancing and weaving around the horns in the manner of some Yoruba trickster. The whole track possesses luxurious space, hypnotic mystery and tension that has the audience audibly gasping. When Coltrane and Dolphy's corrosive horns return, 17 minutes into the track, their arrival feels like both release and a celebration; a small rejuvenating taste of euphoria. "If you play in a place where they really like your group," Coltrane told Downbeat magazine in 1962, "they can make you play like you've never felt like playing before." With Africa you really feel like you're witness to one such historic moment.
In Ashley Kahn's exemplary linernotes to this release, which are accompanied by the memories of Workman and Alderson, he places great importance on that Downbeat article, particularly Dolphy and Coltrane's answers to the repeated question: "What are you trying to do?" Dolphy says he is trying to get to a state where "you have no idea what you're going to do next [or even] what could be done"; while Coltrane says he's hoping to "give a picture to the listener of the many wonderful things he knows of and senses in the universe… how magnificent and encompassing it is." In short, the magnificent and the unknown, a point where both player and audience are simultaneously lost and awestruck. With Evenings At The Village Gate both adjectives are at play, but the LP is at its best when you don't rightly know which one it is that you're feeling, or, as Dolphy puts it in the same interview, "It swings so much I don't know what to do… it moves me so much."
Evenings At the Village Gate is out now on Impulse!
READ MOJO'S VERDICT ON ALL THE MONTH'S BEST MUSIC. Plus, receive every new issue of MOJO on your smart phone or tablet to listen to or read. Enjoy access to an archive of previous issues, exclusive MOJO Filter emails with the key tracks you need to hear each week, plus a host of member-only rewards and discounts by BECOMING A MOJO MEMBER