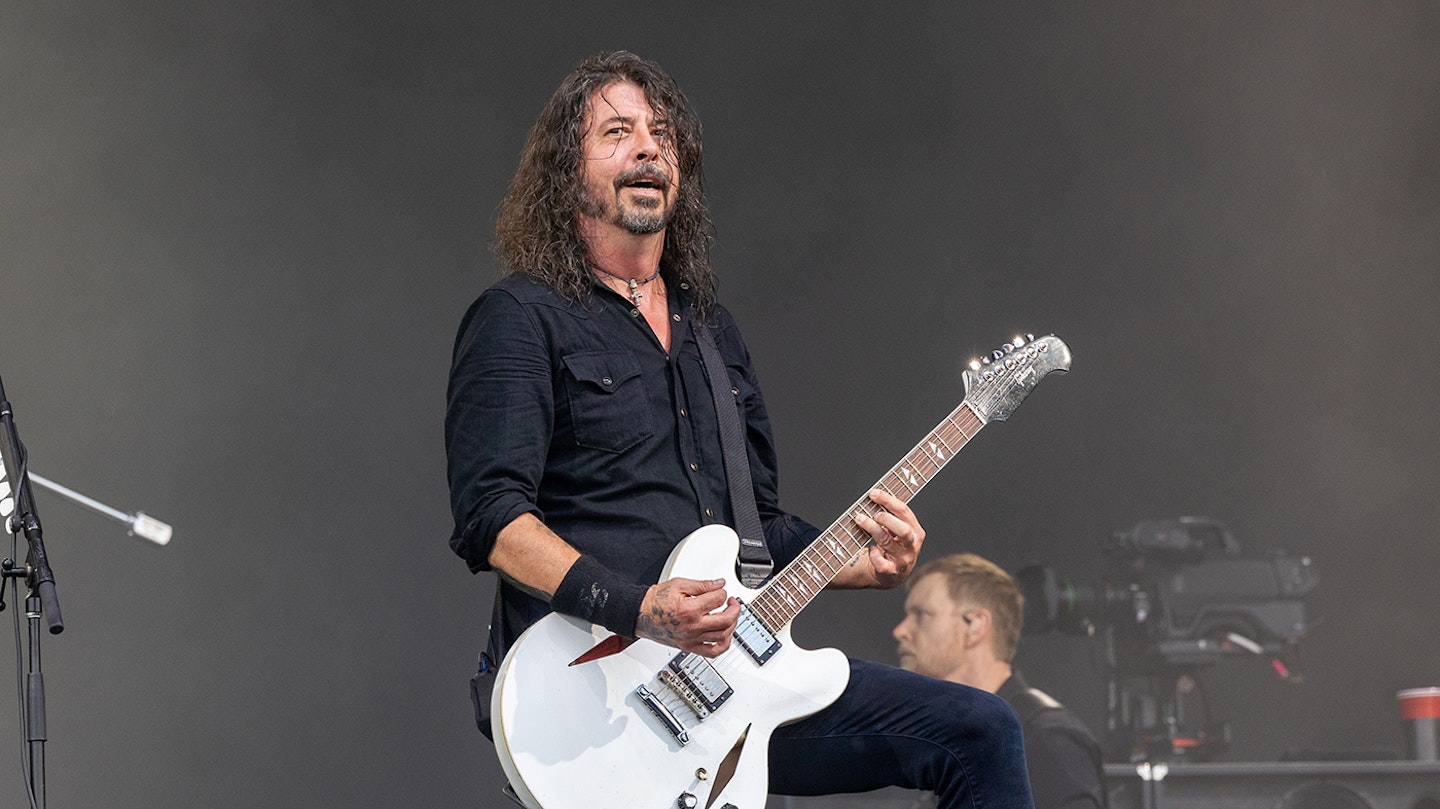 Besides whether Arctic Monkeys would make Glastonbury, the other mystery running up to today was the identity of The Churnups, billed in an early evening slot on the Pyramid Stage. Backstage, this was the subject of frenzied speculation and plain mischief-making. Would The Churnups turn out to be Pulp? The Foo Fighters? Would either parachute in to cover a Monkeys' no-show? "The Churnups Is An Anagram Of The Cheeky Girls" reads the wittiest of Glastonbury's thousands of home made flags. But of course it isn't.
The Churnups are the Foo Fighters, introducing new drummer Josh Freese and his tightly gaffa-taped ankles. Mainman Dave Grohl is making a meal of the fact this is a short set – the band's hour on stage is much less than they are used to, having headlined here in 2017. But the narrow window seems to hone the Foos' intensity to a sharp point, and the first half hour of their granite punk and melodic hard rock is the best MOJO has seen from them in a while, such that we're willing to forgive the cheesier crowd-pleasing that inevitably ensues. Grohl's daughter Violet is invited onstage to co-sing Show Me How from most recent Foos album, But Here We Are. Aaaaah.
The very real emotional connection between Foo Fighters and UK audiences sometimes appears unlikely, but Grohl's assiduous attention to the art of the chorus has a lot to do with it. The crowd pick up the strains of the closing Everlong – dedicated by Grohl to the band's late drummer, Taylor Hawkins – and they resound around the Pyramid arena. The Oasisification of hard rock? Perhaps.
Our Friday Glastonbury 2023 reviews: the Arctic Monkeys is here. And our review of Friday at Glastonbury: Sparks, The Hives, Alabaster DePlume and Mozart Estate is here.
Our Saturday Glastonbury 2023 reviews: Lana Del Rey is here. Guns N' Roses is here. The Pretenders is here. Generation Sex is here.
Join us back here tomorrow for all the action from Sunday, including Elton John and much more.
And catch up with our expedition to the wilder corners of Glastonbury on Thursday here.
Dave Grohl photo: Anna Barclay