In 2018, Alex Turner shared with MOJO the jukebox selections that inspired that year's Tranquility Base Hotel & Casino, scribbling down a list of songs that ran through his head as he steered Arctic Monkeys toward their most out-there direction yet. Here, Turner and his Arctic Monkeys bandmates talk about the songs, we share Turner's handwritten playlist and - most importantly of all - the tracks that sent the Monkeys spinning off into out of space...
At the foot of the twisty stairwell at La Frette studios where Arctic Monkeys recorded last year's The Car and its game-changing predecessor Tranquility Base Hotel & Casino, an early-'70s-vintage Seeburg Olympian jukebox squats. It's full of wonderful vinyl 45s but the would-be button-pusher has to take a flyer, as the selections have no names on them.
           "I had to note the best ones down," drummer Matt Helders told MOJO. "The Stones – Moonlight Mile, some French songs, some doo-wop. The Great Pretender by The Platters was a big one. Hit The Road Jack – Ray Charles, Mrs Robinson, Joe Le Taxi…"
            "The jukebox felt like the centre of the La Frette universe," adds Alex Turner, who's provided MOJO with a list of the songs that fed into the writing of Tranquility Base… and its recording. "We was always hanging out at the bottom of them stairs, because the main living room was full of tackle. There wasn't anywhere else to hang out."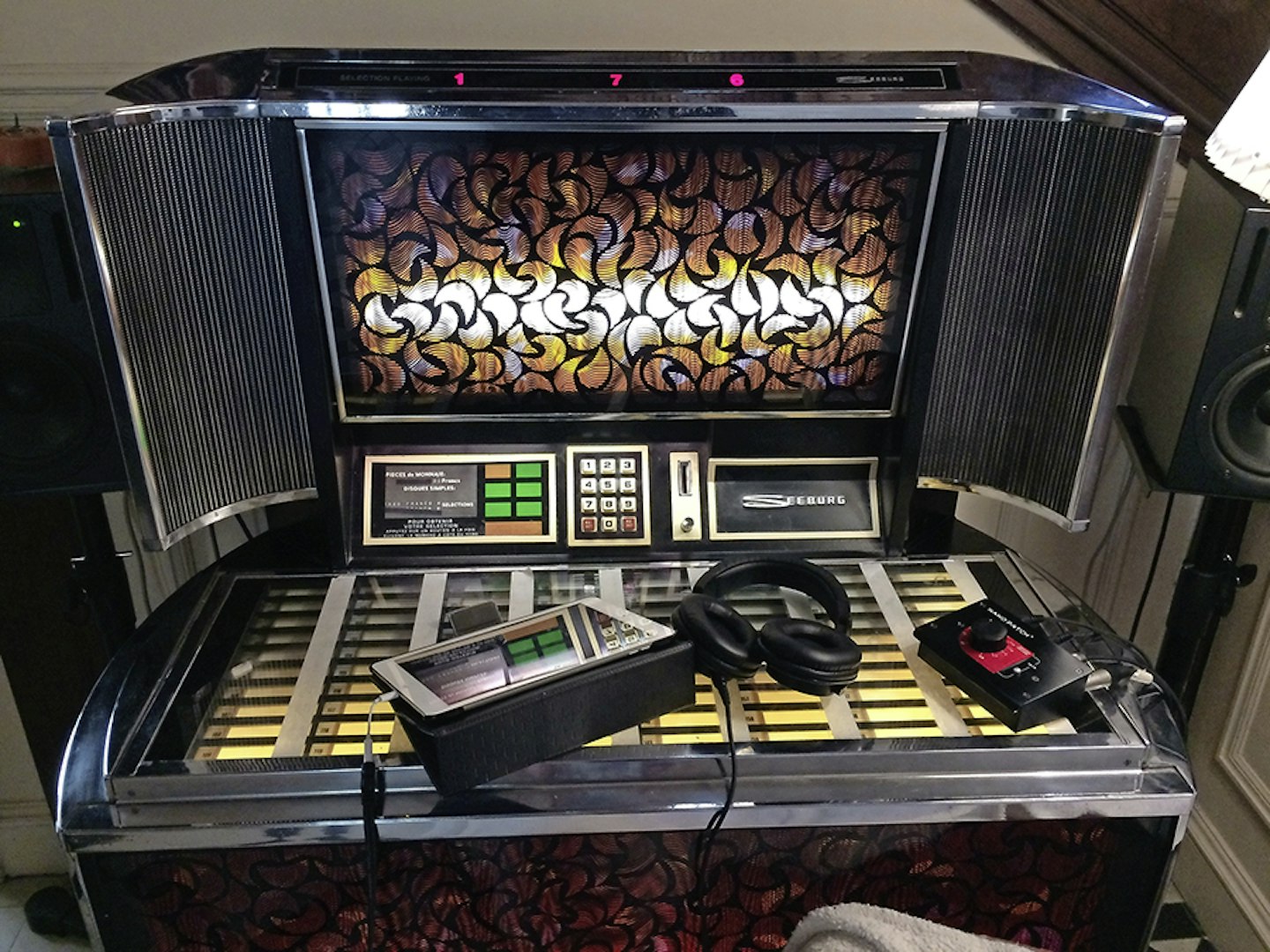 Turner has been coming to France to record since the first Last Shadow Puppets sessions at Studio Black Box in the Pays De La Loire in summer '07, and French pop and soundtrack music remain a key influence on Tranquility Base... Jean-Claude Vannier, the arranger on Serge Gainsbourg's Histoire De Melody Nelson, is a longterm Turner obsession.
            "I've been chasing down the Melody Nelson bass tone for, like, ten years now," he says, and thinks he's finally nailed it on Tranquility's title track, on which he plays a tricksy line on a painstakingly sourced Burns Vista Sonic bass, close to the type played by Dave Richmond on the original Gainsbourg sessions.
Arctic Monkeys Interviewed: "I put me motorbike boots on one day to try and write a riff"
            But his soundtrack composer du jour is Francois De Roubaix, a prodigious synthesist of early electronica, folk elements and twangy spy guitars who died in a diving accident in 1975, not yet 40. The love affair started with cinéphile Turner's devouring of Jean-Pierre Melville' 1967 Gallic noir classic Le Samouraï, starring Alain Delon.
"There's this organ arpeggio in Le Samouraï that I definitely was thinking of when I wrote those parts on American Sports," says Turner. "I went a bit mad on those arpeggios for a bit.
"There's some other organ movie stuff on that list too. The Nino Rota piece, Toby Dammit, is the soundtrack to Fellini's third of [Edgar Allan Poe-inspired 1968 portmanteau movie] Spirits Of The Dead. That film was something [comedian and director of 2008 Arctic Monkeys concert film] Richard Ayoade put us onto a while ago."
Other strands of music woven into the Tranquility tapestry include quirkily arranged soul (The Three Degrees version of James Gang's Collage, from their pre-Philly debut album, is a revelation) and full-on disco (Evelyn Champagne King's irresistible Love Come Down) – cheesy keyboard sounds are a Turner delicacy. Then there's a penchant for comparatively overlooked '70s singer-songwriters, like Lindisfarne founder Alan Hull, whose 1973 album Pipe Dream weaves a mellowed but sardonic spell.
"That Pipe Dream album took me years to find," says Turner. "When I used to live in New York, there was a guy who worked in a restaurant we used to go in who I used to always chat about music with. I'd tell him I was into Dion and he'd recommend stuff on the basis of that."
More recent Turner raves betray a yen for the whiff of coke-y rot in super-smooth late-'70s productions, like Neil Young's Midnight On The Bay from The Stills-Young Band's Long May You Run album ("I kept listening to that tune loads at La Frette") but Jean-Claude Vannier is always the default. In fact, there was a chance that Turner might get to meet the great man through La Frette owner Olivier Bloch Lainé.
"Olivier kept saying he'd call him, get him over, but he never did," says Turner. "I heard a story about him though. A guitarist friend of mine, Benji Lysaght, played the Hollywood Bowl with him, when they played all of Melody Nelson [in 2011]. Anyway, they were rehearsing and Vannier came over to everyone introducing himself, and he came over to Benji, and Benji thought he was coming over to say, Just have fun, enjoy yourself, it's going to be OK. But actually he said something more along the lines of, If you fuck up, it's all ruined!"
Alex Turner's Tranquility Base Soundtrack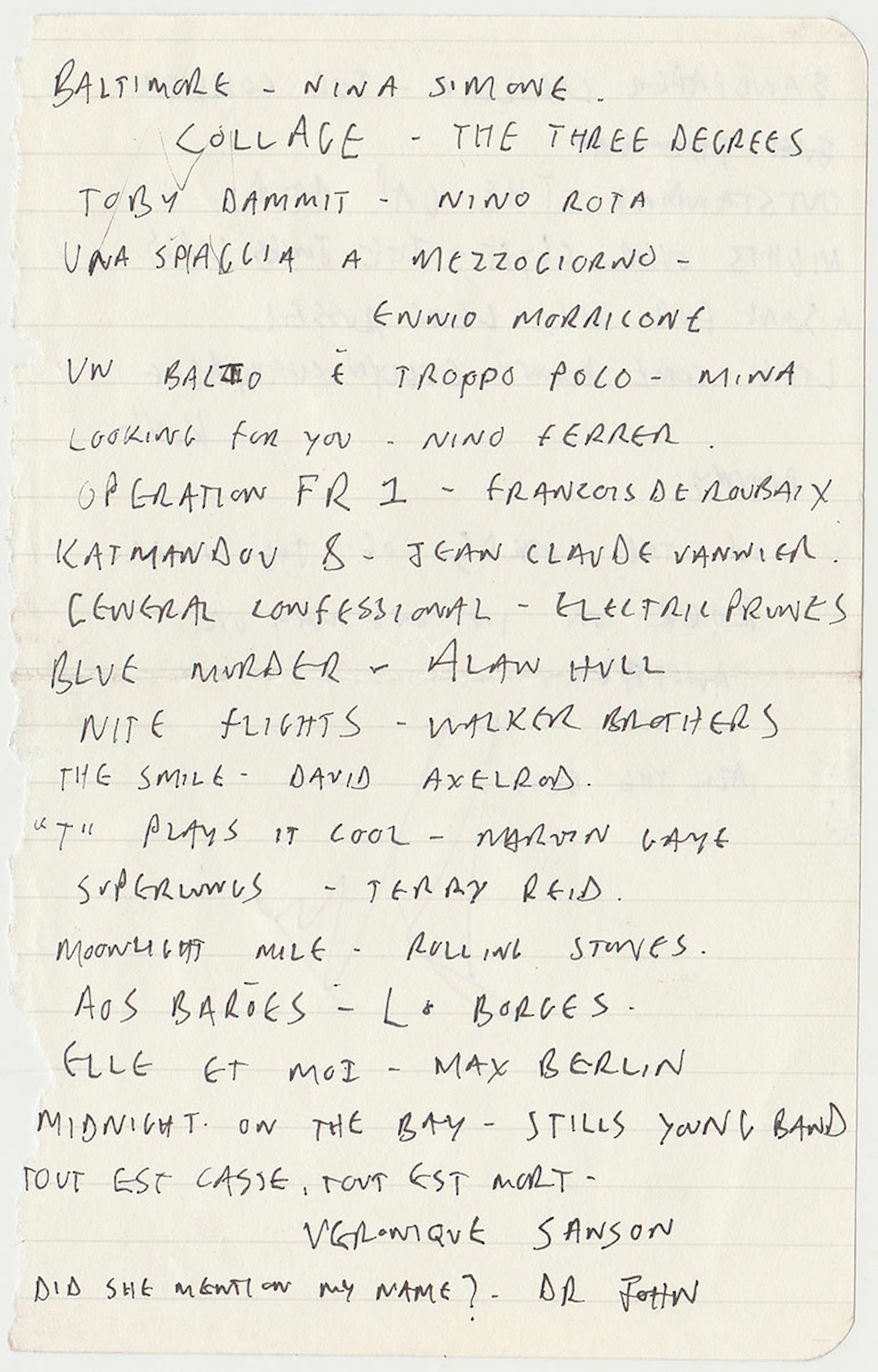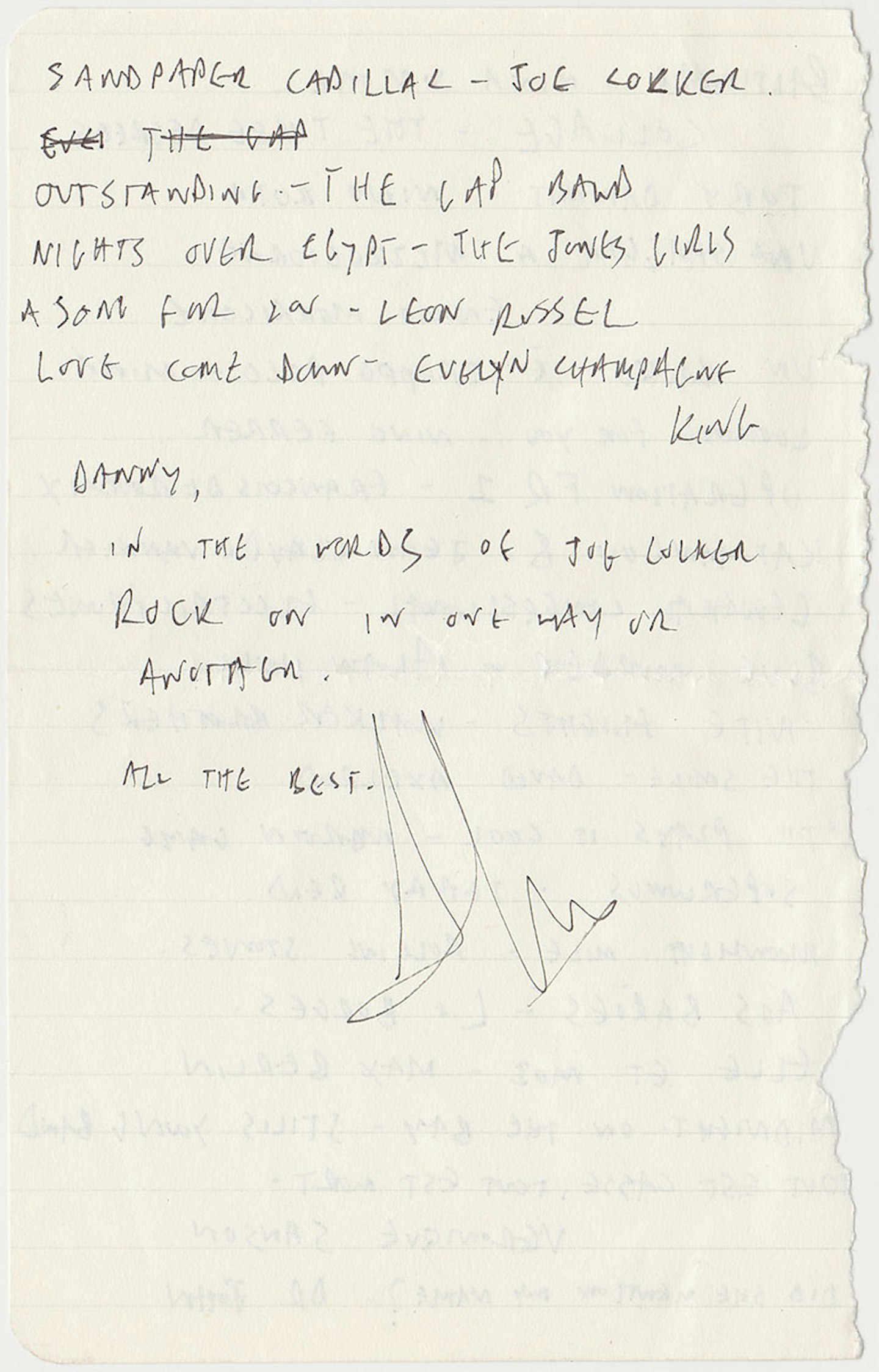 Nina Simone
Baltimore
(On: Baltimore, 1978)
The Three Degrees
Collage
(On: Maybe, single, 1970)
Nino Rota
Toby Dammit
(On: Toby Dammit Original Film Soundtrack, 1968)
Ennio Morricone
Una Spiaggia A Mezzogiorno
(On: Vergogna Schifosi Original Film Soundtrack, 1969)
Mina
Un Bacio è Troppo Poco
(On: Soli, single, 1965)
Nino Ferrer
Looking For You
(On: Looking For You, 1974)
François de Roubaix
Opèration FR1
(On: Courts Metrages, 2011)
Jean-Claude Vannier
Katmandou 8
(Les Chemins de Katmandou, Original Film Soundtrack, 2015)
The Electric Prunes
General Confession
(On: Release Of An Oath, 1968)
Alan Hull
Blue Murder
(On: Pipe Dream, 1973)
The Walker Brothers
Nite Flights
(On: Nite Flights, 1978)
David Axelrod
The Smile
(On: Songs Of Innocence, 1968)
Marvin Gaye
"T" Plays It Cool
(On: Trouble Man, 1972)
Terry Reid
Superlungs My Supergirl
(On: Terry Reid, 1969)
The Rolling Stones
Moonlight Mile
(On: Sticky Fingers, 1971)
Lô Borges
Aos Barões
(On: Lô Borges, 1972)
Mat Berlin
Elle Et Moi
(On: Elle Et Moi, 1987)
The Stills-Young Band
Midnight On The Bay
(On: Long May You Run, 1976)
Véronique Sanson
Tout Est Cassé, Tout Est Mort
(On: Amoureuse, 1972)
Dr. John
Did She Mention My Name
(On: Zu Zu Man, 1973)
Joe Cocker
Sandpaper Cadillac
(On: With A Little Help From My Friends, 1969)
The Gap Band
Outstanding
(On: Outstanding, 12-inch, 1982)
The Jones Girls
Nights Over Egypt
(On: Get As Much Love As You Can, 1981)
Leon Russell
A Song For You
(On: Leon Russell, 1970)
Evelyn "Champagne" King
Love Come Down
(On: Get Loose, 1982)
Nick Mulvey
The Doing Is Done
(On: Dancing For The Answers, 2018)
"No matter how far you get, there's always that thing that will stitch us all back together..." Richard Hawley on why Sheffield still loves Arctic Monkeys.