Convinced they'd compromised their punk ethics with the glossy Nevermind, Nirvana resolved to make their third album a stripped-back, no-frills affair – whether their record company liked it or not. Cue an intense 10-day recording session with their hardcore hero Steve Albini at the controls, and an LP that would alarm the band's label and cause a rift between band and producer. Read on for the curious story of IN UTERO, the group's final studio album.
BRENT SIGMETH WAS SURE of three things as he turned up at Pachyderm Recording Studio for the first day in his new job. First, he knew that none other than Steve Albini was booked to come in. Second, he knew that Steve Albini was coming in to record a band called The Simon Ritchie Bluegrass Ensemble.
Right away, this sounded curious. Who the hell were The Simon Ritchie Bluegrass Ensemble? Brent had certainly never heard of them. Although Albini had recorded at Pachyderm before, it was to make albums with established artists of some renown, notably The Wedding Present and P.J. Harvey. Situated 40 miles south-east of Minneapolis, surrounded by woods and with only the 'town' of Cannon Falls (population: 3,400) by way of local civilisation, Pachyderm is an isolated residential studio, offering clients comfort and privacy. Distractions in the immediate neighbourhood are few; bands go there to get away from the irregularity of their 'normal' lives, to get a job done. Although not the most expensive example of such a facility, it was way beyond the means of most of the bands Albini worked with, recordings which usually took place at his home studio in Chicago.
All this, and the fact that 'Simon Ritchie' was actually the real name of Sid Vicious, led Brent and his colleague Bill Satler to conclude that if Albini was bringing in a band requiring a pseudonym, then this was not just any band. Whoever it turned out to be, Sigmeth was sure of a third thing: that one of his chores on his first day as house engineer at Pachyderm Recording Studio was to drive to Minneapolis-Saint Paul International Airport, collect the mystery outfit and take them to what would be their home and workplace for the next fortnight. He was not expecting a group of bluegrass musicians.
Midway through February 1993, thick snow lay on the ground in Cannon Falls. Minnesota winters are notoriously harsh, with temperatures struggling to rise above double digits below freezing. So when an articulated truck loaded with band gear arrived that evening, it was unable to negotiate the final hill up to the studio. When Brent and Bill, the outgoing engineer, took a four-wheel drive van to help out, the true identity of Pachyderm's latest clients became known: Nirvana.
"And then I had to go to the airport to pick them up," says Brent. "On my first day at work! Which was kinda wacky. I was supposed to hold up a sign that said 'The Simon Ritchie Bluegrass Ensemble'. Which I didn't! I just waved at them. Kurt and Krist were coming through and I said, I'm your ride. They figured it out."
When Brent Sigmeth started work at Pachyderm he was fresh out of engineering school and looking for a job. Having grown up in Cannon Falls, it seemed common sense to approach Jim Nickel, Pachyderm's owner, and see if he'd give this local boy a shot. Nickel hired him, and Brent was still settling into his new home when his illustrious housemates arrived.
"So there I was, this person pretending that he wasn't a bit star-struck and confused about how Nirvana showed up in his living room almost unannounced!" he laughs. "It seems surreal now, 'cos it was the first thing I was involved with here. It was definitely really super-inspiring that as an engineer I got to see Steve Albini work. He's brilliant. I think it's his overall grasp on the engineering tools he works with. He knows what he's using and he knows what he's doing, he's very intelligent about it. He's all about sonic integrity, which I appreciate. I think him and Nirvana was a really cool union of creative people."
Few now would dispute Sigmeth's assessment. In Utero was then and remains today an awesome piece of work. As well as a torrid personal treatise from a troubled but fearless artist, it also presents some of the most graphic rock ensemble performances ever committed to record. At the time, however, and at each stage of its genesis, the third Nirvana album was an object of often fierce, sometimes bewildering contention. Much of this centred upon two factors: the phenomenal commercial success of Nirvana's second album, and the subsequent decision to make its successor with Steve Albini.
Of course, had Nevermind not disrupted the weft and weave of popular music so fundamentally, their teaming up with Albini would hardly have been worthy of mention. Slightly but significantly older than the band, Albini recognised them as people and knew the cultural milieu from which they had sprung. His years playing and touring with Big Black and Rapeman made him a contemporary of Sonic Youth, considered the model for independent bands operating with integrity on a major label. Nirvana signed to Geffen's DGC imprint in early 1991 largely because Sonic Youth had done so two years previously. Nirvana's managers were also Sonic Youth's managers. Success, inasmuch as Nirvana had bothered to conceive of it, would be to sell as many records as Sonic Youth.
Or maybe the Pixies. On completion of Nirvana's first UK tour shortly before the end of 1989, Kurt Cobain told this writer that his favourite album of the decade was "definitely Surfer Rosa by the Pixies". The record had been produced by Steve Albini. In April the following year, Nirvana were making the long journey from Seattle to Madison, Wisconsin for their first recording session with Butch Vig, who would eventually produce Nevermind. On the van stereo was Surfer Rosa. Krist Novoselic remembers the scene vividly.
"We were somewhere like Montana or North Dakota. Chad was driving, I was in the passenger seat, and Kurt was sitting in this chair in the back that was higher up than the others. He's sat there, like he was in a throne (laughs), gripping the elbow rests, and then he lifts up his finger, like an edict, and he goes, 'This shall be the snare sound we shall have!' And then the tyre blew out. Pow! I guess it was kind of a fulfilment of that edict."
In particular, Kurt was drawn to how Albini managed to convey the natural acoustics of a rock band playing together in a room. Which was absolutely not how Nirvana were represented on Nevermind. With its double-tracked vocals, drum samples and radio-friendly gloss, Nevermind was a synthetic impression of what Nirvana really were, as much a tribute to the work of mixer Andy Wallace as anything the band actually played.
IT'S INTENSELY BEAUTIFUL BUT AT THE SAME SIME IT'S VERY DARK AND ABRASIVE. WHEREAS NEVERMIND WAS KIND OF LIKE A BUBBLEGUM RECORD.

Krist Novoselic
"I know Kurt liked the way Nevermind sounded," says Novoselic. "That was just a reaction, a reaction to a lot of things. It was kind of a reaction to get Albini. We didn't wanna be sell-outs and Albini is known for having integrity. It just seemed like it made sense, going back to our roots instead of just making another really slick album. The material on the record, too, was dark. It's a dark record. It's intensely beautiful but at the same time it's very dark and abrasive. Whereas Nevermind was kind of like a bubblegum record."
ONCE NIRVANA HAD DECIDED that their third album would not be a retread of their breathtakingly popular second, then Steve Albini was the perfect choice of producer. For a start, he famously disavows the notion that he 'produces' records at all. Instead, he strives to 'record' bands the way they sound, taking pride in doing a good, professional job. Whether or not he likes the band's music is secondary; an irrelevance, even.
Nirvana had always recognised the value of gesture politics: working with Albini was a single-digit salute to the forces of commerce, to whom they had sold their soul and then watched it commodified like a zesty new brand of processed cheese.
"After Nevermind, we had the power," Dave Grohl told Q writer Phil Sutcliffe. "Our A&R man at the time, Gary Gersh, was freaking out. I said, Gary, man, don't be so afraid, the record will turn out great. He said, 'Oh, I'm not afraid, go ahead, bring me back the best you can do.' It was like, 'Go and have your fun, then we'll get another producer and make the real album.'"
"I don't think they were behind it!" laughs Novoselic. "But we'd sold enough records to do whatever the hell we wanted."
The week before he got a phone call from Kurt Cobain asking him whether he might be interested in making a record with Nirvana, Albini had been moved to write a letter to one of the British music weeklies denying a story alleging that he already was. Months of unfounded speculation that his name was on the producer's chair for the new Nirvana album had, he claims, cost Albini work among his underground peers.
"I started seeing stuff in the fanzines that I was above working with the small bands, that I had 'sold out', that I had done this horrible thing. And at that point, I hadn't even spoken to the band. I had never spoken to them! I think I did get a drunken phone call from Kurt one night while he was on tour, maybe a year prior, but he didn't identify himself…"
Once he did get the invitation from Cobain, Albini had to excuse himself and embark upon a little homework. "As absurd as it sounds, at the time I wasn't that familiar with Nirvana's music. Y'know, I had heard it at other people's houses. I couldn't count myself a fan at that point and I didn't think particularly that they were the best of the bands of that generation and of that geographic/temporal nexus. I picked up their other records and listened to them. It didn't really change my impression. Their weakest album is obviously Nevermind. It's also the least representative of the band as I knew them. As their friends described them, that record was the least like they were.
"I GOT A DRUNKEN PHONE CALL FROM KURT ONE NIGHT WHILE HE WAS ON TOUR, MAYBE A YEAR PRIOR, BUT HE DIDN'T IDENTIFY HIMSELF."

STEVE ALBINI
"There was a strange intensity to all their records, and there was a sort of subtle perversion to almost everything that came out of Kurt's mouth that I liked. And Dave Grohl is an absolute monster of a drummer, so it's hard to imagine a record with him drumming on that wouldn't at least be fun to listen to."
Thus brimming with enthusiasm, Albini spoke once more to Cobain. He suggested he write up a proposal of how they might make a record together, what the good and bad approaches would be. Even at this preliminary stage, Albini showed his hand unambiguously: virtually everything he suggested was the diametric opposite to how Nevermind was recorded. They would work quickly and efficiently, the way Nirvana would have worked when left to their own devices in the early days. The record company wouldn't like this, of course, but then in Steve Albini's vision of how to make the next Nirvana album the record company wasn't part of the equation. They weren't even going to be paying for it.
"Let the band be in charge of everything… I was suggesting they make the record themselves, using their own money. I'd give them whatever assistance I could, but I wasn't going to get particularly involved with the music, I wasn't going to be making musical suggestions. It would be my standard job."
The band agreed. They would go to Minnesota for a self-imposed deadline of two weeks and make a record with Steve Albini. Recording costs: $24,000. Much wrangling then ensued between Albini and Gold Mountain Entertainment, Nirvana's management company, about how much he was going to be paid. Gold Mountain suggested a form of royalty arrangement, whereby Albini would recoup a percentage of every copy of the record sold. Although this meant he could earn around $500,000, Albini refused – "I'm disgusted by that concept, and that's an absurd amount of money." Instead, he proposed a one-off flat fee of $100,000 up front.
"That seemed to satisfy everybody," says Albini. "I think at that point there were still people who were sort of justifying their jobs by being suspicious of me. Saying, 'Well, we don't want to waste a lot of time and money with this guy if it doesn't work out.' People oblivious to the notion that I have never worked on a record where it didn't work out. I am not a cantankerous freak where my peccadilloes might upset the applecart and stop progress on the record…
"The record company was not going to be involved in the record from a production standpoint, and they were paying lip service as though that were a good idea, but it was obvious that made everybody feel very uncomfortable. It was obvious they had a Plan B folder somewhere."
Given Nirvana A&R man Gary Gersh's aforementioned comments to Dave Grohl, this seems very likely. Albini added a clause to his financial proposal to Gold Mountain, stating that if anything he recorded with Nirvana was to be altered subsequently, then he preferred to do it himself.
"So, that was it. We went to Minnesota. Twelve days later, we had a record."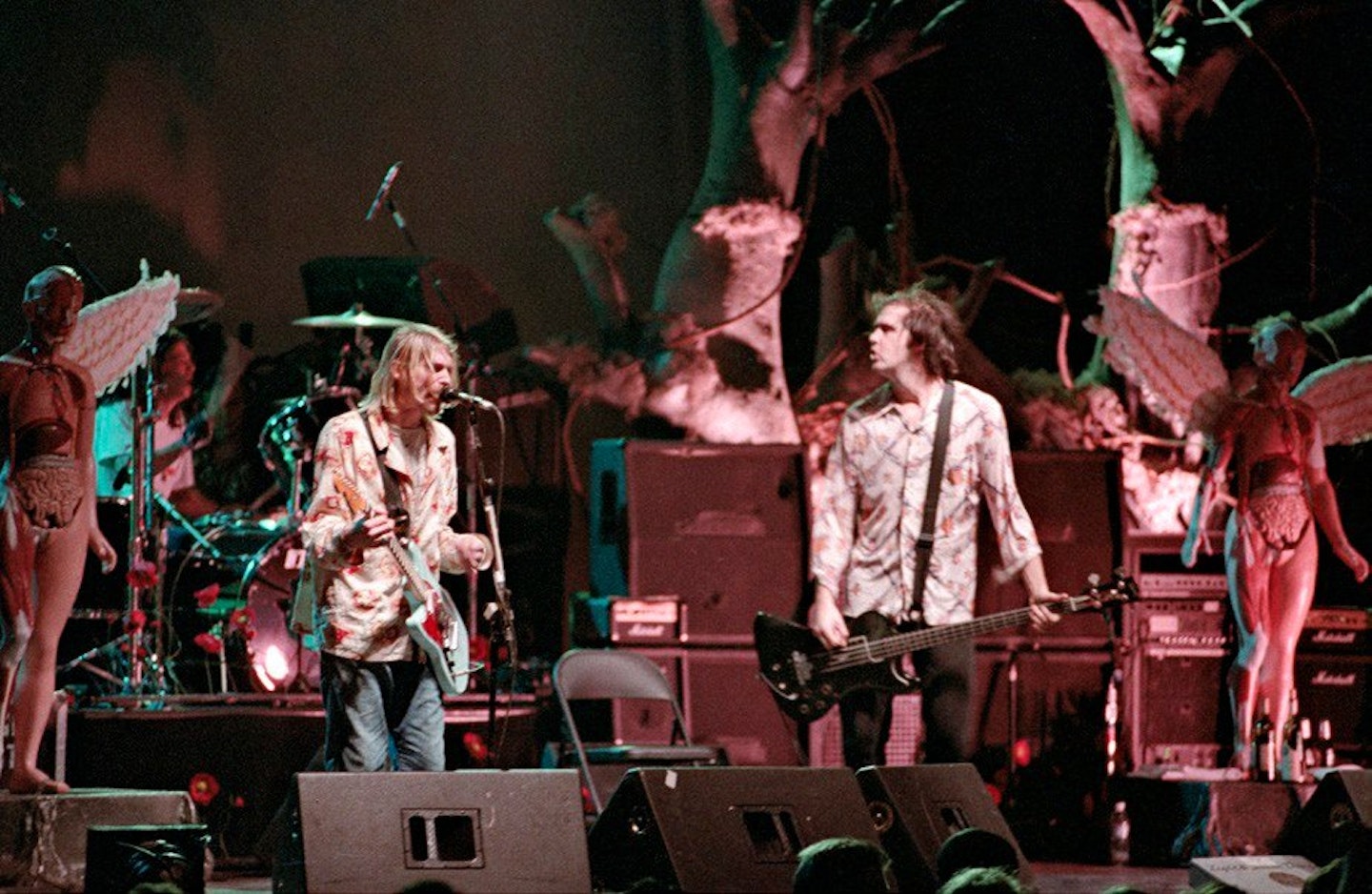 AFTER DRIVING FROM THE airport with Brent Sigmeth, Kurt Cobain, Dave Grohl and Krist Novoselic arrived at Pachyderm to be greeted by Albini, his studio maintenance technician Robert S. (Bob) Weston IV, Carter Nicole Launt, a macrobiotic chef who happened to be dating Weston at the time and whose job it was to cater to the diverse culinary needs of the workers… and Launt's dog, Z. Only these seven people were present for the entirety of the session. At the behest of the band, no one from Geffen or Gold Mountain visited at any point.
Work on the making of In Utero started in earnest on Valentine's Day 1993. The three band members set up their equipment, then began recording the basic tracks. The set-up was the same for each song, except for the faster, more aggressive songs like Tourette's and Very Ape, where the drums were recorded in a kitchenette adjacent to the main recording space, which was found to have its own natural reverb. Brent Sigmeth remembers watching intently as Grohl's drum kit was painstakingly mic'ed up; indeed, it was Albini's knowledge of microphone technique which most impressed Cobain. He estimated 30 were used for the drums alone.
For most of his guitar parts Cobain used a cheap guitar which, according to Albini, looked like it came from a pawn shop. On one song he played a rare allaluminium guitar called a Veleno, originally made popular in the '70s by Grand Funk Railroad, which Albini had brought along specially. Albini ascribes the strained, distorted guitar sounds on In Utero to a Fender Quad Reverb amp of which Cobain was particularly fond, in which three of the four power tubes were either broken or missing. Generally, however, Albini doesn't recall recording Nirvana any differently from any other band.
"On every record there are a few little things that somebody asks you to do that you have to figure out. At the end of Rape Me, there was meant to be this really extreme vocal… (pause). Ah, I can't remember which song it was. I think it was the Milkmaid song, or whatever it's called [Milk It], the vocal had to sound more crazy than it had up to that point. So I had to find a way to make the vocal leap forward at the end. Those are things you solve at the moment.
"But there were no magic tricks. There was no, Well, we wrapped the microphone in foil and put it in a bucket of sand! (Laughs) Whenever anybody involved in making a record tells you stuff like that he's either feeding you a line, or if they actually went to that much trouble to do something like that they probably didn't know what the hell they were doing. Making records is a very straightforward process, it's not black magic. You put up a microphone and listen to what it sounds like. If it doesn't sound good you put up another one."
"I think I'm going to puke…" Kurt Cobain's Last Photo Session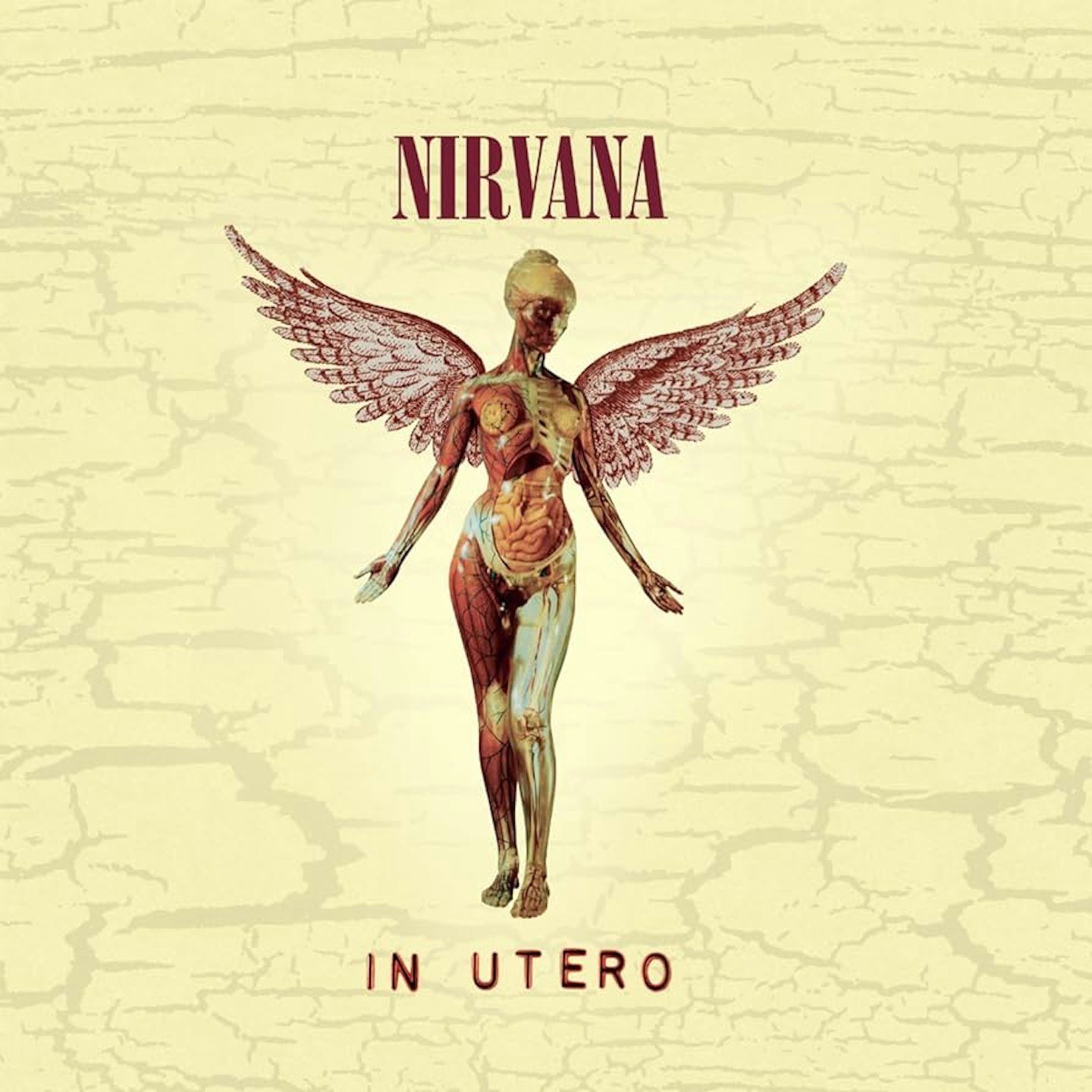 THE AVERAGE DAY AT Pachyderm began at around 10am, when everyone got up and hung around the house eating breakfast. At noon, the band and engineers would make their way down to the studio where they would work until evening. Meanwhile, Carter Nicole Launt would prepare lunch, which would be delivered to the studio mid-afternoon, then dinner, which was a big family-style affair around a table. Launt remembers each member of the band had particular food requirements.
"Krist was a vegan," she says, "so no dairy and no meat. Kurt, he had a little erratic schedule of eating. He liked frozen pizza and he would get up in the middle of the night and make himself something. Dave was kind of the all-American eater. Nothing too strange!"
After dinner, there might be some TV action. Late evening it was back to the studio, until midnight or maybe 1am. Aside from one weekend trip to Minneapolis to see local hardcore grotesques the Cows and a couple of forays to the local mall – Kurt's visit, to buy a present for Z the dog, caused some consternation among the youth of Cannon Falls – the band never left the studio/house complex, and never wavered from their daily routine.
Albini and Weston estimate that basic track recording took four, maybe five days, then a couple of days overdubbing and five days mixing. That the album was completed slightly ahead of the two-week deadline is tribute not only to Albini's work ethic but to the provision for the job in hand made Shutterstock by Nirvana. "They knew the material, they'd figured out all the little details," says Steve. "I don't know how quickly the songs were worked up, but they certainly weren't sitting down in the hallway trying to come up with more words or whatever. They were as prepared as any band I've ever worked with."
"We just focused intensely on rehearsing," recalls Novoselic. "That's the thing that we did best. Just got in the rehearsal room and knuckled down. We had the songs down tight. So we showed up in Cannon Falls, we set up our gear and we started playing. We tracked almost all the songs in the first two days. Some of the songs, I think over half of the songs, we did first take. We knew that Albini didn't wanna deal with some bigtime rock band or have to coddle some half-assed musicians. So, we knew how to rock! We'd been rockin' for years, we had our licks down. I remember Albini standing there by the tape machine with his arms folded, bobbing his head and we would just pop 'em out one after the other. 'Well, that sounded good. Let's do this song.' The record was recorded really fast."
For most of the songs, Kurt's lyrics were finalised only on the day of recording. Not in the hallway: more likely in his head. Once, he sent Carter Nicole to the local grocery to buy some cherry-flavoured lozenges to soothe his sore throat. These became the "cherry-flavoured antacids" mentioned in Pennyroyal Tea. He subsequently claimed in an interview with Dutch magazine Oor that "only half the compositions were ready. The rest originated from messing around in the studio."
Nirvana's "messing around" on In Utero puts the hard graft of most other groups into cruel perspective. That they were able to conjure such potent material under such circumstances and then render it with such trenchant conviction reaffirmed how precious this band really was. A two-day demo session with Jack Endino in Seattle the previous October had been a half-hearted affair – unsurprising, given that Cobain and Courtney Love were embroiled in a battle for custody of their two-month-old daughter Frances Bean – with Kurt singing on only one of the six songs recorded (Rape Me) and a reportedly tense atmosphere prevailing.
The Pachyderm session, by contrast, was characterised by dedication to the music and much camaraderie, notably between the band and their producer. Practical jokes were a speciality: prank phone calls to, among others, Evan Dando, Gene Simmons and Eddie Vedder, as well as indoor pyrotechnics…
"We had this Isopropyl alcohol in the studio to clean tape heads with," remembers Brent Sigmeth. "Steve was taking a nap one day in the lounge. Dave took this alcohol and poured it on his baseball cap and walked into the lounge, lit his head on fire and went, 'Steve! My head's on fire!' Steve woke up and looked at him with his flaming head, frowned and just went back to sleep. We still have the remains of the hat here somewhere."
"It was the easiest recording we've ever done, hands down," Cobain later told Nirvana biographer Michael Azerrad. "I thought we would eventually get on each other's nerves and end up screaming at each other. I was prepared to have to live with this person who was supposedly a sexist jerk, but he was surprisingly helpful and friendly and easy to get along with." Krist Novoselic: "The guy's a sweetheart! He's a totally mellow dude. Steve's from Montana!"
From his perspective, Albini says he tried to strike a balance between respectable professionalism and sympathy in his day-to-day interaction with the band. "They were the same sort of people as me. I admired and respected them. I never tried to be intimately friendly with any of them. They had been subjected to a million fleas jumping out from the bushes at 'em. People wanting something from them, people wanting to be a part of their show. The least I could do was to give them the courtesy of having them being in control of our relationship. I didn't try and get too inquisitive into Kurt's life. As much as I grew to admire and respect them, I didn't want them to feel like I was another one of these fuckers trying to latch onto their rocket."
"WHEN COURTNEY LOVE TURNED UP IT DID AFFECT THINGS. I THINK IT WAS STRESSFUL FOR KURT. SHE WAS CONFRONTATIONAL WITH PEOPLE THERE."

CARTER NICOLE LAUNT
THE ARRIVAL OF COURTNEY Love a week into proceedings disrupted the harmonious atmosphere. Albini, having previously described Love as a "psycho hose-beast", will not be drawn on the subject ("I don't have anything to say about her").
"It did affect things, definitely," says Carter Nicole Launt. "I think it was stressful for Kurt. I think she put a lot of pressure on him and wasn't always as approving of the way the songs were. She was very critical of his work, and actually was kind of confrontational with people there. Yeah, it definitely was stressful. I just think it made people uncomfortable, to bring a lot of their personal things into the public arena. We were strangers, basically, to them. It made him uncomfortable."
But by the time of the final playback, nothing could dampen an ecstatic mood. Wine and cigars were the order of the evening.
Albini: "Everybody was really happy. There was this really serious, really congratulatory sense of accomplishment. I thought they did a great job. I've been asked repeatedly if Kurt was on drugs while I was there.
And I've been around people who use dope a lot, and on the one hand I know how they behave and on the other hand I know how deceptive they can be. And my best estimate was that no, he wasn't, he was being very productive. That was a period of his life where he was very focused. He was focused on making this record and he didn't want to let the other guys in the band down. He was committed to the task. He was as sober – and I use that adjective to mean serious – as anybody I've ever worked with in the studio."
THUS NIRVANA LEFT MINNESOTA happy and satisfied. It wasn't to last. One or two weeks after the Pachyderm session had finished, Cobain called Albini to tell him that Nirvana's A&R man hated the album. "He said, 'It sounds like crap, there's way too much effect on the drums, you can't hear the vocals,'" Cobain later told The Stud Brothers in Melody Maker. "He didn't think the songwriting was up to par. And having your A&R say that is kind of like having your father or stepfather telling you to take out the trash."
Gary Gersh wasn't alone. The band's management were hardly enamoured with what they'd been handed. Nonetheless, Cobain stressed to Albini that the band were determined the album should be released as it was. "I know for a while there was a reactionary element to our mindset back then," Novoselic recalls. "I know for a while I felt like we shouldn't touch it as a point of principle. But that's not very rational. That stuff clouds your judgment."
Albini: "The next thing that happened was that I got a call from a journalist in Chicago saying that Geffen's publicity department had gotten in touch with him and off the record had told him that the new Nirvana record was awful and that it was all my fault. That it was unreleasable and that I had fucked up, and what did I have to say about that? What I said was that Nirvana made the record they wanted to make and the record company could stick it up their ass… I believe actually that he got a call from Gary Gersh – Gary Gersh was saying this to anyone who would listen, 'cos I was hearing it from a number of different sources.
"The word was out that I had fucked up this Nirvana record. And I don't know if that was being done specifically to embarrass me or if it was being done just to put pressure on the band. I really don't know what the rationale was."
Greg Kot's article in the April 19 issue of the Chicago Tribune, headlined 'Record Label Finds Little Bliss In Nirvana's Latest', was seized on by other titles, from Village Voice and Rolling Stone upwards. In the meantime, Kurt Cobain had again called Albini, this time to tell him that the band were having second thoughts and were thinking of remixing some tracks. Steve feared that the band's insecurities were being manipulated by their label. Worse, it seemed he was being set up as the villain of the piece, the inveterate noise guru who'd ruined the next Nirvana album. Albini called Kurt to say he didn't think that he could improve on the Pachyderm mixes.
Albini: "Then Krist called me and said, 'Y'know, it just doesn't sound as good as it did in Minnesota.' And I reiterated that I felt like we'd gotten the full monty, I felt like we'd gotten everything we could out of the master that we could when we were in Minnesota. And that I was still of the opinion we shouldn't tamper with it."
"GEFFEN HAD TOLD THE JOURNALIST THAT THE NEW NIRVANA ALBUM WAS AWFUL AND IT WAS ALL MY FAULT. THAT IT WAS UNRELEASABLE AND I'D FUCKED UP." 

STEVE ALBINI
The band, however, was becoming increasingly glum about the Pachyderm recordings. They were determined to remix two songs – All Apologies and Heart-Shaped Box. And if Albini didn't think he could improve upon his own recordings, he would clearly take a dim view of anyone else trying. Especially if one of those people happened to be, say, Andy Wallace, who had remixed Nevermind. In the end, he acceded to the wishes of the band, and gave them his blessing to "tinker around" with his recording. Krist Novoselic now says he feels the band simply didn't have enough time to reflect properly on what they had recorded at Pachyderm.
"That was the thing with Steve, it felt like once the record was done it was completely done. That's when the record label kinda stepped in and said, 'Hey…!' We had a confrontation about the situation. Maybe I shoulda spoke up at the time. I think it's a great-sounding record. It's a highly artistic record. I don't know who else could have produced it except Albini.
"But," he laughs, "you know why we had to remix Heart-Shaped Box? You should hear the original version of that song, the guitar solo has this effect on it, it just sabotages the whole song. Steve and Kurt were colluding! I would go to Kurt, Why are you sabotaging this beautiful song by putting this hideous abortion in the centre of it? He'd be like, 'Well, I think it sounds cool.' I don't even remember what their arguments were. Some statement against commercial radio or something, the popular mainstream aesthetic… I dunno! I guess I finally got my way. Scott Litt was an opportunity to change things."
By the time Nirvana had repaired to Bad Animals studio in Seattle with R.E.M. producer Scott Litt in early May, the reverberations caused by Kot's article were seismic. Newsweek ran a fullpage story on Geffen's alleged infringement of Nirvana's artistic control, backing the essence of the piece. Geffen issued a press release quoting Kurt as saying, "There has been no pressure from our record label to change the tracks we did with Albini. We have 100 per cent control of our music. The band felt the vocals were not loud enough on a few of the tracks. We want to change that."
Nirvana wrote a letter in response to the Newsweek article, criticising writer Jeff Giles on the grounds that he "ridiculed our relationship with our label based on totally erroneous information." The letter was subsequently reprinted as a full-page advertisement in Billboard. In the Geffen press release, meanwhile, company president Ed Rosenblatt stated: "As I have assured the members of Nirvana and their management all along, we will release whatever record the band delivers to us."
Which, in the end, they did. The version of In Utero that finally went into the shops on September 21, 1993 was exactly what Nirvana delivered to Geffen, exactly what the band wanted people to hear. The album was as recorded in Minnesota with Steve Albini, save for the two remixed tracks – both of which were released as singles – and a remastering session at which, in the assessment of Bob Weston, the band hoped to "change the overall sound of the album. The stereo doesn't sound as wide. The guitar has been flattened out a bit. On the original mixes the guitar would just leap out.
"But," adds Weston, "even with the changes that were made it's a great record. The songs are great and the recording is great and the performances are great. And besides, it's their record. If they wanted to remix a few songs and do a lot in the mastering, that's their prerogative. All that matters when you make a record is that the band is happy with the final result."
These are sentiments with which Albini concurs, though he feels that the final mastering was "overbearing. For my own personal satisfaction, because I worked on that record and felt close to it, I felt like it sounded better before any tinkering was done. When they sent me a copy I put it on and instantly I was disappointed in the mastering."
Yet it was as much the media brouhaha over the mooted remix of the album which soured his relations with the band, during a period when both parties should have been basking in the glow of a good job well done. In interviews around the release of In Utero, Kurt Cobain repeatedly stated the shitstorm had all been Albini's fault, that he had no reason to be so paranoid. But as Kurt himself once sang: "Just because you're paranoid/Don't mean they're not after you…"
Inside Nirvana's Last Ever UK Show: "The band was fractured in more than a few ways… it was touch and go"
GREG KOT, FOR ONE, feels Albini has been hard done by. Like all good journalists, to this day he continues to honour the confidentiality of his sources who told him off the record that Steve Albini had made an "unreleasable" album.
"But I will say that it was several people in the Geffen hierarchy, including highly placed people," avers Kot. "Not publicists. There were people involved who would know the inner workings of Nirvana. The problem is that nobody wanted to go on the record. It was more people spouting off, and I thought, How much of this is real? In order to run a story I needed to have somebody on the record who would comment on this, who would talk about what kind of pressure was on the band at the time. And, of course, I called Steve.
"My impression when I talked to Steve was that he was aware that the band was under some kind of pressure from the label and he was able to confirm basically everything that I had been told by people within the label. That's pretty much it."
Novoselic, meanwhile, has nothing but warm regard for the album which, eight years after it was created, represents Nirvana's unwanted epitaph, as well as the band's towering artistic peak.
"Y'know man, it's my favourite Nirvana record, and I'll you why – there was a lot of stuff going on with the band, externally and internally, there was a lot of pressures. But when we walked through that door we left all that stuff outside the door. We just played music, we worked together really well, we were laughing, we were concentrating, we were open. And that really shows on the record. We didn't mess around. Nobody got bombed, everybody was focused and clear-headed. I'm really proud of it, it's a beautiful record. Sometimes the lyrics on In Utero are really creepy. I listen to 'em now and it's like – why didn't I hear that back then?"
It may have been Nevermind that broke the mould, but it is In Utero that curates the soul of Nirvana. And along with Dave, Krist and Kurt, it was Steve Albini who made it what it is. Small wonder that today the producer who insists he is nothing of the kind, is left with mixed emotions about the affair.
"It was just the ugliest side of the record business," he reflects. "All these people trying their hardest to manipulate every situation, and just chewing up people in the process. It was fucking hideous. It was really disgusting to me. And I think everyone involved in that, I can't understand how they can live with themselves. So I haven't listened to that record a whole lot. If I think about it, I think about it fondly. I really enjoyed meeting the band, I have a lot of respect for them as people and musicians. I'm really proud of the job that I did – with the reservation the band and I are probably the only people who have genuinely heard the work I did!
"Not long ago, I was asked to play it for somebody who was in the studio and wanted to hear it, for some reference to something. So I played bits of it, and it brought me back. It brought back the whole experience. I really enjoyed working on the record. I'm really sad Kurt's gone. And I would do it again."
This feature appears in MOJO's new deluxe Nirvana special, Nirvana Come As You Are 1987-1994. More info and to order a copy HERE.