Nirvana's headline slot at Reading '92, in front of 40,000 fans, was to be their last ever appearance in the UK. In the supercharged atmosphere surrounding the gig – fractious intra-band relationships, controversy over Courtney Love's alleged heroin use while pregnant, rumours of a no-show – tensions reached fever pitch. Then a revved-up Nirvana let rip. In this feature taken from MOJO's new deluxe special issue, MOJO The Collectors' Series: Nirvana Come As You Are 1987-1994, band members, friends and acquaintances relive the grunge icons final UK show…
Nirvana Come As You Are 1987-1994 is on sale now. More info and to order a copy HERE.
PUSHED ON STAGE IN a wheelchair, clothed in a surgical gown and blond fright wig, Kurt Cobain's chaotic arrival at the 1992 Reading Festival was the punkest happening so far in an already tumultuous year. It was 11 months since the release of Nirvana's second album, Nevermind, but their procession as their generation's defining band had already turned into a catalogue of crises. The February 24, 1992 wedding of Cobain and Hole's Courtney Love had sparked a tabloid feeding frenzy, fuelled by the couple's barely concealed drug use. The six months since had regularly called the future of the band into question and would feed into the bleak symbolism of their third and – as it would prove – final studio album, In Utero.
But in the meantime, Nevermind couldn't stop selling, and such was Nirvana's eminence by the summer of '92 that Reading's final day line-up would be, in effect, curated by them, with artists including Mudhoney, Melvins, L7, Teenage Fanclub and Aussie ABBA tribute band Björn Again appearing at Kurt Cobain's request. This was new territory for the festival, a heavy metal showcase for much of the '80s until bans by the local council and the fading clout of the genre had resulted in an identity crisis, epitomised by 1988's disparate mix of acts, including Squeeze, Starship, Bonnie Tyler and Meat Loaf, who was bottled off the stage.
It was a new world for Nirvana too. They had played fourth on the main stage bill on the first day of the 1991 festival, a year headlined by Sisters Of Mercy, Iggy Pop and James. Sandwiched between indie-punks Silverfish and shoegazers Chapterhouse, a chaotic 30-minute blast of anthems-in-waiting had reconfirmed Nirvana's visceral power and helped set the seal on Reading's franchise-saving alternative-rock reincarnation.
"In '91 I was like, Wow, I pulled that off. I wasn't thinking about the band becoming gigantic. I was just happy I didn't shit my pants on the drum stool."

Dave Grohl
DAVE GROHL: "Reading seemed like a festival curated by that corner of the record store I'd always frequent. That hadn't happened yet in America. When I first moved up to Seattle to join Nirvana, I asked Dan Peters from Mudhoney, What's the biggest show you've done? And he said, 'Maybe 35-40,000 people…' I said, Where the fuck was that? He said, 'There's this thing called the Reading Festival.' When I found out that we were going to be playing there, I woke up in a cold sweat every fucking day for months because I realised I was going to play in front of 40,000 people."
EUGENE KELLY, THE VASELINES/CAPTAIN AMERICA/EUGENIUS: "Backstage in 1991, Krist came up to me and said, 'Hey! You want to sing [The Vaselines' 1988 single] Molly's Lips on-stage with us?' When I got up there, it was a sea of faces. I thought, God, what have I got into? Nirvana were powerful, a totally amazing live band, and seeing their connection with the crowd was unexpected."
DAVE GROHL: "[Afterwards] I was like, Wow, I pulled that off. I wasn't thinking about the band becoming gigantic, I was just happy I didn't shit my pants on the drum stool."
EUGENE KELLY: "Later that year, my new band Captain America supported Nirvana on their Nevermind tour in the UK [November 1991]. There were queues around the block to get in, and they were on the cusp of breaking through. They were a happy bunch, great people, down-to-earth, funny and not up themselves. We were in Sheffield and everybody went into a TV room to watch their performance of Smells Like Teen Spirit on Top Of The Pops – us, Nirvana and [Japanese punk trio] Shonen Knife. Kurt slumped down in his chair as it was going on, he disappeared a bit."
VINCE POWER, ORGANISER, READING FESTIVAL 1992: "A lot of bands have gone from bottom of the Reading bill to the top in a short space of time, but it felt like an event with Nirvana. There weren't many big UK festivals around in the early '90s, only really Reading and Glastonbury, so getting Nirvana to headline that year felt special. We were all really excited."
DAVE GROHL: [On Nirvana's "curation" of the Sunday line-up] "When you're given the opportunity to take control of a bill you're only going to invite your best friends, bands you love, or bands we thought would open other people's minds. We thought Björn Again was hilarious, this Australian band speaking in terrible Swedish accents and nailing the songs… It sounded like ABBA! We immediately thought, We have to take these guys on tour – because who fucking doesn't like ABBA?"
ROD STEPHEN, CREATOR, BJÖRN AGAIN: "We were playing a show in Richmond [Melbourne, Australia] and Nirvana were down the road [at The Palace, January 31-February 2, 1992]. They caught the tail end of our set, bought all our T-shirts and buggered off. The next thing, they're on MTV and Dave Grohl is wearing a Björn Again T-shirt. Then we got the call: 'Nirvana wants you to play with them at Reading. Moreover, Kurt has said, Unless Björn Again are playing, they're not doing the gig.' I thought, We could get bottled up there."
BUZZ OSBORNE, MELVINS: "The best part for us was realising that we were [being invited] at Nirvana's request. But opening for an ABBA covers band? That wouldn't be the benchmark for our career."
BY THE MORNING OF Sunday, August 30, the stakes had been raised in more ways than one. The birth of Love and Cobain's daughter, Frances Bean, only 12 days before, had toxified media interest in the couple, peaking with Lynn Hirschberg's notorious profile in the September issue of Vanity Fair (published earlier in August), which alleged that Love had taken heroin in the early days of her pregnancy. Meanwhile, Cobain had overdosed at least once and attempted rehab.
"I Think I'm Going To Puke…" Inside Kurt Cobain's Last Photo Session
On Friday 28, the festival kicked off successfully with a day tilted towards Anglo-indie (Mega City Four, The Charlatans, The Wonder Stuff), while Saturday brought a thrilling finale: Public Enemy on the main stage, winning over rock fans with an imperious performance. Sunday promised the much-discussed, Nirvana-endorsed main stage line-up (in order: Melvins, Screaming Trees, Pavement, Björn Again, Beastie Boys, L7, Teenage Fanclub, Mudhoney and Nick Cave & The Bad Seeds) but febrile backstage gossip had it that the embattled headliners were nowhere to be seen and might not play.
It was even said that pun-fixated Brixton indie duo Carter The Unstoppable Sex Machine were warming the subs' bench. Meanwhile, a heavy storm that turned the site into a mudbath and unleashed tent-lashing winds only added to the ominous mood…
EUGENE KELLY: "I bumped into Kurt at the hotel [the Ramada in central Reading]. He was with Eric [Erlandson] from Hole. He wasn't smiling or saying hello. It was only later that we started reading about what was going on in Kurt and Courtney's life and the things they were going through."
DAVE GROHL: "I remember bumping into people who were saying, 'What are you doing here?' I said, We're fucking headlining! They're like, 'Oh I thought you cancelled!' I'm thinking, What the fuck is going on?!"
ROD STEPHEN: "Kurt was closed off. We were doing a cover of Smells Like Teen Spirit in our show and backstage I spoke to Dave and Krist and said, Maybe it's best if we leave it out? They said, 'No way, you've gotta do it. We should ask Kurt…' He was behind one of the Portakabins and I could see him saying, 'Yeah, that's why they're here!' It was really evident that with Kurt, no one went near him. It was a strange atmosphere. It felt like something was gonna happen."
DONITA SPARKS, L7: "I don't want to get myself in trouble here, but I don't think [the rumour mill] was a problem for [Cobain and Love], personally. I think it was a possibly a clever thing going on… I don't think they lost sleep over that."
BUZZ OSBORNE: "Nirvana were pretty isolated from everything. They had already changed quite a bit from what they had been earlier … I'd known Kurt since he was a little kid and he went from nothing to having a lot of money – that's quite a headfuck for anyone. But he was also into drugs, and that was before Courtney [Love] was around, but she didn't help matters."
"I bumped into Kurt at the hotel. He wasn't smiling or saying hello. It was only later we started reading about what Kurt and Courtney were going through."

EUGENE KELLY
NORMAN BLAKE, TEENAGE FANCLUB: "The night before, the heavens opened and I remember getting thoroughly soaked. I think that added to the experience, though. The site was boggy, but people didn't care, they went for it and it made it memorable. You can only get so wet."
SCOTT KANNBERG, PAVEMENT: "It was so windy I couldn't hear anything on-stage. I was just hoping for the best, but I remember us being kinda good that day… It was like the last gasp of non-corporate rock, before people took themselves too seriously."
ROD STEPHEN: "There were puddles of mud everywhere… As we were about to go on stage we thought, We really shouldn't be here. It had been a whimsical thing with Kurt Cobain wanting it. I just hoped that everyone in the crowd got it, but we nailed Smells Like Teen Spirit, cranked it up to 11. There's even a film taken by Krist Novoselic's wife [Shelli] of Nirvana dancing around to it."
DAVE GROHL: "Not a lot of bands had the balls to do something like that. The audience went nuts. No bottles of piss were being thrown at them, that's for sure."
EUGENE KELLY: "The wind blew away the [second stage] tent and our show was cancelled. We were hanging about, up to our knees in mud, when Teenage Fanclub saw us and said, 'Play a song in our set!' I only recently just saw a clip of it on You-Tube. Up until then I thought, Did that actually happen?"
NORMAN BLAKE: "We got to go to the loo and have a beer when Eugenius [the new name for Captain America] played. I'd like to think it made it more memorable."
DONITA SPARKS: "We were pelted with mud the whole show. Why did I pull my tampon out and throw it into the crowd? [Sparks shouted, 'Eat my used tampon, fuckers!'] I like absurdity when I'm not having a good time. I thought, It's getting weird. I'm gonna get weirder. It was a 'Fuck you' in a performance art style."
MARK ARM, MUDHONEY: "I thought, Oh fuck, our name's Mudhoney. That's a magnet. I said, In America we have this game called baseball and people learn to throw accurately… Right then a dirt clod hit me in the face. Of course, I had forgotten all about cricket. Did we throw it back? Yeah, but that was a losing situation: four people against 40,000…"
DONITA SPARKS: "The mud was mixed with sheep shit. I got hit and picked up a big pile of it and put it on my head, shouting, Hey! You got me! Then I realised, This is fucking dung. I could smell it. Later, I'm watching Nick Cave and someone had thrown my tampon back. It was dangling off his monitor but he couldn't see it. I was mortified. It was such a bizarre sight. Now I'm not mortified by it because it's been so lovingly embraced by young feminists."
NICK CAVE: "Everywhere you looked you saw people in plaid and shorts with steam coming off their heads. We didn't have a clue why we were there. It was all about Nirvana and Mudhoney, that noise rumbling in endless waves, this sea of people just leaping around. Amazing, but absolutely nothing to do with us."
WHEN KURT COBAIN FINALLY arrived on-stage later that night, he resembled an asylum escapee. "This is too painful," joked Krist Novoselic of his bandmate, slumped in a wheelchair. "With the support of his friends and family he's gonna make it…" Cobain reached for the microphone, sang the opening line from The Rose – the Gordon Mills song made famous by Bette Midler: "Some say love, it is a river…" Then he collapsed dramatically to the floor. It was only once Cobain had pulled himself upright and launched into the acerbic, pounding thrash of Breed, backed by a berserk male dancer in a dress (this was Antony AKA 'Dancing Tony' Hodgkinson, the drummer with Derby rock trio Bivouac, a sometime Nirvana factotum and familiar terpsichorean distraction at European Nirvana shows since 1990), that any doubts regarding their appearance were laid to rest.
ANTON BROOKES, NIRVANA PR: "The wig, the surgical gown and the wheelchair were all part of the 'Kurt's dead' or 'Kurt's not playing' rumours. I think he'd heard them too and was taking the piss. Kurt had the cheesiest grin ever. He had said to me, 'Man, you've got to wheel me out on this…' My only regret is that I bottled it [the role went to Nirvana-supporting Melody Maker journalist Jerry Thackray, AKA Everett True], but it was intimidating. The crowd stretched back and back and back. When they walked on stage the noise was like a jet engine taking off."
DAVE GROHL: "Getting up to play, it was one of those moments where it was the music that brought the three of us together in that moment. And Tony, the dancer, of course."
ANTONY HODGKINSON: "Me and Dave got on real well. I was well into their music, but it was like a dare to dance to it. Kurt thought it would be a good idea. Suggestions flew around. I was finally like, Fuck it. I'll do it. And they were like, 'Well, you're gonna have to wear ladies' clothes.' And I was like, Whatever. I'm not proud, you know? I think Leeds in 1990 was the first show I did for them. From what I remember, [that] was quite a heated show, really. It seemed quite violent."
NORMAN BLAKE: [On set opener Breed] "They were loud and visceral – a power trio. Something the DVD [Nirvana: Live At Reading] didn't capture was the energy. You're not getting the same volume levels on your computer or TV. The songs had such a big sound, from just one guitar. The dynamics of going quiet to really fucking loud [on Aneurysm, Sliver and Lithium], especially at a festival, sounded incredible."
KURT COBAIN: [before All Apologies] "This song is dedicated to my 12-day-old daughter and my wife. There's been some pretty extreme things written about us, especially my wife, and she thinks everybody hates her now. So, this is being recorded, so I want you to give her a message and say, 'Courtney, we love you…'"
SCOTT KANNBERG: "This was before [In Utero] came out and the new songs sounded great. With All Apologies it was like they were a completely different band. I'd seen them a bunch before Nevermind and I was like, These guys are actually a lot cooler than I used to think. They were more like the Pixies meets Zeppelin, with a little Replacements humour thrown in."
NORMAN BLAKE: "I remember they played the riff to Boston's More Than A Feeling before going into Smells Like Teen Spirit. That was the thing that people forget about Nirvana: there was a lot of humour in what they were doing. Kurt was an angsty guy, but he could also be a fun guy as well. Doing that showed that they weren't taking things too seriously."
DONITA SPARKS: "The reaction that night was not a shock; it's exactly where they should have been with their momentum and their assault. I was sitting side of the stage – I was next to Dave Grohl's mother – and it was just steam in front of us, coming up off the audience. It looked incredible."
NORMAN BLAKE: "It wasn't surprising that their earlier stuff [Blew, School, Negative Creep] connected too, because it was riff-based. People sing White Stripes songs at football terraces because of that riff-based sound – there was a simplicity everybody could identify with."
SCOTT KANNBERG: "There was a chill in our bones because finally it felt like our music was winning. Yeah, we were part of that whole scene who grew up around indie rock. Now that music was headlining festivals. It didn't last long…"
DAVE GROHL: "In the 12 months since we had played the 1991 Festival so much had happened. We had these incredible highs and lows. Kurt had been in rehab, we hadn't played together; Kurt was living in Los Angeles, Krist and I were up in Seattle. The band was just fractured in more than a few ways. We were expected to come back together to do this gig, and it was touch and go. It was a huge relief when it was all over, that we made it through the entire set."
NORMAN BLAKE: [On Nirvana trashing their gear on-stage] "Kurt really gave it everything. I have memories of Krist chucking his bass up in the air. The chaos at the end – you didn't know what was going to happen next."
ANTON BROOKES: "Everyone was on a high afterwards, but Nirvana's highlight was meeting John Peel for the first time – they had so much to thank him for, he'd given them a leg up with the Peel Sessions. But Peel was as in awe of meeting them as they were meeting him."
DAVE GROHL: "I remember going to the hotel bar and I was standing by the guy from EMF – you know, the Unbelievable band? A photographer from a magazine said, 'Can I get your picture taken together…?' And the guy from EMF looked at me and went, 'Pfftt. Oh, I suppose so…'"
SCOTT KANNBERG: "My father-in-law was at the Isle Of Wight and he always talks about it. [Original Pavement drummer] Gary Young was at Woodstock and always talks about it. Now I can say I was at Reading Festival 1992. I think it's probably the same thing."
BUZZ OSBORNE: "It's very difficult to think about Nirvana without it being a very tragic memory for me. If I helped create what was going on with all that stuff –Nirvana getting involved in those sort of things – I also helped to create his death. That is not something I take lightly. I would much rather have him unsuccessful and alive."
ROD STEPHEN: "Kurt wore our T-shirts because he wanted to. It was bit of a laugh, but he was a really influential person, and we've had a massive career pretty much based on Kurt Cobain."
BUZZ OSBORNE: "The last thing he ever said to me, at the very last show they ever played… He was on-stage, he looked at the other two guys in the band, and he looked back at me and said, I should just be doing this solo. So you tell me what that means… Reading Festival was another nail in the coffin and I'm not happy about any of it."
Dave Grohl and Nick Cave material courtesy of Keith Cameron; Dancing Tony quotes courtesy of Paste magazine.
Nirvana Come As You Are 1987-1994 is on sale now. More info and to order a copy HERE.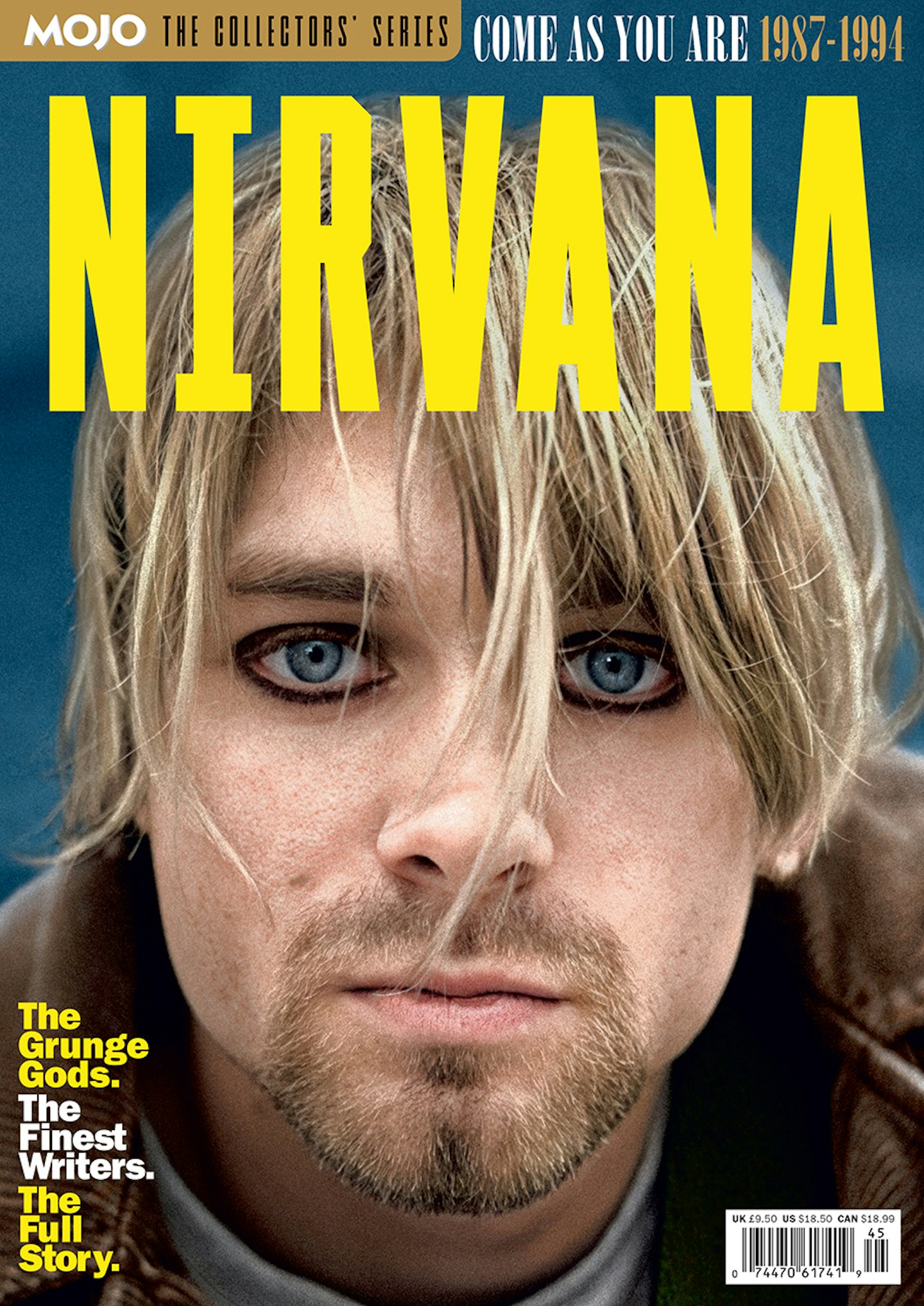 Photo: Trinity Mirror/Mirrorpix/Alamy