Punk is at the centre of Tate Britain's new exhibition Women In Revolt!, both conceptually and literally. Projected onto a wall is a 1977 piece by Raincoats bassist Gina Birch, made when she and the band's co-founder Ana Da Silva were at Hornsey School Of Art together. Entitled 3 Minute Scream, it's exactly that: Gina screaming hot-faced into the camera for the duration of a reel of Super 8 film. Looped into defiant abstraction, it ricochets around the space, seeping into each of the six rooms, an ideological distillation of this vast survey of art made by women from an array of backgrounds and experiences, all in some way a response to the women's movement in Britain from 1970 to 1990.
Joining Birch in a room called Oh Bondage! Up Yours! is a 1977 collage by titular heroine Poly Styrene under her real name Marianne Elliott-Said. Using cut-up comic strips and crayon, she takes Germ Free Adolescents' Savlon and toothpaste into another realm of teenage anxiety: sex and pregnancy, with a pack of contraceptive pills and a condom glued on top of neon, felt-tip sloganeering.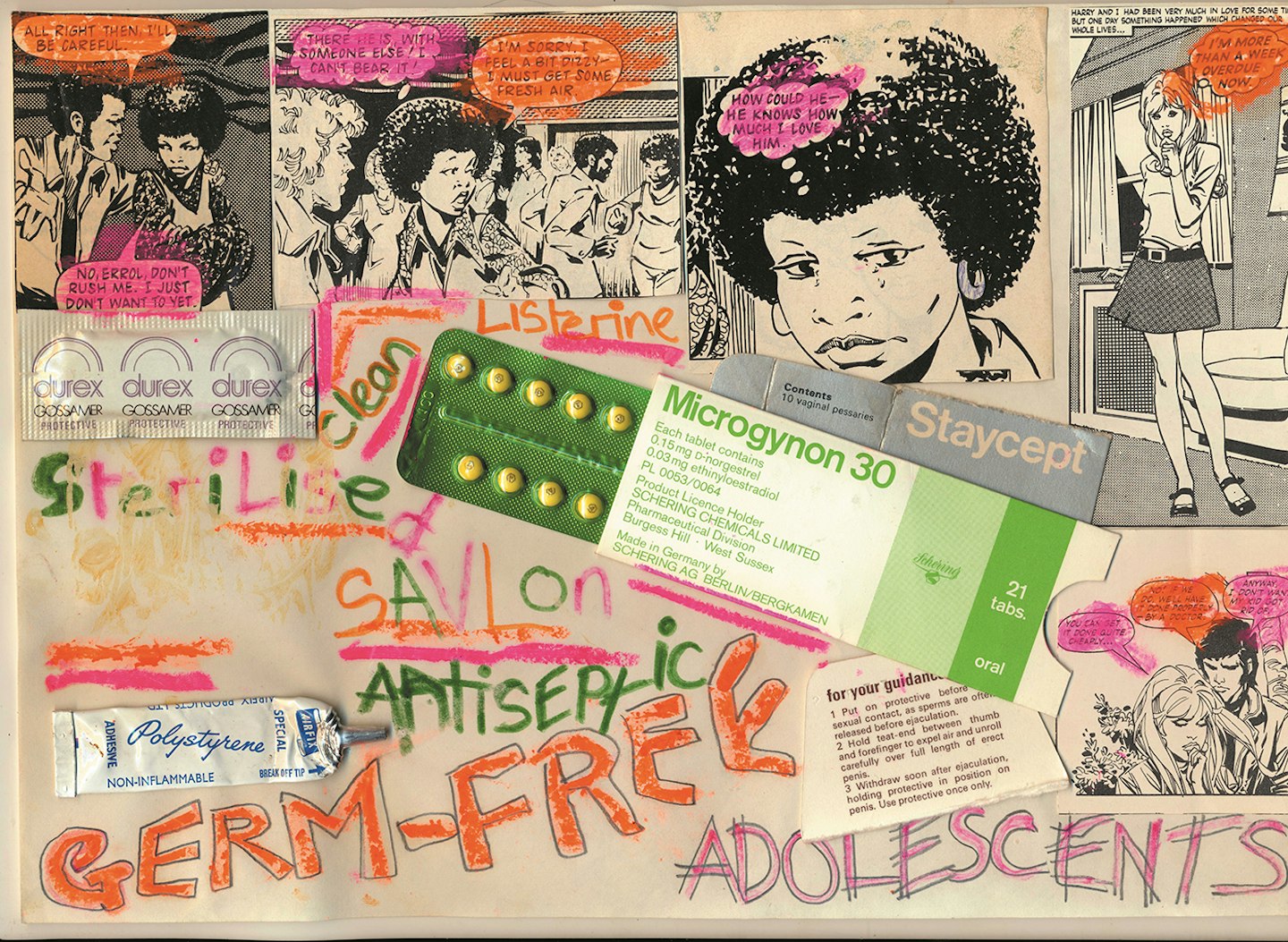 Themes of sex and liberation resonate loudly in the punk and post-punk work: as a witty manifesto in brilliant photomontages by Linder Sterling, which like her sleeve for Buzzcocks' Orgasm Addict, splice porn and popular culture with grotesque precision. Sexual politics are potent in a set of photographs of Cosey Fanni Tutti in her stripper costume (a slashed body suit in virginal white), brutal in Gee Vaucher's ferociously radical painting/collage from Crass 'zine International Anthem No.2 entitled Domestic Violence (scenes of domestic 'bliss', plus a headless carcass on the bed).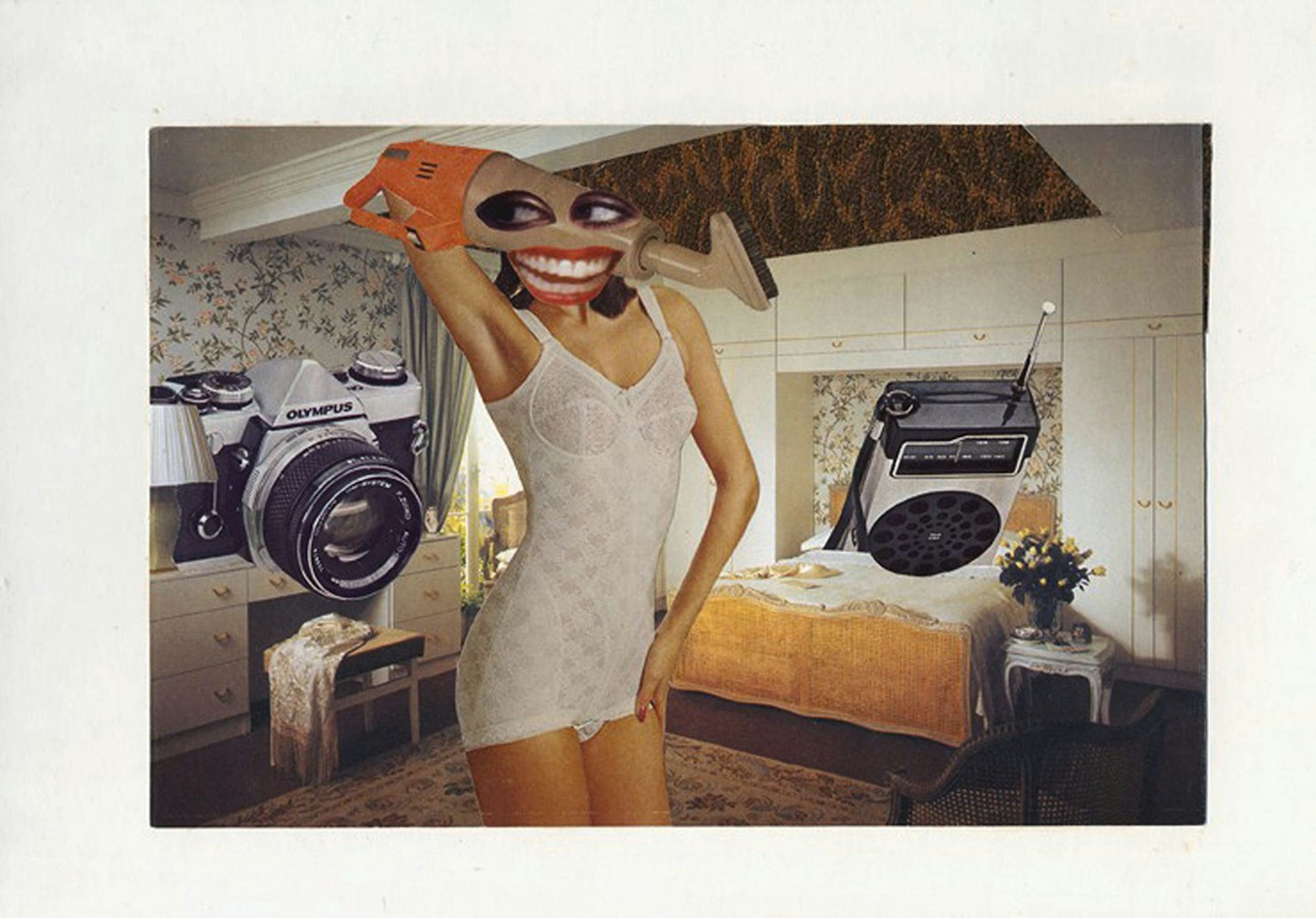 From dawn of the '80s, The Neo Naturists are the performance art squat trio you'll want to join. Daubed in body paint, their art actions included disrupting the po-faced glamour of London's New Romantic club scene, posing with Sellotape on their nipples, two pints of bitter and a Barbra Cartland novel, giving off substantial bollocks to the Blitz Club vibes.
While this is not an exhibition about music per se – its scope is far broader – it does comes with a soundtrack album. Music For Nations' 14-track compilation Women in Revolt! (Underground Rebellion in British Music - 1977-1985) was put together by exhibition curator Linsey Young, and features artists in the exhibition: Raincoats, Chris & Cosey, X-Ray Spex, and Linder's Ludus, who is also seen on screen in the gallery playing at The Haçienda in her infamous 'meat dress'. Other acts include The Slits, Au Pairs, Marine Girls and Vivien Goldman's brilliant dub Launderette, improvised over a bass line by Aswad's George Oban and produced by PiL's John Lydon and Keith Levene. Meanwhile, a Spotify playlist expands the remit beyond the UK with Alice Coltrane, Le Tigre, Yoko Ono, ESG and more.
Linsey Young is at pains to point out that the artists sharing this space don't necessarily have culture or politics in common. It's not interested in creating a false homogeneity (like the music industry's 'women in rock' fixation). Instead, by digging into lofts and lock-ups, the curators' aim was to shine a light on artists many of whose work has been ignored or marginalised. A recently published 'best music books of 2023 list', featuring an all-male Top 20, suggests the project is still very much ongoing. Carry on screaming, Gina.
Women in Revolt! Art And Activism In The UK 1970-1990 is at Tate Britain until April 7, 2024, More information and tickets HERE. The accompanying vinyl compilation is available to order HERE.