SOMETIME IN 1997, George and Olivia Harrison were in Providence, Rhode Island, visiting their son Dhani (who was at the time studying industrial design and physics at Brown University). One day, mooching down the city's main drag Thayer Street, they wandered into an arty furniture and jewellery shop named Oop!.
Inside, George's eye was drawn to a folk art clock, made from recycled materials, that he immediately decided to buy. "It had a bit of a measuring tape," Olivia relates, "and it had a couple of dominoes and some Scrabble letters – not your white with black but black with white – and it just said 'Now And Then.'"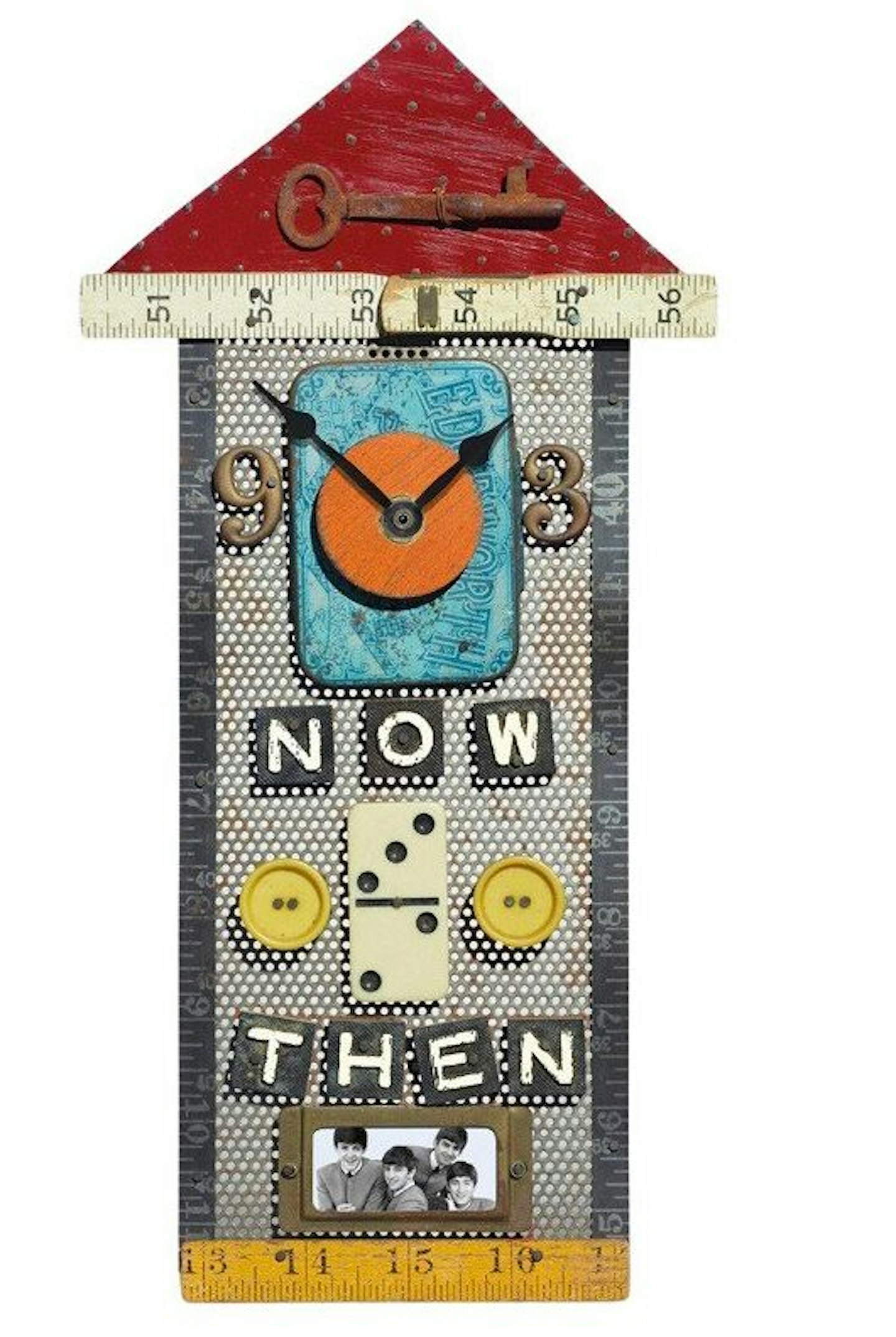 George took the clock home, and it became the final ornamental piece in a small Russian dacha (or summer hut) he'd had built in the vast grounds of the family's Friar Park home in Henley-on- Thames. "He was attracted to it for some reason," says Olivia. "George always wished he could have made more art. He was always saving bits and pieces."
In the years following George's passing in 2001, whenever Olivia Harrison was in the dacha, she'd notice the clock (its battery long dead) and remind herself to at some point bring it up to the main house at Friar Park and get it working again. Then, in the summer of 2022, she finally did.
"I took out the old rusty battery, cleaned it up a little bit, stuck a battery in. Lo and behold, it worked. Put it on the mantelpiece. Phone rings. It's Paul, reminding me of this third song that was on the cassette tape with Real Love and Free As A Bird. He said, 'The song, it's called Now And Then.' I'm standing there with the phone… looking at the clock that said, 'Now And Then', and I was sort of dumbfounded."
Following the call, she removed a sepia picture of a Victorian family that had been held in a tiny slot at the bottom of the clock and replaced it with one of The Beatles. She took a photo of it and sent it to Paul. "Paul felt happy about it. So did I. We all did. It just seemed to be handed to us from another time." Olivia then got in touch with the artist, C Giffin, to request permission for the clock to be used in the back cover art of the Now And Then single. "She was very much a fan of George's and loved his music and… it had some effect on her in her life. She was happy that [artistic appreciation] was full circle and had come back."
Moreover, for Olivia Harrison, it felt like some kind of sign from George. "It just felt like he was saying, 'It's OK,'" she says. "It felt like approval."
"It was like an impossible dream…" Read the full story behind the final Beatles song as Paul McCartney and Ringo Starr speak exclusively to MOJO only in the latest issue of MOJO, on sale now. More info and to order a copy HERE