Editors' Glastonbury Photo Diary
MOJO Album Of The Week artists offer exclusive peek behind the curtain of their Festival weekend.
Editors bring A Ton Of Love on the Other Stage at Glastonbury Festival, Sunday June 30. EDITORS HAVE GRANTED MOJO readers an exclusive pictorial account of their Glastonbury weekend. The epic-rocking Midlanders await the weekend's Album Chart announcement to see if their just-released The Weight Of Your Love album has benefited from the much-trumpeted "Glastonbury Effect" that's boosted sales for Mumford & Sons, Arctic Monkeys and The Rolling Stones (the midweek appeared healthily Top 5). Meanwhile, here are their pictures of the weekend, annotated by bass player Russ Leetch.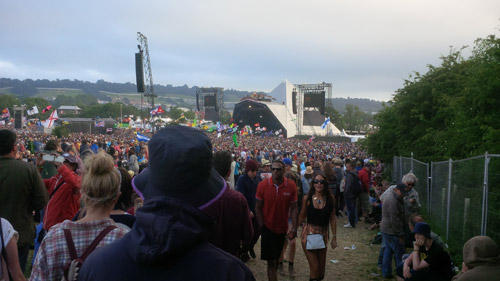 Friday, June 28 "We've arrived on site a day early and are getting in position for the Stones, who absolutely nail their set. Didn't think I would enjoy it that much!"
Sunday, June 30 "We've had a shower, we've got a comfy sofa – the new boys have a big test today." Elliott Williams (left) and Justin Lockey taste the luxury.
Sunday, June 30 "Let's get some tunes on and drink some champagne." Singer/guitarist Tom Smith unleashes the hi-fi.
Sunday, June 30 "We peek around the stage. The crowd is already gathered and by the end of the set we have the biggest crowd we've ever played for at Glasto."
Sunday, June 30 "Smoke machine on, let's go do this. It was a beautiful Glastonbury moment for us once again. Thank the Eavises for the best festival in the world!"