Lol Tolhurst x Budgie x Jacknife Lee
Los Angeles
★★★★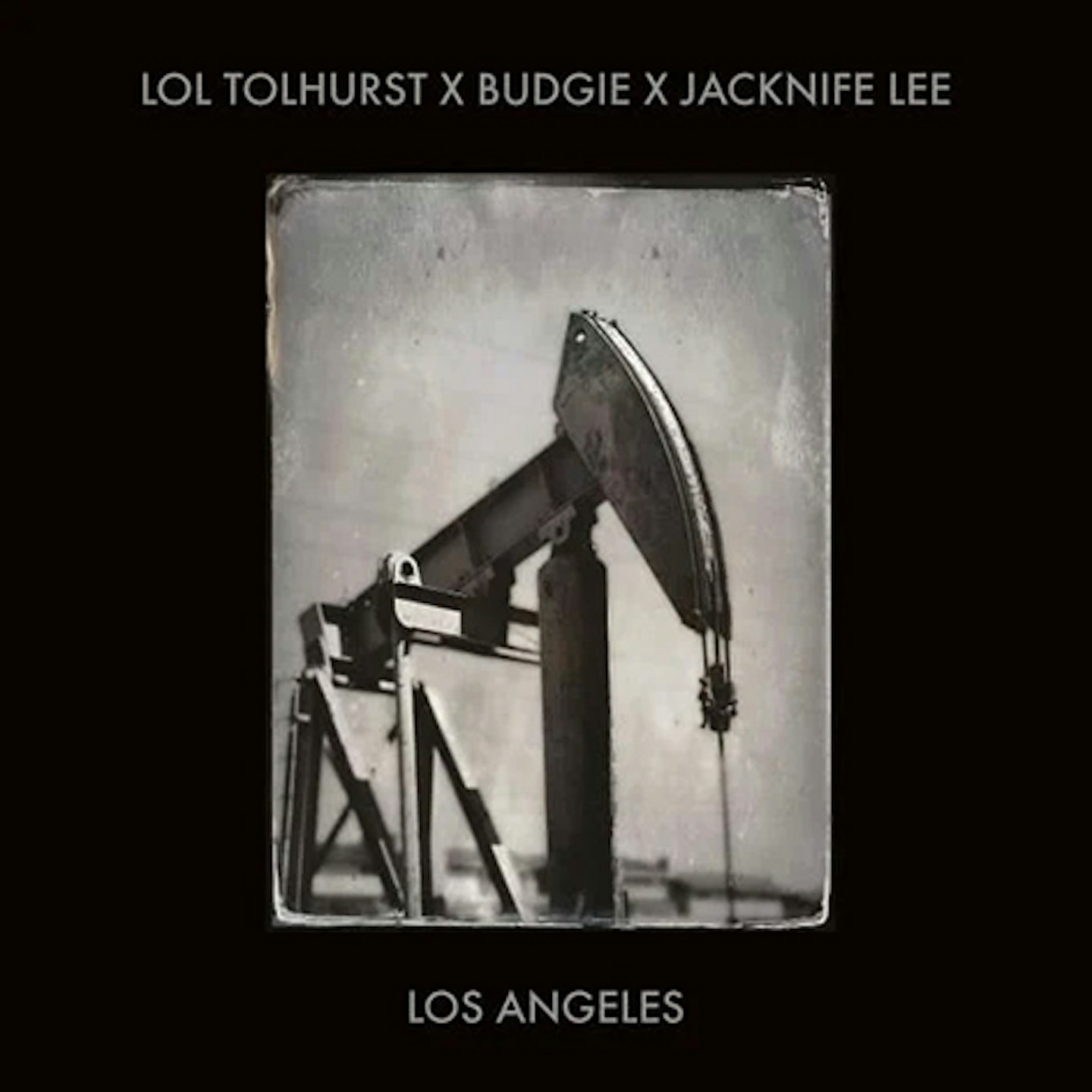 Play It Again Sam
A LOT OF DEEP dark water has passed under the gothic bridge since Budgie and Lol Tolhurst first met, the drummers initially bonding when the original three-piece Cure opened for Siouxsie And The Banshees in 1979. It's taken four decades for circumstances to allow a creative union, however, the pair finally joining hands with Irish producer Jacknife Lee to push the hell-in-a-handcart rhythms of Los Angeles out from the city's murky concrete spillways and into the half-light.
Originally conceived as an instrumental album – Tolhurst and Budgie on synths and drums, Lee in charge of guitars and attendant distortions – Los Angeles became a grander collaborative project when Tolhurst contacted LCD Soundsystem's James Murphy to see if he would be interested in contributing vocals, a no-brainer for an Anglophile of Murphy's gloomy, rain-lashed tastes. Other guests followed: Bobby Gillespie, maybe scenting a chance to use the phrase "suicide mystics" unchecked; Lonnie Holley and Mary Lattimore, and U2's The Edge, whose treated guitar runs through Noche Obscura's Bower y Electric cityscape and the LA-Dusseldorf of Train With No Station.
There are times, mainly when Gillespie is rhyming "my addiction" with "crucifixion", that Los Angeles sounds exactly how you might expect: Primal Scream's XTRMNTR, Death In Vegas's The Contino Sessions, The Cure and The Creatures prominent on its monochrome mood-board. At moments – We Got To Move, featuring Modest Mouse's Isaac Brock, for example – it feels like brutalist big beat, the kind of music pumping out of the sound-system of a customised hearse, plastic skulls on the dashboard, Day-Glo paint on the fins.
Yet even at its most blatant, Los Angeles lands with a visceral impact, rich texturing and smart distortions adding a destabilising wobble. The Suicide churn of the title track is pushed over the edge by Murphy's feverish state-of-the-nation yelp: "Los Angeles eats its children!/Los Angeles eats its young!" Uh Oh, meanwhile, featuring Starcrawler's Arrow De Wilde and Mark Bowen of Idles, is a grinding industrial hoe-down, apparently dredged from the bottom of a roadside oil-can. Scrambling the dystopian lexicon further is the brilliant under-the-skin unease of Bodies, sinkhole beats under Lonnie Holley's urgent vocals, Mary Lattimore's harp opening up an uncanny urban hinterland in the closing seconds.
"We've got a way to go," sings an oddly Anohni-like Murphy on the junkyard clank of Skins, Echo And The Bunnymen's Nocturnal Me stripped down for scrap. Despite its state-of-the-dystopian-nation restlessness, however, Los Angeles already feels like a destination record, Lee, Tolhurst and Budgie putting their decades of world-building expertise to excellent use. If the world they have built is on the brink of collapse, it only adds to the thrill.
Los Angles is out November 3 on Play It Again Sam
Read MOJO's verdict on all the month's best new music in the latest issue of MOJO, featuring an exclusive interview with The Rolling Stones, Sly Stone, Bob Dylan, Peter Gabriel, Black Pumas, Joni Mitchell, Carly Simon, Joe Walsh and more. More info and to order a copy HERE!