IF ELTON JOHN's headline set on the last night of Glastonbury 2023 is to prove – as he promised, or threatened – his last ever live show in the UK, it cannot be said that he didn't leave it all on the stage, or that the artist himself was knowingly under whelmed.
"Nothing I've played before comes close to Glastonbury in terms of size and scale," the singer told MOJO in its aftermath. "Playing Paris Arena two nights later was like playing in a nightclub by comparison."
He's a man of excitable pronouncements, but he wasn't exaggerating. Within hours of the show's conclusion, his set was declared, with 7.3 million viewers, the most watched performance ever in the history of the BBC's broadcast coverage of the festival. The Pyramid arena itself was full beyond capacity – an unprecedented proportion of the festival's 210,000-plus attendees drawn by the promise of the music, but also the drama of the narrative. With respect to the day's other headliners – including Queens Of The Stone Age, Phoenix and Rickie Lee Jones – why would you come to Glastonbury in 2023 and not go and see Elton John?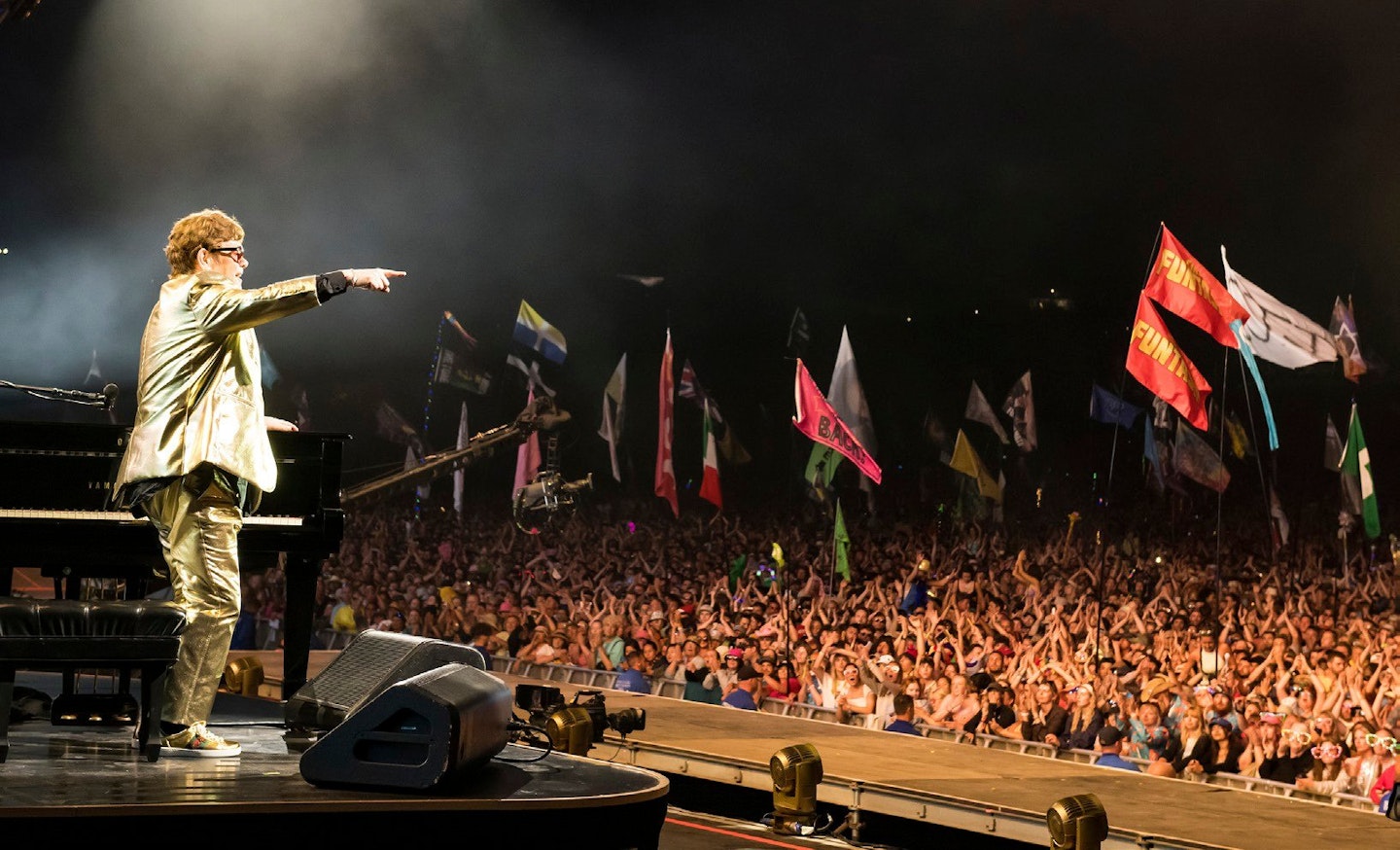 Neither did he disappoint. Although the stiffness of his initial shuffle to the piano was a reminder of his 76 years, and of why he's calling a halt to live work, the opening Pinball Wizard set a standard for piano-bashing intensity and emotional resonance that amplified throughout the set. If you've ever dared reflect that John's voice may be the least of his strengths, you might also agree that there was something in the lived-in grit and soulful growl of his singing that the R&B-obsessed mid-twentysomething wannabe never quite touched. Something in abundance on this set's early highlights Are You Ready For Love and Sad Songs (Say So Much). The former was essayed with the help of Gabriels singer Jacob Lusk. Both were reinforced by the massed lungs of the London Community Gospel Choir. Both were crushing.
"To bow out on a high like that – it will stay with me for ever."

Elton John
This crowd didn't need reminding of any of the words, or a lecture on the strengths of Elton John and Bernie Taupin's best songs – some of which, constrained on record by the production tics of their time, come into their own on-stage. Snobs might regard Too Low For Zero's comeback hits, I'm Still Standing and I Guess That's Why They Call It The Blues, as post-canonical, but 40 years later they're undeniable cultural artefacts, passed down through generations. The crowd's appreciation roared back in waves and the singer, dabbing his eyes on more than one occasion, felt the surge.
Rocket Man (I Think It's Going To Be A Long, Long Time) was the inevitable clincher, an opportunity to stretch out (maybe a little too far out, but…), for Davey Johnstone to make space sounds on his double-neck, and for Glastonbury to launch the obligatory fireworks to oohs and aahs. It was how legendary Glasto sets are supposed to end, but it was superfluous: what Elton John had already proved is that he doesn't need the gimmicks. He never did.
"They put cocaine in my food. I'd no idea..." Inside Elton John's 1970 debut at the LA Troubadour, where Reg Dwight was transformed into a superstar.
Caveats? No solo artist of John's vintage has remained as loyal to his musicians. Drummer Nigel Olsson has been touring with the singer since 1970, percussionist Ray Cooper since 1972; guitarist Davey Johnstone began his stint with Honky Château. They're all, still, great players, but they're prone to their leader's tendency to gild the lily, and not every song required a flourish of tambourine. Neither did this show need its flurry of on-stage guests. John likes to signal 'contemporary', but neither Stephen Sanchez nor a cover of his song, Until I Found You, seemed to add much. Would we not rather have heard Burn Down The Mission?
"The Pyramid Stage was a career highlight, and amazing to go out with a bang."

Elton John
It's a quibble, though. For all his showmanship, John is at his best constructing subtle melodic journeys – the way Tiny Dancer (featuring The Killers' Brandon Flowers, but never mind) and Your Song build is unique – and turning Taupin's lyrics into emotionally truthful autobiography. They are the reasons he is so loved.
John is not planning on a full retirement just yet. With his Farewell Yellow Brick Road Tour now over, a lie-down is due. Then work will resume on a new album. MOJO spies tell us to expect star guests because John, it seems, can't help himself. But he's adamant that that's it for gigs.
"The Pyramid Stage was a career highlight," he underlined to MOJO, "and amazing to go out with a bang. I feel so privileged to have experienced it at this stage. So few people are lucky enough to get the opportunity to bow out on a high like that. It will stay with me for ever."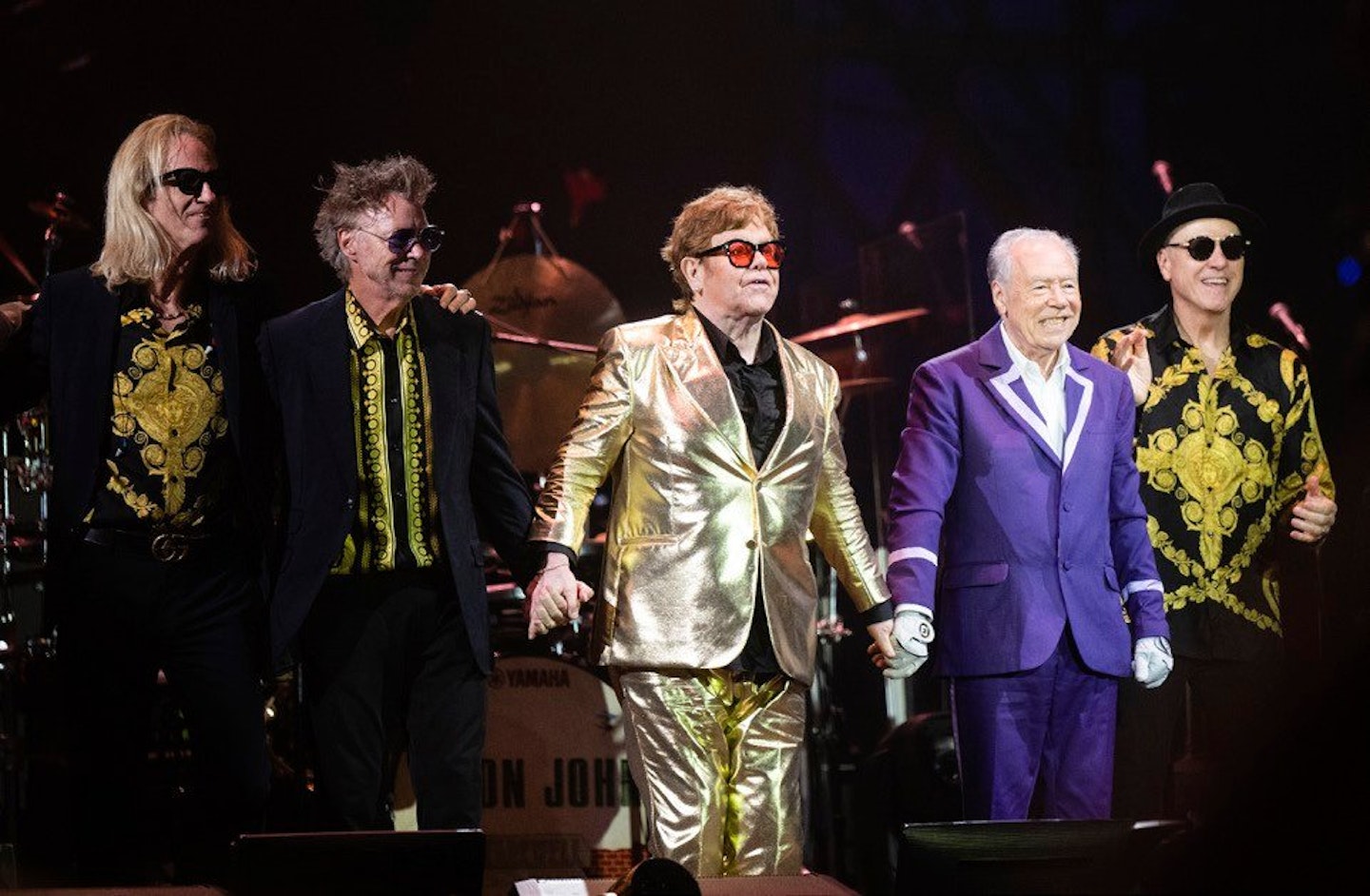 Read MOJO's full Glastonbury 2003 coverage and reviews featuring Arctic Monkeys, Lana Del Rey, Foo Fighters, Sparks, Blondie, Queens Of The Stone Age, Guns N'Roses, The Pretenders, Generation Sex, Glastonbury on the telly, and more!
Pictures: Getty, Rocket Entertainment, Ben Gibson
BECOME A MOJO MEMBER today and receive every new issue of MOJO on your smart phone or tablet to listen to or read. Enjoy access to an archive of previous issues, exclusive MOJO Filter emails with the key tracks you need to hear each week, plus a host of member-only rewards and discounts.