The Rolling Stones have announced the release of their 24th studio album, Hackney Diamonds, released on October 20th.
At a live Q&A in East London's Hackney Empire with US talk show host Jimmy Fallon, Mick Jagger, Keith Richards and Ronnie Wood spoke about the origins of the record and what it was like making their first album following the death of drummer Charlie Watts who passed away in 2021.
"Ever since Charlie's gone it's been different. Of course, he's missed incredibly," said Richards. "But thanks to Charlie we have Steve Jordan, who was Charlie's recommendation if anything should happen to him. It would have been a lot harder without Charlie's blessing."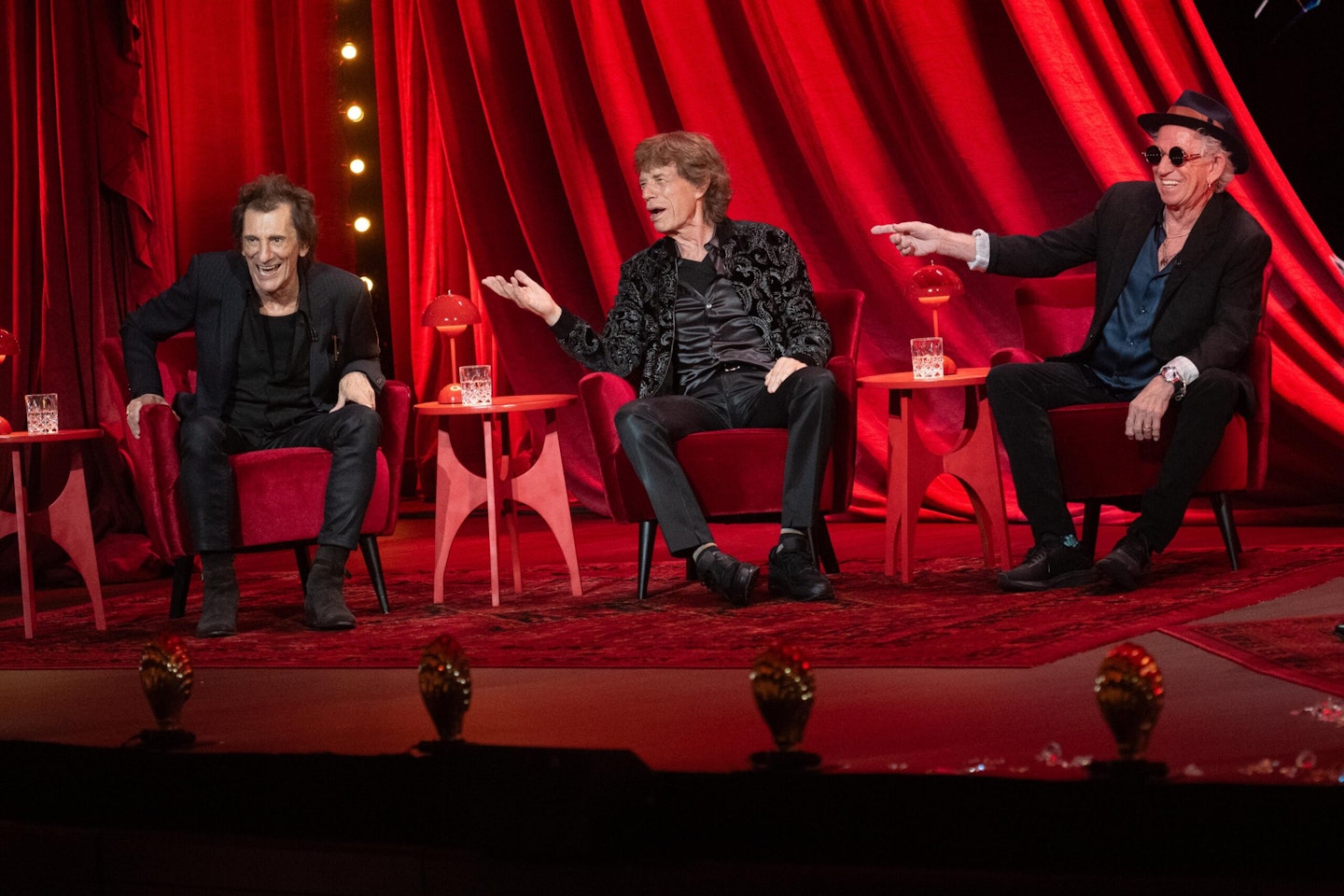 Produced by Ozzy Osbourne/Iggy Pop producer Andrew Watt, Hackney Diamonds is the Stones' first new album of original material since 2005's A Bigger Bang. Its thirteen tracks include two songs recorded in 2019 with Watts: Mess It Up and Live By The Sword. The latter song also featuring original Stones bassist Bill Wyman. The remaining tracks were recorded with new drummer Steve Jordan.
The first single from Hackney Diamonds, Angry, is out now. Featuring a familiar, Start Me Up-styled riff over which Jagger appears to be defending himself before an enraged partner, its video stars White Lotus actor Sydney Sweeney.
Of the other songs on the album, Sweet Sound Of Heaven was described by Jagger as "a gospel song" and features Lady Gaga. Dreamy Skies was described by Wood as about "Mick trying to get away from it all and listen to Hank Williams", while Tell You Straight features a lead vocal from Richards, although the guitarist admitted to having "no idea what it's about." Paul McCartney and Ringo Starr are also rumoured to be on the album.
Jagger and Wood reported that the band started work on the album in December 2022, setting themselves a deadline of Valentine's Day 2023 to have it finished. Angry was written in Jamaica by Jagger and Richards in December and the band went into the studio with Watt to record 22 tracks, eleven of which will appear on the album. The album was recorded at Henson Recording Studios, Los Angeles; Metropolis Studios, London; Sanctuary Studios, Nassau, Bahamas; Electric Lady Studios, New York; and The Hit Factory/Germano Studios, also in New York.
Richards reported that the band had toyed with the titles Hit And Run and Smash And Grab before settling on Hackney Diamonds, East End slang for broken glass. In the run up to the announcement today (September 6), the band placed an advert in local newspaper The Hackney Gazette including none-too-subtle references to the Stones and featuring their iconic lips logo: "Our friendly team offers you satisfaction. When you say gimme shelter we'll fix your shattered windows." They also set up a deliberately mis-loading website, Hackney Diamonds and last week projected their logo onto various landmarks across the world.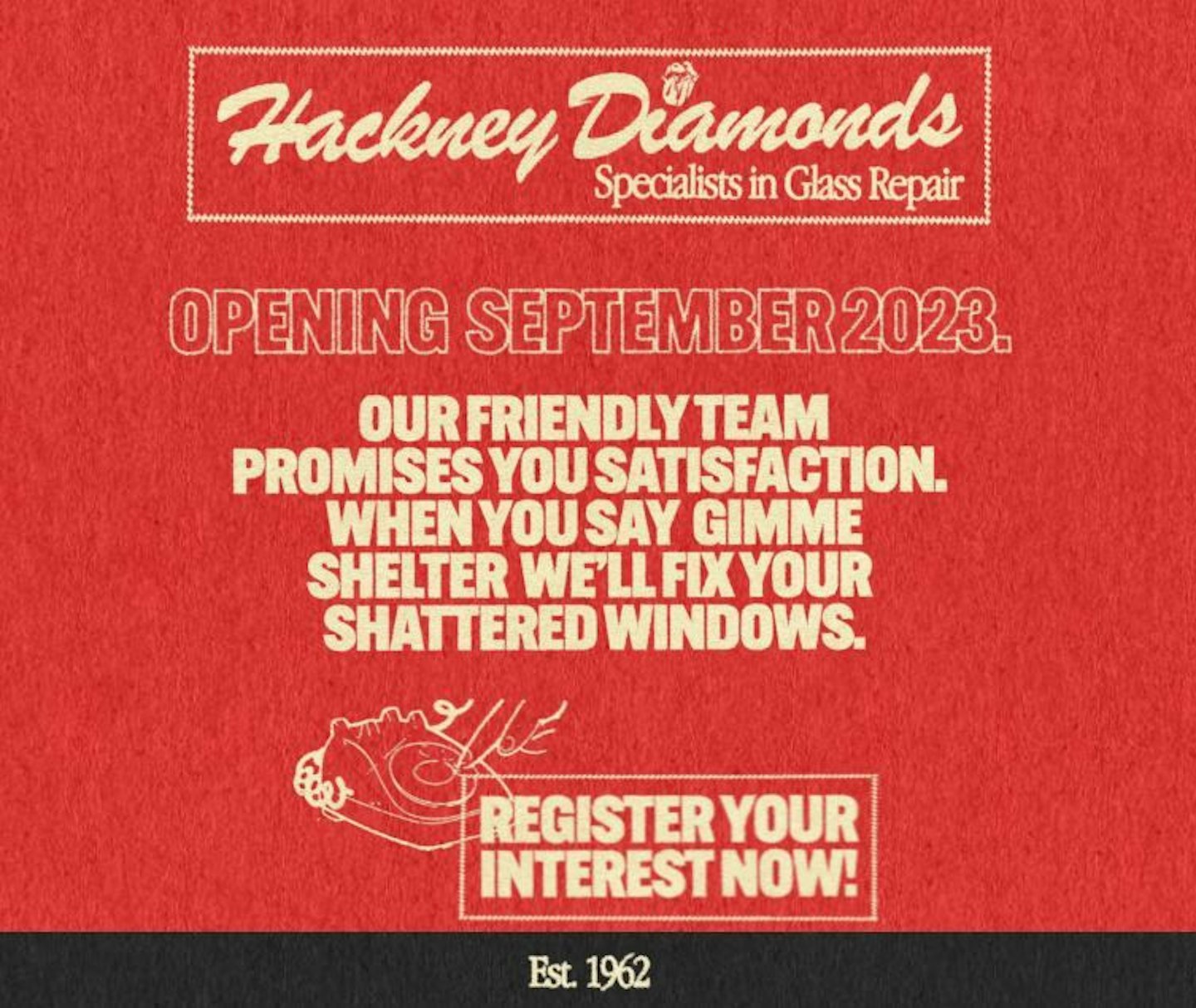 Jagger said that initially, he and Richards had the idea of a whole album themed around the idea of anger, but decided instead to widen it out into something more "eclectic". "There's a few love songs, ballads, country-type songs… a mixture." said the singer. "Nobody can be angry for that long!" joked Richards.
During a section of the launch where the band answered questions sent in from fans, Jagger and Richards were asked what the secret to having such a long partnership together was. "Not speaking too often," came Jagger's response. Richards also answered a fan's question about his favourite Stones songs saying the Gimme Shelter and Jumpin' Jack Flash were two songs he always loves playing live.
Hackney Diamonds is out October 20th via Universal and the full tracklisting is:
1. Angry
2. Get Close
3. Depending On You
4. Moving
5. Bite My Head Off
6. Whole Wide World
7. Dreamy Skies
8. Mess It Up
9. Live By The Sword
10. Driving Me Too Hard
11. Tell You Straight
12. Sweet Sound Of Heaven
13. Rolling Stone Blues