This month, MOJO celebrates our 30th birthday and looks back at the key artists, sounds and stories that lit up our lifetime so far. Who will be the artist that shape the next 30 years, though? From Taylor Swift and Lana Del Rey reshaping and redefining pop's mainstream, to sonic outliers such as Young Fathers, Shabaka Hutchings and Black Country New Road pushing music's boundaries, MOJO selects 30 artists to watch over the years to come…
TAYLOR SWIFT
"Long story short – I survived," Taylor Swift sings on Evermore, one of two albums she released in 2020. Chronicling the toughest patches of being "young and reckless" has been integral to her high-drama mission since she emerged into the Nashville country scene as a teenager. When it comes to her 18-year career, though, Swift has done so much more than simply survive. She burst into modern pop with the fabulous post-teenage symphonies of 2014's 1989 and 2017's fierce Reputation. She tapped back into her roots for 2020's Folklore and Evermore, working with The National's Aaron Dessner, before the cool insomniac pop of 2022's Midnights. It is her songwriting, however, that makes Swift's long-term future so intriguing. Always a sharp narrator with a gift for the extended metaphor (see Reputation's Getaway Car), Swift's storytelling skills have accelerated – just listen to Evermore's cold-lipped Tis The Damn Season, a heartbreaking Going Home For Christmas song that condenses a whole indie film into its winter breakdown, or Maroon's crying over spilt wine. The story of her next 30 years is one nobody will be cutting short.
Start with: Midnights (REPUBLIC RECORDS, 2022)
"It underscores the idea of Swift as a millennial Springsteen, elevating the tender crash-and-burn yearnings of American life to epic status..." Read MOJO's full profile of Taylor Swift.
AROOJ AFTAB
A 2007 cover of Hallelujah on YouTube provided an early indication of this Saudiborn, Pakistan-raised, Brooklyn-based artist's powers. Sixteen years later, Aftab has a Grammy Award for Best Global Music Performance, and a musical remit that can encompass jazz (see her 2023 album with Vijay Iyer and Shahzad Ismaily), ambient electronica, the melancholy power of Qawwali and Ghazal traditions, and more. All with a voice of calm gravitas and beauty comparable to Cocteau Twin Elizabeth Fraser.
Start with: Vulture Prince (NEW AMSTERDAM, 2021)
ARCTIC MONKEYS
An odd choice, perhaps, given Arctic Monkeys' significant impact (four cover stories) on MOJO's first 30 years. Worth remembering, though, that none of the quartet are yet 40, and that their last two albums – especially 2022's career standout The Car – have suggested a band just entering their mature phase. A further intriguing sub-plot: how will Alex Turner negotiate his time in the spotlight, as he finesses his Jean-Claude Vannier orchestrations, Mick Ronson solos and cinematographer's eye – as the frontman of a stadium rock band, or as an ever-more complex solo artist?
Start with: The Car (DOMINO, 2022)
BIG THIEF
Part indie rock powerhouse, part millennial hippy outliers, the Berklee-schooled quartet have parlayed salon chops into an organic sound, with roots in folk but enough heft to fill increasingly big spaces. Three-quarters of Big Thief – Adrianne Lenker, Buck Meek and James Krivchenia – also have active solo careers, but that never detracts from a band whose intuitive closeness is critical to their appeal. "It's like being married to three people," bassist Max Oleartchik told MOJO in 2019. "Like a cult, but in a positive way."
Start with: Dragon New Warm Mountain I Believe In You (4AD, 2022)
BLACK COUNTRY, NEW ROAD
This decade has seen a clutch of British bands (notably Black Midi, Squid, Caroline) who've accommodated prog and post-rock into their ever-evolving sound. None, though, have capitalised on flux as effectively as BC, NR, whose initial manifestation as a kind of klezmer Slint was halted with the departure of Sprechgesanger Isaac Wood. Undaunted, the band now privilege four lead singers and a boundless sense of possibilities, both inside the collective and out: witness Georgia Ellery's flourishing side-project, Jockstrap, who sound roughly like baroque folk pop remixed by the Aphex Twin.
Start with: For The First Time (NINJA TUNE, 2021)
BLACK PUMAS
Eric Burton and Adrian Quesada's Black Pumas make the cut here just ahead of other nu-soul contenders like Durand Jones & The Indications and Gabriels, thanks not just to the honours heaped on the Austin duo since 2019 – Grammy nominations, a spot on Joe Biden's inauguration show – but also the way they run retro R&B moves through a kaleidoscopic modern psychedelic filter. Forthcoming second album Chronicles Of A Diamond is an object lesson in how to honour vintage soul without sounding stuck in the past.
Start with: Black Pumas (ATO, 2019)
PHOEBE BRIDGERS
A recurring theme in this list is of multi-tasking, multi-hyphenate artists whose cultural imprints are increasingly seen through an accumulation of different projects. Witness Californian Phoebe Bridgers, 29, whose solo career – wherein she reframes '90s college alt-rock for a massive modern pop audience – is currently parked as she focuses on running a label (Saddest Factory) and figuring as one-third of indie supergroup Boygenius alongside Lucy Dacus and Julien Baker. A radical, poignant and extremely funny voice of a generation.
Start with: Punisher (DEAD OCEANS, 2020)
Phoebe Bridgers Interviewed: "We're tearing down confederate statues and trolling Trump rallies..."
LANA DEL REY
"Fame can put you on the peripheries, where the vultures can pick at you," Lana Del Rey told MOJO in 2020. Such is the genius of LDR, mainstream superstar and transgressive auteur; a singer-songwriter who simultaneously embodies Hollywood Technicolor and its weirder underside. A torch singer with blood ties to country melodrama and Mazzy Star anomie, her story only gets more fascinating: few contemporary artists can elide high-concept roleplay into candid confessionals so elegantly.
Start with: Norman Fucking Rockwell! (POLYDOR, 2019)
Lana Del Rey Reviewed: Read MOJO's verdict on Did You Know That There's A Tunnel Under Ocean Blvd
FATOUMATA DIAWARA
Fatoumata Diawara's eclectic spirit has ranged across continents and genres at will this past decade, straddling high-spec French electronic pop, Cuban jazz, Laurel Canyon singer-songwriting, US R&B and multiple projects with Damon Albarn. At heart, though, the Wassoulou singer – aformer backing vocalist for Oumou Sangaré – is one of those rare artists who can respect and transcend her musical roots; a global star to satisfy both scholars of Malian tradition and a mainstream ignorant of it.
Start with: Fenfo (Something To Say) (WAGRAM, 2018)
DRY CLEANING
"People say, 'You're like the woman on the satnav,'" Florence Shaw ruefully told MOJO in 2022. But that deadpan surrealism, her skill at finding emotional valency in a bricolage of found words, has helped elevate Dry Cleaning onto a different level from most of their nouveau post-punk contemporaries. A great band, too: their melodic progress to 2022's Stumpwork bodes well for the future. A London art school Sonic Youth, anyone?
Start with: Stumpwork (4AD, 2022)
FLOATING POINTS
A cratedigging electronica maven and DJ with close ties to Four Tet, Sam 'Floating Points' Shepherd would excel on his techno excursions alone. It's his constantly expanding vision which tantalises most, though, touching on Pink Floyd-style space rock (2017's Reflections – Mojave Desert) before Promises, a ravishing ambient-jazz collaboration with Pharoah Sanders and the London Symphony Orchestra, was selected as MOJO's Album Of The Year for 2020. Where he goes next is unclear, but thrilling.
Start with: Promises (LUAKA BOP, 2020)
FONTAINES D.C.
Another band with a tireless energy to reshape themselves, Dubliners Fontaines D.C. could rest easy as the pre-eminent rabble-rousing indie rockers of the 2020s. But over three albums, they've already shown options beyond the anthems: a penchant for Cure introspection; a Poguesy, literary take on Irish tradition (see also drummer Tom Coll's folk label, Skinty). Like Arctic Monkeys, the band's future may depend on how they accommodate the ambitions of their frontman. Grian Chatten's 2023 solo album, Chaos For The Fly, foregrounded chamber pop further at odds with the ramalams.
Start with: Skinty Fia (PARTISAN, 2022)
"Writing these songs was like a refuge…" Fontaines D.C. interviewed
BRITTANY HOWARD
When Alabama Shakes arrived with a bang in 2012, their shtick – Stax meets Southernflavoured garage rock, basically – seemed inspired, but limited. Howard, though, soon found a way out of the format, first on their 2015 farewell, Sound & Color, then on 2019 solo debut, Jaime. Howard isn't just a formidable singer, but a questing Afrofuturist musician, too, who can channel a folksy Curtis Mayfield, or a hyper-funky Prince, without ever sublimating her own distinct take on religion, racism, sexuality and the state of America.
Start with: Jaime (ATO, 2019)
SHABAKA HUTCHINGS
The poster boy for new British jazz is currently at a crossroads: in July he announced he was quitting the saxophone at the end of 2023. That trademark honk which has energised Sons Of Kemet, The Comet Is Coming and myriad other projects might be retired – after an LA performance of Floating Points' Promises. Nevertheless, Hutchings' drive as musician, label boss, avant-hip-hop producer (the forthcoming Kofi Flexxx album) and community organiser remains undimmed: the most prominent player of the shakuhachi bamboo flute over the next 30 years, almost certainly.
Start with: Sons Of Kemet – Your Queen Is A Reptile (IMPULSE!, 2018)
"ANGER IS AN ENERGY BUT IDLES' PUNK EPIPHANIES ALSO HAVE A PERSONAL DEPTH AND INTEGRITY."
IDLES
"Intense as fuck," was how producer Nick Launay described working with the Bristol band to MOJO in 2021, comparing them to former clients Lou Reed, Nick Cave and John Lydon. Anger is unquestionably an energy here, as Joe Talbot rails against the iniquities of modern Britain. But Talbot is unflinchingly aware of his own fallibility, too, so that Idles' crunching punk epiphanies have a personal depth and integrity: full of sound and fury, but signifying something crucial.
Start with: Ultra Mono (PARTISAN, 2020)
KING GIZZARD & THE LIZARD WIZARD
In the unlikely but tantalising event King Gizzard & The Lizard Wizard keep up their current work rate (24 albums since 2012) for the next 30 years, they'll release 70 more albums in that time. A hyperactive, many-tentacled Aussie phenom, the Gizz's manic creativity can unite both garage rock and jam band tribes, even as they shoehorn thrash metal, Anatolian psych, prog and whatever else takes their fancy into one infinite, spectacular groove.
Start with: Nonagon Infinity (FLIGHTLESS, 2016)
KENDRICK LAMAR
Debates around the musical importance of hip-hop should've ended well before MOJO's inception in 1993. Still, Kendrick Lamar's 2018 Pulitzer Prize for Music (the first non-classical, non-jazz recipient) felt like a high water mark. Fundamental to his genius is the way his dense, conscious raps are matched by music of equivalent breadth and complexity, locating him as a cutting-edge artist as well as one in a continuum of African-American visionaries. A recent example: 2022 single, The Heart Part 5, riding a sample of Marvin Gaye's I Want You.
Start with: To Pimp A Butterfly (TOP DAWG, 2015)
MICHAEL KIWANUKA
A White Stripes fan at school, Londoner Michael Kiwanuka's musical epiphany came when a friend played him MOJO's Soul Riot comp from 2001, drawn into a world of studio magic by some chat before an outtake of (Sittin' On) The Dock Of The Bay. Three albums of profound symphonic soul have made good on those historic antecedents: an artist who takes his time to craft widescreen meditations on the role of a black man in a white world.
Start with: Love & Hate (POLYDOR, 2016)
LANKUM
Modern folk music's own OK Computer, MOJO called False Lankum earlier this year. Eyebrow-raising praise, perhaps, but it accurately nailed the doomy scope of the Dublin collective's fourth album. Former punks at the forefront of a wave of new Irish folk musicians (see also Lisa O'Neill, The Mary Wallopers), Lankum's way with a grisly old yarn has a gothic appeal far beyond the borders of roots music. As vocalist and multi-instrumentalist Daragh Lynch told us: "How mental, how dark and how bonkers can we go?"
Start with: False Lankum (ROUGH TRADE, 2023)
CATE LE BON
"It's as if she's been on earth through a few incarnations," John Cale told MOJO in 2019. "It makes it more compelling to see what's possible." A Welsh singer, guitarist, producer and sometime furniture maker, Cate Le Bon's gift is to be both a maverick outsider and an in-demand collaborator and innovator, able to find an idiosyncratic new path through melodic convention, for herself and for those whose records she's produced: Deerhunter, John Grant and, most recently, Wilco.
Start with: Reward (MEXICAN SUMMER, 2019)
BLAKE MILLS
Quite the triple threat, Blake Mills' CV as a subtly empathetic session guitarist already includes work with Joni Mitchell and Bob Dylan. His production credits, meanwhile, take in the aforementioned Alabama Shakes' Sound & Color. Could, though, Mills' most significant music be his own? A string of solo albums suggest a singer-songwriter able to keep a tight leash on virtuosity for his own music as well, allowing plenty of space to punctuate his Elliott Smith-toned studies.
Start with: Mutable Set (NEW DEAL, 2020)
MDOU MOCTAR
Those craving a more incendiary guitar hero – who flaunts his virtuosity rather than rations it – could do worse than look to troubled Niger and Mdou Moctar, a player who favours axe fireworks over the more mantric vibes of his Saharan contemporaries in Tinariwen and Songhoy Blues. In 2021, he told MOJO how it felt to hear Hendrix for the first time in 2014: "At first I thought it must've been a Tuareg playing… I didn't know America had musicians who were so talented."
Start with: Afrique Victime (MATADOR, 2021)
SAULT
It's a paradox that one of the best-connected projects here is also one of the most enigmatic. No photos exist of Sault, in spite of them releasing 11 lauded albums since 2019 and their apparent leader, Inflo, being the producer behind major records by Michael Kiwanuka and Little Simz. The mystery – 2021's Nine only appeared on streaming services for 99 days – imbues their spectral, politically-engaged R&B and disco with cultish heft. A further ongoing role for Sault: as an incubator for breakout solo talents, beginning with singer Cleo Sol.
Start with: Untitled (Black Is) (FOREVER LIVING ORIGINALS, 2020)
c
BILLY STRINGS
A debut album title of Turmoil & Tinfoil (2017) makes for a neat précis of Michigan picker William Apostol's fraught, drug-filled backstory. But it's his open-hearted charm and staggering musicianship that has made him a star: a bluegrass guitarist and songwriter capable of taking traditional music, over the course of epic live shows, into startling cosmic zones. His generation's Bill Monroe, but also perhaps their Jerry Garcia, too.
Start with: Home (ROUNDER, 2019)
MOSES SUMNEY
While musicians have always been wary of being constricted by genre, a common theme in this list is of artists who leave expectations and stereotypes in the dust. Take Sumney, a California native currently resident in the Blue Ridge Mountains after a teenage sojourn in Ghana. Sumney's two albums thus far have interrogated and transcended racial and sexual identities, resulting in a filigreed dream-soul that draws equally on Radiohead, The Temptations, Cocteau Twins and Nina Simone.
Start with: Græ (JAGJAGUWAR, 2020)
KURT VILE
Kurt Vile is a key player in an extended family of Philadelphia musicians that includes two other strong contenders for this list – The War On Drugs (Vile was co-founder, with Adam Granduciel) and Steve Gunn (briefly in Vile's band, The Violators). Vile's languid air and penchant for extended post-Neil Young solos often has him pegged as slacker rock, but a weighty back catalogue tells a different story: as a sweet, nuanced songwriter with a knack for sending classic rock tropes on productive – and often extremely catchy – new tangents.
Start with: Bottle It In (MATADOR, 2018)
KAMASI WASHINGTON
2018 magnum opus Heaven And Earth became the first jazz record to win MOJO's Album Of The Year poll but, in truth, 'jazz' is a limiting term for Washington's work as composer, arranger and lyrical saxophonist. The LA musician's records have a grandeur akin to David Axelrod – no orchestra and choir is too big for him. A key player, too, in an LA scene that also includes Thundercat and Flying Lotus, where the border between jazz and hip-hop is porous: Washington arranged strings on Kendrick Lamar's To Pimp A Butterfly.
Start with: Heaven And Earth (XL, 2018)
THE WEATHER STATION
Tamara Lindeman's first records as The Weather Station were filed as part of a certain Canadian tradition: literate, introspective, folkish – which is to say, she seemed obvious kin to early Joni Mitchell. The finely-wrought lyrics remain, but Lindeman's musical purview had radically expanded by 2021's Ignorance, a masterpiece that gave her music new momentum and urgency, even as she grappled with the potentially paralysing horrors of climate anxiety. "I feel my task in life is to figure out how to be honest," she told MOJO.
Start with: Ignorance (FAT POSSUM, 2021)
WEYES BLOOD
Another Joni echo: when Lana Del Rey covered For Free in 2021, you could be forgiven for thinking the startlingly pure guest vocalist at the end of the story was Mitchell herself. It was, in fact, a younger denizen of the canyons – Natalie Mering, AKA Weyes Blood. From a freak-folk and avant-noise background, Mering's subsequent development has been prodigious, via a series of lush, MOR-adjacent albums that posit her as an uncanny Karen Carpenter, providing elegant but not deluded consolation in a time of global crisis.
Start with: Titanic Rising (SUB POP, 2019)
"Noise was where it felt like the energy was at…" Weyes Blood interviewed
"YOUNG FATHERS' ELECTRONIC ROCK ENERGY HAS MADE THEM ONE OF THE BEST LIVE BANDS IN THE UK."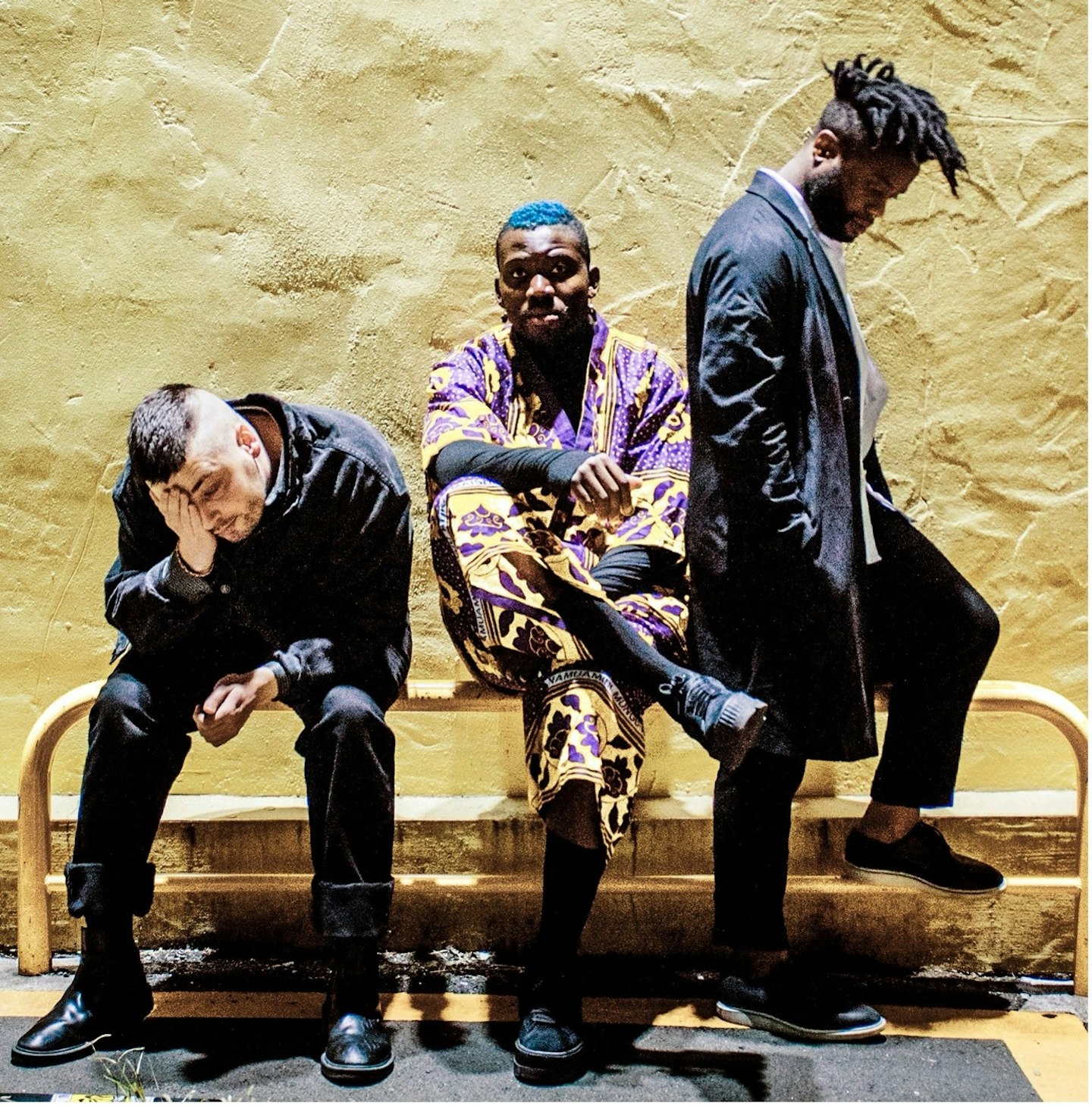 YOUNG FATHERS
Since winning the Mercury Music Prize in 2014 for their debut album, Dead, the Edinburgh trio have simultaneously developed their dense, funky electronic-rock in experimental and commercial directions. Exhibit A: fourth album Heavy Heavy (2023), which layers African chants, syncopated clapping, Massive Attack-style murk and much more over their most accessible songs yet. Also key: the frenetic energy which has made them one of the best live bands in the UK.
Start with: Heavy Heavy (NINJA TUNE, 2023)
Order the special 30th anniversary edition of MOJO HERE. Featuring Bob Dylan, Kate Bush, Paul McCartney, Paul Weller, Kendrick Lamar, Arctic Monkeys, Lana Del Rey, Blur, Oasis and the artists who have shaped MOJO's 30 year history.